Cupra Tavascan flagship electric SUV to launch in 2024
Cupra's hotly anticipated halo SUV will become the brand's second fully electric car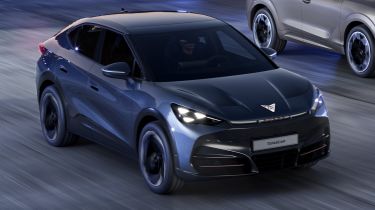 The Cupra Tavascan flagship electric SUV will launch in 2024, five years after it debuted in concept form at the 2019 Frankfurt Motor Show. Plans to put the car into production had been on hold, but speaking at the brand's annual press conference in March 2021, Cupra CEO Wayne Griffiths said: "The Tavascan will be a reality. It will be designed and developed in Barcelona and will reach Europe and overseas markets in 2024."
A company statement released as part of a June 2022 event backed this up, saying that the car "encapsulates Cupra's electrified vision and will remain faithful to the 2019 concept car" and that it also "globalises the brand, taking Cupra to new markets."
The Tavascan concept was driven by a pair of electric motors – one on each axle – that produce a combined 302bhp; enough to propel the future Ford Mustang Mach-E rival from 0-62mph in 6.5 seconds. The concept SUV also featured the same 77kWh usable battery capacity as the Born, but due to its higher weight and raised body, official range was stated at 280 miles – 30 miles less than the ID.3 sister car. It's not yet known if these figures will translate to the production model, or if it'll be updated by the time it goes on sale.
Cupra Tavascan design
The Cupra Tavascan will be built on Volkswagen Group's MEB electric-vehicle platform, which underpins everything from the Audi Q4 e-tron SUV to the Volkswagen ID. Buzz minibus and van. A modified version of the same platform will also forms the basis of Cupra's entry-level EV that's arriving in 2025. 
Despite the Tavascan's performance intentions, Cupra said the SUV would offer "comfort for all occupants". The concept car's interior combined structural carbon and "dynamic approaches to technology" to provide a balance between performance and practicality.
Cupra says the front end features vents to help boost range, while a diffuser at the rear also helps with aerodynamics. Meanwhile, the roofline of the vehicle provides what Cupra describes as "the presence of an SUV and the sleekness of a sports coupe."
Inside, diffused LED ambient lighting greets occupants as they open the doors; the cabin is covered in contrasting leather, carbon and Alcantara trims. In addition, the Tavascan concept featured sculptural 3D leather bucket seats, as well as a wing-shaped dashboard that 'floats' across the front of the interior. Behind the steering wheel, there's a 12.3-inch digital instrument cluster, supplemented by a 13-inch infotainment display and full smartphone connectivity.
According to Cupra, the larger screen can shift its focus, moving towards the passenger when needed. Speakers are also integrated into each of the bucket seats. The Tavascan takes its name from a village in the Pyrenees mountains on the border between Spain and France, which Cupra says is "unique due to its stunning landscape and surrounding nature".
Cupra Terramar name confirmed for new 2024 plug-in hybrid SUV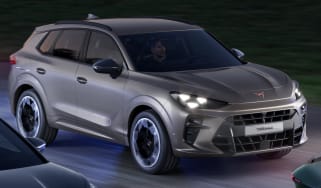 Cupra Terramar name confirmed for new 2024 plug-in hybrid SUV
Cupra UrbanRebel concept previews entry-level EV for 2025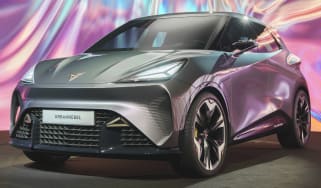 Cupra UrbanRebel concept previews entry-level EV for 2025
Volkswagen ID.3 facelift due in spring 2023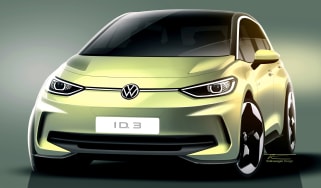 Volkswagen ID.3 facelift due in spring 2023
New sketches provide a glimpse at refreshed styling and cabin of Volkswagen's electric family hatchback
Tesla Semi truck showcases 500-mile range as first examples delivered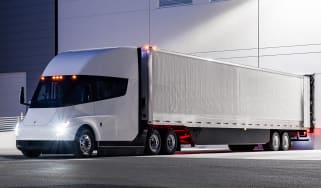 Tesla Semi truck showcases 500-mile range as first examples delivered
The Tesla Semi made its world debut in November 2017, and will become part of Tesla's own fleet