OPINION: ZEV mandate may not be needed – but grant funding is vital
Recent growth makes government sales targets for electric cars seem almost unnecessary, but the Net Zero Strategy is good news for current and prospective zero-emissions motorists alike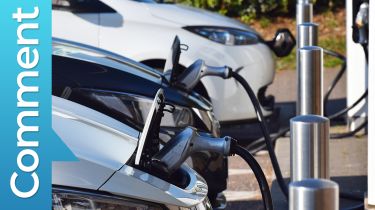 In March of this year, the UK government officially confirmed that the ban on sales of new purely petrol and diesel-engined cars would be brought forward to 2030 – nearly 10 years sooner than the original target of 2040. 
And while that sparked debate as to whether a ban would be practically achievable in less than a decade, subsequent announcements by numerous global carmakers that they intend to go fully electric by or even before that date have pretty much put paid to such concerns. Enormous investment and possibly painful transitions will be needed, but they will be ready.
Now, ahead of November's COP26 climate summit in Glasgow, the government has released a detailed 'Net Zero Strategy', which includes two key elements for electric motoring. There's an additional £620 million to support the transition to electric vehicles – effectively a top-up of the funding pot for existing on-street charging point and plug-in car and van grants – as well as a 'zero-emissions vehicle mandate' which will require a certain proportion of car manufacturers' UK sales to be zero-emissions in the years leading up to the outright combustion-engine ban.
But while the ZEV mandate is grabbing the initial headlines, it's the continued grant funding that will probably prove to be most important in helping UK drivers switch to electric. The motor industry has become used to will-they-won't-they guesswork in the lead-up to budget announcements in recent years, wondering every couple of months whether the plug-in grant is going to be reduced, restructured or scrapped entirely – and whether any reasonable notice will be given for such a decision. This at least gives some certainty that there'll continue to be help with closing the ever-tighter price gap between electric and combustion-engined vehicles (which still puts off some buyers) for a while yet.
As always with big, sweeping government announcements, though, there are as many questions as answers, with finer details to be worked out. We don't know what proportions of that £620 million will be directed towards plug-in vehicles and charging points respectively, but there's no question the latter is a vital undertaking, too. While the number of public charging points has grown massively in recent years, there are still serious issues around their availability, reliability and maintenance, so the more options that are available to potential electric-car drivers – especially those without a driveway – the better.
There's even less detail on the exact structure and nature of the ZEV mandate, and it's tempting to agree with AA president Edmund King's opinion. While welcoming other aspects of the strategy, he questioned whether such a mandate is even necessary. Sales of pure-electric cars in the UK continue to increase, quarter by quarter, year by year, so it feels like the government would almost be playing catchup by trying to impose a structured series of targets on this organic growth.
Specific dates and numbers for the mandate will be the topic of a government consultation in early 2022 – by which point, presumably, the proportion of electric-car registrations will have increased even further. However, even if it only ends up trailing behind a trend that's broadly happening anyway, the mandate could still be good news for you, the electric-car buyer.
Partnership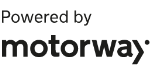 Need to sell your car?
Find your best offer from over 5,000+ dealers. It's that easy.
Why? Well, it's fair to say that in recent years not many manufacturers have struggled to sell their zero-emissions models, with long waiting lists of eager early-adopters snapping up new electric cars online as soon as they're announced, leaving dealership sales teams with little to do but hand over the keys – and maybe wish they had even more available to sell.
Having targets to reach (and fines to pay if they don't) could force manufacturers to get a bit more proactive and generous with their electric-car deals and discounts, maybe do a little more to convince those on the fence about making the switch sooner rather than later, and perhaps go that extra mile in trying to secure bigger allocations of popular electric cars for the UK market. Combine that with charging points popping up all over local streets, and the decision for most buyers will be obvious.
BMW i4 facelift to topple Tesla with huge range and tech upgrades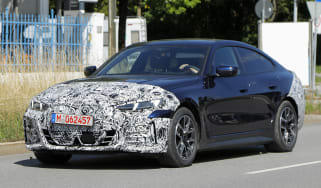 BMW i4 facelift to topple Tesla with huge range and tech upgrades
An updated version of the BMW i4 has been spotted testing, likely sporting a longer range and the latest technology
Electric BMW iX2 is set to take the kidney grille to the next level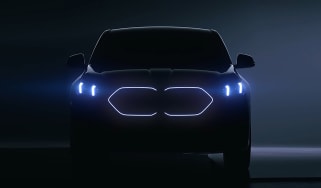 Electric BMW iX2 is set to take the kidney grille to the next level
BMW has teased the highly-rumoured iX2 coupe-SUV, which has been revealed to get enlarged illuminated kidney grilles