New Citroen Ami Cargo Electric LCV is coming to the UK
The commercial version of Citroen's electric city car is headed for the UK alongside the two-seater in 2022, but prices have yet to be confirmed
Citroen has announced the commercial version of its Ami two-seat electric city car will also be coming to the UK in 2022. Called the Ami Cargo Electric, this LCV (light commercial vehicle) version of the ultra-compact EV is designed for last-mile parcel and food deliveries in urban areas.
The Ami Cargo Electric can carry a payload up to 140kg and has a maximum load volume of 400 litres. Of that, 260 litres comes from the seven-part cargo module that replaces the passenger seat of the regular Ami. There's also a table for filling in and storing forms, plus a secure storage compartment for a driver's wallet or phone. 
The Ami Cargo Electric uses the same 5.5kWh battery as the regular Ami, for a maximum range of 46 miles. The small battery also means fully charging the Ami Cargo Electric takes just three hours. The battery sends power to an 8bhp electric motor driving the front wheels.
Zero-emissions status makes the Ami Cargo Electric ideal for deliveries in cities like London, where it would be exempt from the Congestion Charge and ULEZ (Ultra Low Emission Zone) charges. As Eurig Druce, managing director of Citroen UK, reaffirmed: "With more cities across the UK introducing restrictions for conventional vehicles, Ami Cargo Electric will provide businesses and fleet customers with the opportunity to continue their urban and last-mile operations in a practical, sustainable and cost-efficient way."
The Ami Cargo Electric is also ideal for working in cities thanks to its tight 7.2-metre turning circle. Plus, its steel tubular structure makes it safer in a collision than motorbikes and other three-wheel options. The vehicle will be available to order in the UK some time in 2022, but like the regular Ami, Citroen has yet to confirm an exact launch date, or pricing and specification information. In France, the LCV version of the Ami starts from €6,490 (£5,600), or just €24.18 (£21) per month to lease.
For fleet orders of less than 10 in France, companies can have their logos added to the vehicles; larger orders from businesses can request bespoke modifications, such as having their vehicles wrapped or painted in specific company colours.
Potential customers can now reserve the Ami Cargo Electric with a refundable £250 fee. According to Citroen, over 14,000 Brits have already expressed interest in the regular Ami ahead of its arrival in spring 2022, with prices expected to start from as little as £6,000.
The Ami Cargo will join Citroen's existing line-up of zero-emissions light commercial vehicles, which currently includes the compact e-Berlingo, medium-sized e-Dispatch and large e-Relay panel vans.
Citroen Ami two-seat electric city car: new personalisation options available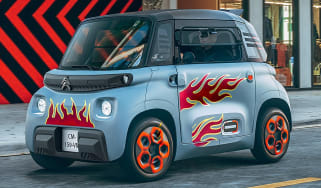 Citroen Ami two-seat electric city car: new personalisation options available
Top 10 best seven-seater electric and hybrid cars 2021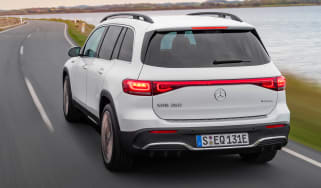 Top 10 best seven-seater electric and hybrid cars 2021
If the regular crop of electrified SUVs and family cars don't provide enough practicality for you, then take a closer look at the range of electric an…
Complete guide to the BP Pulse (formerly Polar Plus) charging network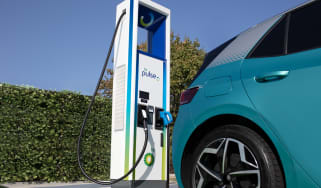 Complete guide to the BP Pulse (formerly Polar Plus) charging network
This is how to charge your electric or plug-in hybrid car on the BP Pulse public charging network (which was formerly known as the Polar Plus network)
Complete guide to the IONITY charging network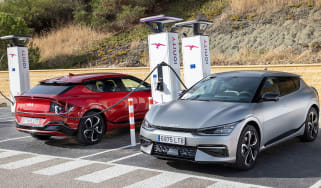 Complete guide to the IONITY charging network
The manufacturer-backed IONITY rapid-charging network is expanding across the UK and Europe – here's all you need to know