BMW 545e xDrive hybrid review
There's now a more powerful plug-in hybrid version of the BMW 5 Series executive saloon. Is it worth the extra over the 530e?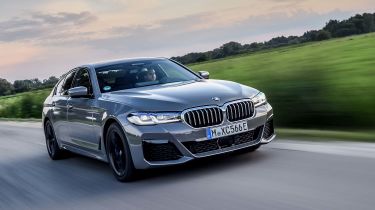 Pros
Fast and efficient
Not much pricier than 530e
Smooth six-cylinder petrol engine
Cons
Extra weight occasionally felt
Unreliable voice-control system
Reduced boot space vs non-hybrid
| Car type | Electric range | Fuel economy | CO2 emissions |
| --- | --- | --- | --- |
| Plug-in hybrid | 29-35 miles | 128-166mpg | 39-50g/km |
BMW 5 Series buyers have long been used to choosing from a range of petrol and diesel engines, but as plug-in hybrid increasingly looks like the default option for company-car users, BMW is now offering multiple electrified versions of its much-praised executive saloon, too.
The 530e hybrid saloon has been on sale – and occasionally updated – since 2017, but for the 5 Series' 2020 update, a 530e Touring estate is being added to the line-up for the first time, as well as this more powerful 545e plug-in, which is offered exclusively as a four-door saloon and with BMW's 'xDrive' four-wheel-drive system. It makes the 5 Series hybrid an even more compelling rival to the electrified versions of the Mercedes E-Class, Audi A6 and Volvo V90.
The key difference between this and the 530e is that the petrol-fuelled portion of its drivetrain is a six-cylinder, rather than four-cylinder, engine. BMW's six-cylinder engines have been renowned for their smoothness for years and this latest 3.0-litre offering doesn't let the side down. When combined with the 545e's electric motor, total output is 387bhp and maximum torque is a hefty 600Nm. That translates into a very rapid 0-62mph time of 4.6 seconds and prodigious motorway cruising ability.
The 11.6kWh battery is said to store enough energy for up to 35 miles of zero-emissions driving without using the petrol engine at all, with the resulting sub-50g/km average CO2 emissions getting the car into the 11% BiK (Benefit-in-Kind) company-car tax band for 2021/22.
Stated fuel-economy figures of 128 to 166mpg will be nigh-on impossible to match in the real world; they assume ideal conditions and starting every journey with a full battery. But during our initial test of the car on a 44-mile route taking in urban roads and Autobahn in and around Munich, Germany, we saw an indicated 70mpg, which is an undeniably impressive number for a near-400bhp sports saloon.
Around 26 miles of that was completed on electric power, and it was a good demonstration of the car's ability to analyse a route you plug in to the sat-nav system and decide for itself when is most efficient to use electric or petrol power, or a combination of the two.
Electric mode is the default on start-up for the 545e, and as long as there's enough charge in the battery, it'll comfortably accelerate up to motorway speeds without having to call on the engine. And even when you prod the accelerator sharply to bring the petrol engine to life, it's barely noticeable, so quiet and smooth is its operation.
Should you wish to throw efficiency to the wind and just enjoy the 5 Series' very accomplished chassis on twisty road, the 545e can oblige, with a nice engine note as it climbs towards 7,000rpm and no serious impact on handling prowess from the extra weight of the hybrid system and batteries. The steering remains smooth and well weighted and the suspension irons out bumps extremely well, so the car feels poised at all times.
Inside, the 545e gets a 12.35-inch infotainment screen and the latest version of BMW's iDrive system, which is now finally compatible with both Apple CarPlay and Android Auto for smartphone integration. There's also a 'personal voice assistant' function; however, in common with similar systems we've tried from other brands, it's not 100% reliable, sometimes misinterpreting instructions or else taking a very long time to carry out an instruction. You'll probably find yourself reverting to the screen or physical controls before too long.
Open the boot and you'll find one area of compromise compared to a regular petrol or diesel-engined 5 Series: boot capacity drops from 530 to 410 litres. But that and the voice control are the only real complaints that can be raised against the 545e: it's not even that much more expensive than the four-cylinder 530e, particularly from a company-car tax or PCP finance point of view. It should prove a popular choice.