Best electric mopeds 2022
We run down the best electric mopeds you can buy, ranging from some mainstream models to some not-so-well-known names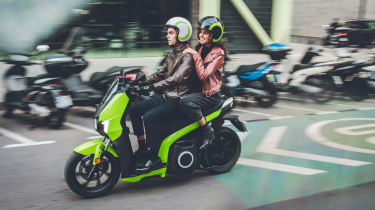 Electric mopeds are set to play a big part in the future of urban transport. Restrictions on private cars in city centres are already gathering pace: in the UK, Oxford and Bristol have joined London in charging petrol and diesel cars to enter. That means we'll have to find alternatives, and e-mopeds will be part of the mix, along with bicycles (both pedal-powered and electrically assisted), kick scooters, ride-sharing and public transport.
So what's available? Not so long ago, there were just a few feeble electric mopeds aimed at the likes of Uber Eats riders – plus BMW's C-Evolution. But these days, there's a new generation of smarter e-bikes capable of zipping silently up to 50 or 60mph, and packing bigger batteries for a much better range. Highlights include the Bluetooth-enabled Niu and the bargain-basement Lexmoto Yadea. Big names are getting in on the act, too, with Vespa and Honda both launching electric scooters.
When buying, look for a battery warranty of two to three years and qualification for the government plug-in vehicle grant. The top trend at the moment is for smaller twin batteries rather than one big one, enabling them to be lifted out for recharging – important if you live on the seventh floor of an apartment block!
Silence – from £2,695
Silence (pictured top) has been making electric mopeds since 2013 and the brand is now back on sale in the UK, with a range of four bikes from the 50cc-equivalent S01 to the 125cc-equivalent S02, offering up to 62mph from a 9kW motor, 5.6kWh battery and claimed 80-mile range. It reckons the S02 will sprint from 0-30mph in 3.9 seconds, while the top Long Range variant claims 91 miles on a charge.
The Silences are aimed at delivery services as well as commuters, and all can carry a rider and passenger, with quick release lift-out batteries for recharging from any 240V supply. There's also an on-board SIM to communicate with a phone app, while all models feature regenerative braking, to put a little energy back into the battery when slowing down. Warranty is a decent three years. We've seen the factory (which, unusually, builds its own batteries) just outside Barcelona – this is one of the few European-made electric mopeds.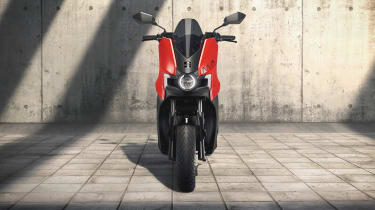 SEAT MÓ eScooter 125 – from £4,996
The MÓ eScooter125 represents the car brand's first foray into electrified two-wheeled transport, aimed at both private buyers and fleet operators. Power comes from a 12bhp electric motor inside the rear wheel; 0-31mph takes 3.9 seconds and top speed is 59mph. A 5.6kWh battery feeds the motor and is good for a range of 85 miles according to SEAT; the firm reckons only a weekly charge will be required in most cases.
Charging can take place at a public point or at home, where the scooter's battery can be removed and charged overnight from a three-pin socket. Fleet operators will be able to swap a charged battery in for a flat one, minimising turnaround times. The scooter also features regenerative braking and a reverse gear. Pulling the left-hand brake applies the brakes on both wheels, while pulling the right-hand brake only applies the front but engages the regenerative braking – amplifying the braking effect and recharging the battery.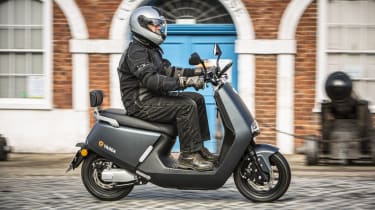 Lexmoto Yadea – from £1,700
Lexmoto offers the cheapest electric moped on the UK market – that is, the cheapest one from a well established brand with a proper dealer network, rather than a random online seller. Based near Exeter, this high-volume importer outsells everyone else in the 50cc and 125cc petrol markets, and in late 2020 it launched a range of electric mopeds.
The G5 model we rode (actually costing £1,900) has everything you would expect from a modern electric moped. The battery hides under the floor but easily lifts out for charging – it'll also charge in situ. There's a big tablet sized dashboard with big clear battery level gauge, a low charge warning light, and estimated remaining range (so there's no excuse for running out) with a clock. The rear hub motor does away with the need for a drive belt, and pushes the Yadea up to its 28mph top speed reasonably quickly.
In town, a loud ding-dong from the indicators warns pedestrians that you're coming and the Yadea is Bluetooth-enabled to hook up with your phone, although the UK isn't getting the relevant app, or not yet at least. Charging is a slow six to eight hours and Lexmoto claims a modest 35-mile range. At £1,700 though, the Yadea undercuts all the opposition and will be cheaper to run than any petrol scooter.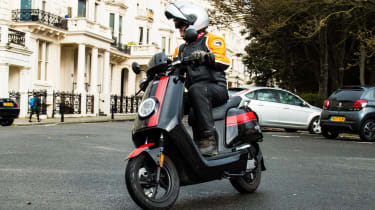 Niu Mqi+ Sport – from £2,156
Niu isn't exactly a household name, but it has created a little niche for itself as one of the smarter electric moped makers. The Mqi+ Sport is one of latest variants on the theme, a moped limited to 28mph, but Niu also offers it in faster form with a 3Kw motor, claimed 60-mile range and 47mph top speed, which makes it easily quick enough to keep up with urban traffic.
Claimed ranges of electric mopeds can be about as accurate as the fuel-economy aspirations of ICE cars. One Niu we rode in 2019 it lived up to its official figure – the test bike had 35% battery left after 44 miles, so we were heading for a credible 65 miles to empty. The faster Nius have two batteries, both of which can be charged in situ or taken indoors to plug in. A full charge from flat takes 3.5 hours according to Niu, and the battery warranty runs to three years/20,000 miles, which is good.
Bluetooth is one of the Niu's selling points – it links to your smartphone to show GPS, real-time diagnostics and an anti-theft alert – but the moped won't swallow a week's worth of shopping because all the under-seat space is filled with battery. At £2,156 after the government's Plug-In Grant, the Mqi is well priced.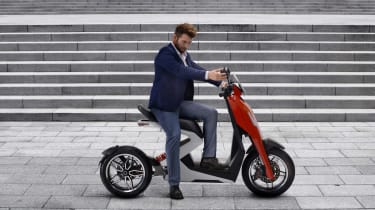 Zapp i300 Carbon – from £7,950
The Zapp i300 is not exactly undersold. It's designed in Britain, with production now getting underway in Thailand, and its publicity refers to "superbike-type acceleration and riding dynamics... five patent applications relating to motorcycle fundamentals and 50 new-to-industry advanced features". The motor is a 'Super Twister' and the two batteries are 'Turbo Twins.'
Behind the hype, the Zapp really is a high-performance moped. The motor offers 14kW and a massive 587Nm of torque, backing up official claims of 0-50kph in 2.3 seconds and 0-100kph in 4.9 seconds – this is true motorcycle performance, although top speed is limited to 60mph. The chassis has a superbike flavour, too, with two-sensor ABS, fully adjustable suspension at both ends and a distinctive exoskeleton frame.
The twin batteries (sorry, can't call them Turbo Twins) are very small and light, giving a range of only 37 miles. But Zapp reckons that with average European city daily mileage being only 12 miles, that's enough, and the smaller batteries are easier to carry up to the office or flat for a recharge. Zapps are sold direct online, with annual servicing performed at the owner's home by, wait for it... 'Zappers'.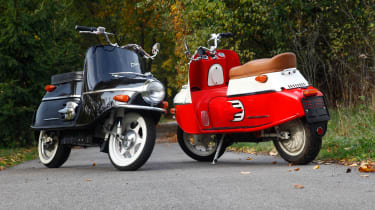 Cezeta – £TBC
Do you like retro? Who doesn't, but the Cezeta isn't some ersatz copy. Instead, it's a faithful reproduction of an original Czech-made scooter from the late 1950s. Over 100,000 of these were sold across the Eastern Bloc from 1957-64 and in 2017 its Sputnik styling was reborn with an electric motor in place of the old 175cc two-stroke.
Production is strictly limited to around 50 per year in the Czech Republic, and the first series has sold out, though Cezeta is now taking orders for the second series, with production expected in mid-2021. Underneath the composite bodywork is a galvanised steel frame, disc brakes and a choice of motors giving 5.7kW to 9.2kW with batteries of 4kWh, 6kWh or 8.5kWh.
We haven't tested the Cezeta, but the maker claims top speeds of 52mph to 75mph and ranges of 52-105 miles, depending on the motor and battery combination selected. All can be ridden on an A1 licence, so you won't need a full motorcycle licence to ride one, just your CBT, theory and practical tests. The Cezeta isn't cheap but it's a unique machine that'll certainly turn heads. And if you're still not sure about buying one, there's always the option of taking a trip to Prague and hiring one for a weekend.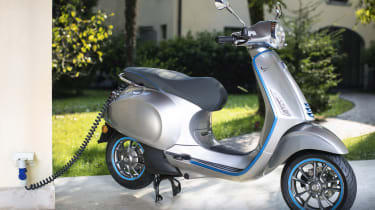 Vespa Elettrica – from £5,040
A Vespa is the ultimate moped for many, and 18 million have been sold since the original was launched in 1946. Modern incarnations are still being made in Italy and the Elettrica was added in early 2019. Outwardly, it could be mistaken for a petrol Vespa (apart from some subtle blue pinstriping and lack of an exhaust) but underneath it's very different.
The 50 or 125cc petrol motor is replaced by a 4kW electric motor (which is quite beefy for what is a moped-class bike) and generously sized 4.2kWh battery. So although the standard Elettrica is limited to 28-30mph, it gets up to speed pretty quickly and holds it up hills, something not all mopeds can manage. There's also a faster 45mph version, which costs only £300 more. And being a Vespa, the dynamics are good – it's light and manoeuvrable, quick to steer and easy to ride, plus has the Vespa heritage.
The TFT dash will integrate with your smartphone via the Vespa app, which enables you to make or receive calls, and has a sat nav and various other goodies. As you'd expect, the battery can be charged in situ or lifted out. The Elettrica is one of the most expensive electric mopeds on the market (the price here is after the Plug-in Grant), but it's undeniably stylish.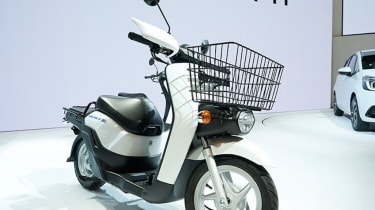 Honda Benly e: – from £5,074
It took years for the world's leading motorcycle manufacturer to finally launch an electric moped, and this is it. The Benly e: went on sale in Japan only, aimed squarely as small businesses such as fast food delivery, and there's no sign of it coming to the UK. It's a fairly conventional delivery moped, with flat luggage platforms front and rear plus a reverse assist feature for getting out of tight spots. The twin swappable batteries are small (1kWh each) and must be returned to Honda for recycling when they reach the end of their lives.
The Benly e: comes in e:1 (moped equivalent) and e:II (5.7PS) forms, both available in basic or 'pro' spec, the latter bringing a front basket, rear carrier, hand protectors and footbrake. With those small batteries the range is limited, Honda quoting about 55 miles at 18mph for the e:1 and about 26 miles for the e:II. That's not much, but these smaller power packs reduce weight and cost, while business customers will have spare batteries on hand for rapid swaps.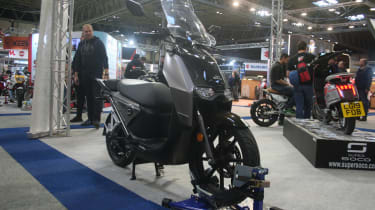 Super Soco CPX – from £3,599
Super Soco isn't a household name in the UK yet, but it's smart little motorcycle-style electric bikes sell like hot cakes, topping the electric two-wheel charts for two years running. The range now includes the CUX moped, which features a built-in camera to record your commute and the CPX, a bigger 125cc-equivalent scooter built for longer commutes.
Physically bigger than the Niu, it should carry two people comfortably. With a 4kW rear hub motor delivering 171Nm, it tops out at 56mph and has a claimed range of 44 miles, or 87 miles for the optional twin-battery set up. Keep to a steady 25mph and Super Soco claims you can ride up to 112 miles.
There are convenient touches like a reverse function, LED headlight and a USB charge point. As with an increasing number of electric mopeds, the battery can be recharged on or off the bike – Super Soco reckons a full charge takes 3.5 hours and the battery has an excellent four-year warranty.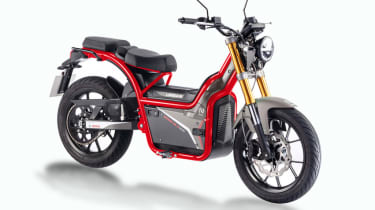 Rieju Nuuk – from £6,199
Best described as a moped/motorcycle hybrid, the Nuuk has the lowish step-through and smallish wheels of a moped, but the exposed frame, inverted forks and 280mm front disc brake of a motorcycle. With the option of a big luggage box to replace the passenger seat. it's aimed at commercial fleets as much as private customers.
It's made in Spain by Rieju, a long-established maker of small motorcycles. The Nuuk comes in 28mph moped or 70mph motorcycle form, the latter with a 10.5kW motor, and the standard claimed range is 70 miles or 50 miles respectively, although extra batteries can boost the the distance.
Batteries can be quickly accessed for swapping or recharging. Standard charging takes five hours, although there's a fast-charge option of 1.2 hours. The Nuuk is different – it lacks weather protection and (unless you pay extra for the top box) any luggage room – but it's an interesting addition to the market.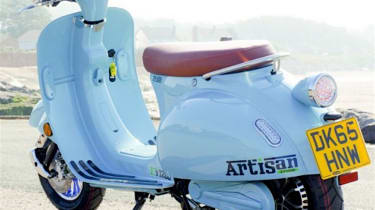 Artisan – from £2,636
Artisan is one of the pioneers of electric scooters, available in the UK for five years and starting out with a low price and low tech lead-acid batteries. It has since progressed to the industry standard lithium-ion cells and the price has gone up, but it's still one of the cheaper options. Artisan also offers a tilting three-wheel moped aimed at fast food deliveries.
If you like faux-Vespa styling then you'll love the Artisan. The cognoscenti will notice that the bodywork is plastic (not metal, like a genuine Vespa) and that there's a bit too much chrome, but it does come in a wide choice of colours (seat as well as bodywork). This is a moped-class scooter, so it's limited to 28mph, which can feel vulnerable on a busy road, but that's endemic to all mopeds, whether electric or 50cc petrols.
Claimed range is just 25 miles, but the good news is that the battery lifts out for indoor charging and a second battery (£500 extra) slots in beside it to extend the range. Two and three-year battery warranties are becoming the norm, so the Artisan's 12-month cover is a bit thin. But then, it is still the budget option.
More recently, Artisan has added the ES1-PRO SuperMoto-style bike and an inner-city EVC 48mph scooter. In 2020, Artisan became the UK and Ireland importer and partner for Horwin Global, bringing to market the CR6. This was followed in 2021 with the EK3 and EK1. September 2021 saw the introduction of the Horwin CR6 Pro – the first five-speed manual electric motorbike with a traditional clutch.
Note: We've used 'moped' here as the generic term, as 'scooter' can be confused with stand-up scooters. Legally, 'mopeds' refer only to the smallest machines, limited to 28mph.
Top 10 best 4WD electric cars 2023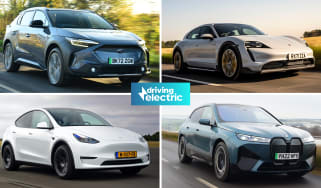 Top 10 best 4WD electric cars 2023
Whether you're looking to venture off-road, or just want some extra assurance in the winter months, we list the best four-wheel-drive electric cars on…
New Ford Explorer electric SUV revealed in full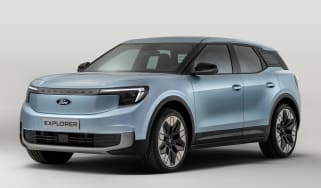 New Ford Explorer electric SUV revealed in full
Ford's new electric crossover boasts a range of more than 300 miles and will be built on the same platform as the Volkswagen ID.4 SUV
Electric Smart #3 SUV will be the biggest Smart ever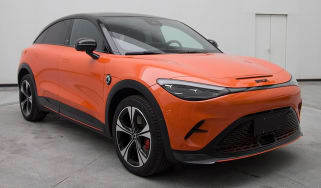 Electric Smart #3 SUV will be the biggest Smart ever
Smart is working on a rival to the Tesla Model Y, set to make its debut at the Shanghai Motor Show in April