Best electric bikes 2020
Power up your cycling with the best electric bikes for commuting or leisure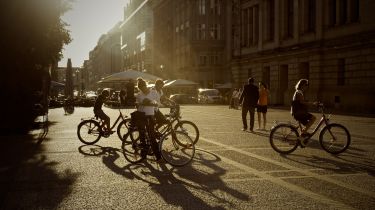 Fancy cycling, but wish you could go further, arrive fresher and carry heavier loads? Want to make healthier journeys, but don't have faith in your legs to replace the engine of your car?
An electric bike could be the solution. Costing pennies to recharge in the UK, electric bikes work via pedal assistance. This means as you turn the cranks the bike's computer calculates how much extra assistance to add from its motor.
There's no motorbike-style throttle involved. British electric bike laws also limit speeds to 15.5mph, which is plenty for most riders. Above this, your legs are left to supply all the power. They're ideal for nippy commuting, and you'll still be able to drop lycra-wearers when the road heads uphill.
The extra power also makes carrying panniers less tiresome, while the weight added by features like mudguards and kickstands also becomes less of a drag.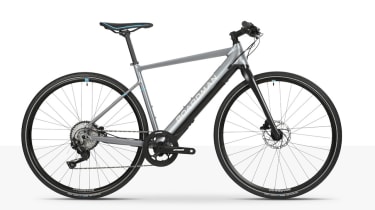 Boardman HYB 8.9E – £2,200
A fast hybrid with a superb Fazua Evation drive system
This speedy hybrid is based around a high-spec Fazua Evation drive system. Allowing the battery and motor to be hidden in the frame, this not only helps balance the bike's handling, but also ensures the Boardman's looks won't scream 'e-bike' at anyone you overtake.
With a flat handlebar, the position on the bike is more purposeful than on more upright alternatives and will reward those keen to pedal a bit faster. A ten-speed Shimano Deore drivetrain provides a wide range for those times when your legs are doing the work, while hydraulic brakes stop quickly in all weathers. The Schwalbe 35mm Citizen tyres are also happy going most places, yet won't drag on smoother tarmac.
Gears: Shimano Deore 1x10; Battery capacity: 250Wh; Motor: Fazua Evation mid; Weight: 15.5kg; Extras: N/a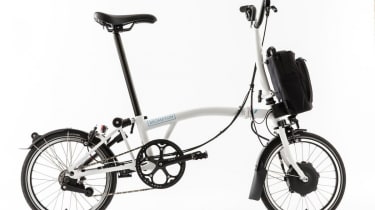 Brompton Electric – from £2,595
The archetype folding bike now with extra electrical assistance
The commuters' favourite made electric, the Brompton folds small enough to take on a rush-hour train. To cram its new electric parts into this diminutive package, Brompton spent years developing a miraculously narrow motor that sits in the front hub.
Connected to a quick-release powerpack slotted in front of the bike, it's a retrofittable solution. The bike's small 16-inch wheels may provide an idiosyncratic ride, but the Brompton remains an efficient and fun machine to pilot. Available totally custom, you can select from multiple colours, along with three handlebar types, 1-,2-,3- or 6-speed gearing, and extras like mudguards, racks and lighting to make it your own.
Gears: 1,2,3 or 6; Battery capacity: 300Wh; Motor: Brompton front hub; Weight: from 16.6kg; Extras: Custom built
Trek District+ 2 Stagger – from £2,075
A fully-featured hybrid with quality extras and agreeable manners
All the things you want, and none you don't. With a simple and reliable Shimano Nexus 7-speed hub gear, the Trek's powerful hydraulic disc brakes are similarly low maintenance. The upright position and backswept bar create a comfortable riding position from which to survey the road ahead.
Huge Schwalbe Big Apple tyres allow the bike to tackle multiple surfaces while cutting down punctures. Robust built-in racks help to port all your gear, while mudguards keep you dry and comfortable. Plugged into the battery, its lights are ever ready and come on at the press of a button. Powered by Bosch's well-proven Active Line drive system, you can purchase the bike with different capacity batteries; 300, 400, 500Wh to tailor its range.
Partnership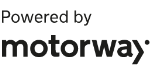 Need to sell your car?
Find your best offer from over 5,000+ dealers. It's that easy.
Gears: Shimano Nexus 7-speed hub; Battery capacity: 300, 400, or 500Wh; Motor: Bosch Active Line mid; Weight: 23.9kg; Extras: Lights, rack, mudguards, kickstand, steering lock
Carrera Crossroad – £1,000
An electric racer for sporty types or fast commuters
Electric racing bikes are their own distinct category. Yet we're including this model from Carrera on account of its mass appeal and top-value pricing. With its drop handlebars, it's speedy over longer distances and isn't too much of a chore when ridden above the point at which the motor cuts out. With semi-knobbly tyres and disc brakes, it's as happy heading down gravel tracks as it is on the road.
The SR Suntour electric gubbins are good, if a little loud, and provide three levels of gutsy assistance. With a relatively small 310Wh capacity battery, lazy riders might find its range limited, leaving the Crossroad best suited to short journeys or riders happy to chip in with some effort of their own.
Gears: Shimano/Microshift 1x9; Battery capacity: 310Wh; Motor: SR Suntour rear hub; Weight: 19kg; Extras: n/a
Cowboy – €1,990 (approximately £1,680)
A minimalist city bike made for the mean streets and with anti-theft tracking
This simple city runaround has plenty to recommend it. With a single-speed drive, the Cowboy's cranks are connected using an ultra-low-maintenance carbon belt drive rather than an oily chain. Its brakes are hydraulic, and the smart lighting, which includes a brake function, is integrated into the frame itself.
The rear hub motor is powered by a medium-capacity battery that can be removed for easy charging. Now for the bike's party trick; to activate or adjust it, you have to use your phone. This means anyone stealing it won't be able to use its electric-assist mode. With a SIM card inserted in the bike, it also means you can use the app to track it if it does go missing.
Gears: Single-speed; Battery capacity: 360Wh; Motor: Rear hub; Weight: 16kg; Extras: integrated lights, app connectivity, GPS tracking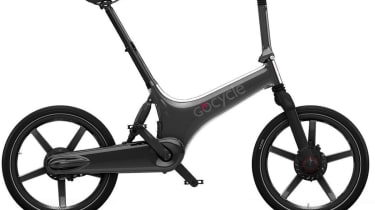 Gocycle G3C – £4,499
A futuristic folding bike with a full-sized feeling ride
The entire futuristic Gocycle range shares an enclosed drive design, unique single-sided frame and fork, magnesium spoked wheels, disc brakes and three-speed gearing. Starting at £2,500, this pricier top-spec model also uses carbon-fibre and magnesium to drop weight, while adding integrated lighting and internal cabling.
The superb folding design and subtle motor-assistance remain, but weight is reduced to an eminently portable 15.5kg. Able to fit into the boot of a car, or take up a minimum of space at home or in the office (thanks to 20-inch wheels and broad tyres) its ride once unfolded feels like a full-sized bike.
Gears: Shimano Nexus 3-speed; Battery capacity: 375Wh Motor: Custom front hub; Weight: 15.5kg; Extras: Integrated lights, app connectivity, foldable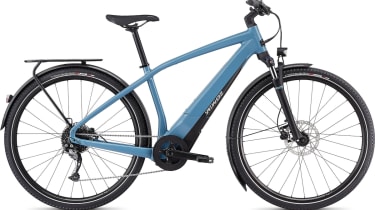 Specialized Turbo Vado 3.0 – £2,400
A rangey bike that wants to replace your car
Most high-end bikes use a centrally mounted motor as opposed to one located in the hub. Allowing the system's weight to be better balanced, it also means power is added more naturally through the cranks. Using a near-silent custom motor and integrated (yet removable) 460Wh battery, the Vado is no exception. Tuned for city use, at the front, a suspension fork smooths the bike's progress across rough surfaces, a facet boosted by the wide yet easy rolling tyres.
Showing key stats and letting you adjust the assistance level, the bike's display and controller also let you switch on the in-built lights. Backed by Shimano 9-speed gearing and hydraulic brakes, a rack and mudguards complete this self-contained package.
Gears: Shimano Alivio 1x9; Battery capacity: 460Wh; Motor: Specialized 1.2 E mid; Weight: 22.5kg; Extras: Suspension fork, lights, mudguards, rack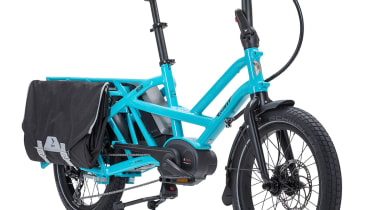 Tern GSD S10 – £4,000
A space-saving bike that goes big on utility and small on wheel size
Electrification is shaking up bicycle design, and the GSD is a great example of this. With manoeuvrable 20-inch wheels and voluminous tyres, the wheelbase on the Tern is the same as a standard bike, allowing it to support everything from six separate panniers to a pillion passenger. Up front, there's even space for an optional front basket, meaning it can easily transport two riders and plenty of bags.
Helping make light of heavy loads, Bosch's Performance Line motor is powered by a 400Wh battery, with a second slot available to double its range via the addition of a second power pack if needed. Get home, and the bike's space-saving design sees saddle and handlebars drop down, allowing it to sit vertically. It's all very clever indeed.
Gears: Shimano Deore 1x10; Battery capacity: 400Wh (plus optional second battery); Motor: Bosch Performance mid; Weight: 27kg; Extras: Folding handlebar, optional second passenger seat, mudguards, rack, kickstand, lights
Raleigh Centros Grand Tour – £2,850
A stately cruiser from Britain's best-known bike maker
A big battery and top-flight Bosch Active Line Plus motor combine to ensure this Raleigh will always carry you the distance in comfort. Able to transport riders for around 60 miles with minimum input, putting in a little effort yourself will see it achieve 100 miles before needing to be recharged.
With remote activation lights, a nurses' lock, mudguards, rack, kickstand, suspension seat post, pivoting stem, and suspension fork, the Raleigh is adjustable and equipped with every conceivable extra. Finished with Shimano Nexus eight-speed gearing and disc brakes, both should last decades. If you can put up with its slightly gangly looks, the Centro won't sell you short.
Gears: Shimano Nexus eight-speed hub; Battery capacity: 500Wh; Motor: Bosch Active Line Plus mid; Weight: 26.5kg Extras: Suspension fork and seat post, lights, kickstand, adjustable stem, mudguards, rack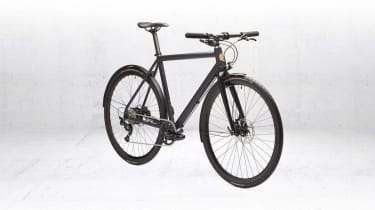 Ampler Curt – €2,890 (approximately £2,455)
Stylish bike with low-key assistance that could pass for a conventional machine
The Ampler Curt is both skinny and light enough to pass for a conventionally powered bike. Using a mid-sized battery hidden in the downtube, its power is supplied to the rear hub. With skinny tyres, it's one for the road, and thanks to excellent wheels it both accelerates and holds its speed easily.
So subtle as to have no display, you use an app or the button beside its charging point to tailor the assistance level. With the battery fixed inside, you'll have to bring the whole bike in for charging. Also available as a single-speed, given both models cost the same, we'd plump for this 10-speed version using Shimano's excellent 10-speed Deore drivetrain.
Gears: Shimano Deore 1x10; Battery capacity: 336Wh; Motor: Rear hub; Weight: 14.3kg; Extras: App connectivity, lights, mudguards
Vauxhall Frontera to arrive as Crossland EV replacement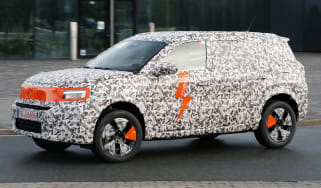 Vauxhall Frontera to arrive as Crossland EV replacement
The Vauxhall Mokka Electric will soon be joined by a chunkier, yet cheaper sibling that's set to revive a classic nameplate
New electric cars coming in 2023 and beyond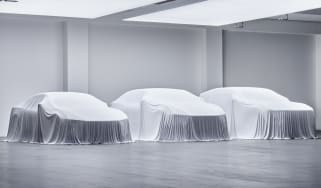 New electric cars coming in 2023 and beyond
With electric cars making up an ever-increasing proportion of sales, the industry is working flat out to launch new models – here's what's on the way …
Formula E-inspired Nissan Concept 20-23 previews hot electric Micra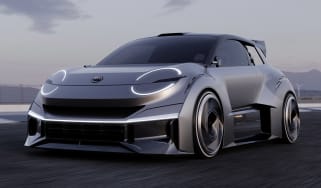 Formula E-inspired Nissan Concept 20-23 previews hot electric Micra
Nissan's latest concept car comes in the form of a high-performance version of its upcoming city EV