Audi A6 hybrid range, MPG, CO2 & charging
The Audi A6 TFSI e is efficient, but its electric range isn't quite as long as rivals'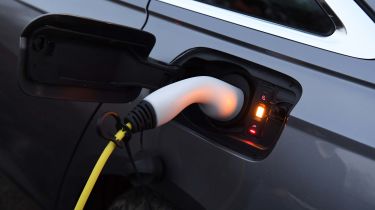 | Fuel economy | CO2 emissions | Electric range | Wallbox charge time |
| --- | --- | --- | --- |
| 141-188mpg | 35-45g/km | 34 miles | 2hrs (0-100%, 7kW) |
Plug-in hybrid executive cars such as this have to offer enough electric range for the average commute, as well as reasonable fuel economy on longer motorway journeys. The A6 lives up to both of these requirements, with official figures comparable to those of equivalent BMW and Mercedes models.
It pays to remember that you're highly unlikely to get anywhere near the official fuel-economy figures. In normal driving, you're more likely to see two-figure returns, somewhere between those of a conventional petrol-engined A6 and a diesel. To maximise efficiency, it's best to keep the battery topped up, travel on electric power as much as possible and avoid strong acceleration.
However, with the average 40% taxpayer saving over £4,000 a year compared to the Benefit-in-Kind payable on an equivalent petrol-only A6, fuel costs are unlikely to be a big concern.
Audi A6 plug-in hybrid range, MPG & CO2 emissions
The Audi A6 plug-in can travel a claimed 34 miles on a single charge with no help from its petrol engine. This should be more than enough for most shorter commutes, but it's not quite as good as the BMW 530e (up to 37 miles) or Mercedes E 300 e (32 miles). And in real-world driving, we only got about 25 miles from the Audi.
Official fuel-economy figures vary depending on specification, with the smaller-wheeled Sport version the most efficient. Its official consumption is 166 to 188mpg, while the slightly heavier and larger-wheeled Vorsprung range-topper returns 141 to 149mpg. It's the same story with CO2 emissions, with the Sport maxing out at 39g/km, versus the top-spec car's 45g/km.
Charging time
The Audi A6 50 TFSI e can charge at a maximum speed of 7kW, which equates to around two hours for full replenishment from a compatible home wallbox or public charger. Audi remains tight-lipped about official charging times but as a rough guide, a full charge from a three-pin domestic socket should take around six hours, or four hours from a 3.7kW wallbox.