Complete guide to BP Chargemaster home chargers
Everything you need to know about BP Chargemaster wallbox home chargers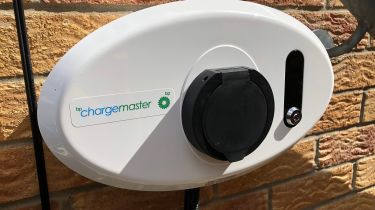 BP Chargemaster is the biggest and most well known provider of dedicated car chargers. It's responsible for installing around 40,000 home chargers to date, has official partnerships with BMW, Jaguar, Nissan and Renault among others, and also runs the Polar network of public chargers, as well as offering workplace charging points.
BP Chargemaster home chargers
BP Chargemaster home chargers all look much the same; a rather boring but inoffensive-looking, beige, oval box measuring around 35cm at its widest point and 12cm deep. If it's an aesthetically appealing charger you want, you're probably going to have to pay a lot more money and go to someone like Andersen.
As it is, Chargemaster is one of the most affordable home-charger providers, with wallboxes starting from under £300 after the government grant has been applied, including fitting and a three-year warranty.
You can choose to have the box with a 4.7m cable tethered permanently into the unit, or with a simple Type 1/Type 2 socket that allows you to plug in with a Type 2 charging cable provided (sometimes optionally) with every plug-in car.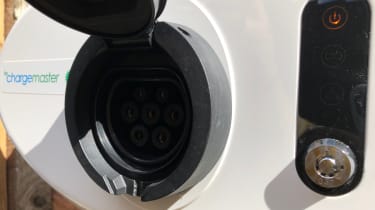 Opt for the premium wallbox (pictured) for an extra £100, and you also get a lock on the box that allows you to prevent anyone without the key from using the charger, as well as three years' access to an online service that shows exactly how much electricity the charger has used.
This makes it easy to calculate costs of charging, provided you know what your home electricity tariff is per kWh (the average is around 14p, but check with your utilities provider if you're not sure). 
The two most popular charging speeds to choose from are 3.6kW or 7kW. We'd encourage you to go for the 7kW, as that'll give you charging speeds of roughly 30 miles of range per hour (30RPH), while the 3kW will manage around half that speed.
Faster chargers of 11kW or 22kW are offered, too, but these require three-phase electrics that are a costly upgrade for most homes in the UK.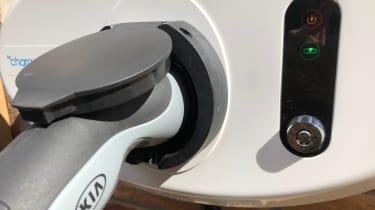 When having the charger installed, you'll need to provide photos of your fusebox and mains electric meter, as well as the private, off-road location where you want your charger to be fitted.
If you're applying for the OLEV government grant, you'll also need the necessary paperwork including proof of electric vehicle ownership (or proof that you're running one through a company-car scheme) and the car's registration number to hand.
Welcome to the all-new DrivingElectric website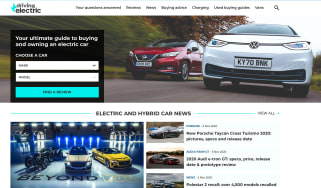 Welcome to the all-new DrivingElectric website
DrivingElectric has an all-new look; faster and easier to use, it's still your ultimate guide to buying and owning an electric car
Hyundai Kona Electric facelift images 2020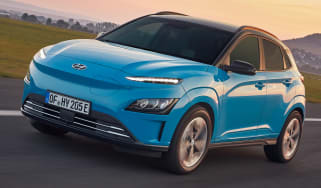 Hyundai Kona Electric facelift images 2020
Pictures of the facelifted Hyundai Kona Electric
New Cupra Leon e-Hybrid on sale now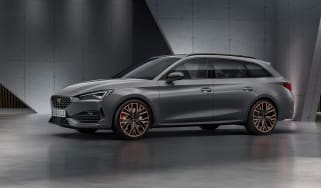 New Cupra Leon e-Hybrid on sale now
New Cupra Leon e-Hybrid gets 242bhp, 32-mile range and bold styling; prices start at £34,495