What was the first electric car? A history of the electric car
Ever wondered where the electric car came from? Here's a short history of the technology and milestone moments in its history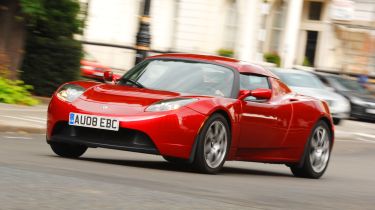 The electric car is fast becoming a significant part of the automotive landscape, with more car buyers making the switch as governments around the world begin to lock down on emissions ahead of a permanent move away from fossil-fuelled personal transportation.
Modern electric cars are on the cutting edge of technological understanding, battery performance and sophisticated manufacturing techniques. It's technology that feels completely futuristic, but it's a story that actually began over 100 years ago.
Here's our whistle-stop tour of the history of the electric car.
Who invented electric cars?
The electric car story begins far longer ago than you might have thought. In 1839, a Scottish inventor named Robert Davidson created what is believed to be the world's first electric vehicle – a carriage powered by a motor of his own design and rudimentary, non-rechargeable liquid-acid batteries.
Records show that the vehicle was shown to the public in 1839 and carried passengers, albeit on short demonstration runs. His achievements are particularly impressive given that they predate many fundamental discoveries and developments in our understanding of electricity itself.
And while his technology never made it to market in a car, his pioneering work helped to kickstart the industry even before the dawn of the 20th century.
When was the first electric car made?
Electric cars didn't arrive on the market for some time after Davidson's early efforts; one of the very first was built by Elwell and Parker in Wolverhampton in 1884 and was simply a modified horse-drawn carriage. At around the same time, Scottish firm Maldevic made five-wheeled horseless carriages.
Meanwhile, the first electric car in the US arrived from William Morrison in 1891, with another US firm called Electobat producing electric taxi cabs from 1894 onwards. The latter could travel at 20mph and even had swappable batteries. In fact, taxi companies were some of the earliest adopters of the technology.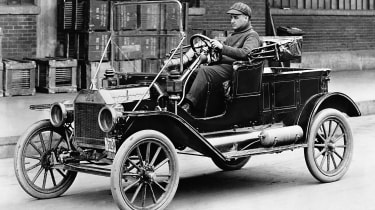 Why did early electric cars disappear?
Electric cars were big business in the early 20th century: according to some historians, around a third of the cars in America were electric in 1900, while some reckon that electric cars outsold their early internal-combustion counterparts in 1899 and 1900. 
In 1898, owners of motor vehicles were freed from the 'red flag' act, which had imposed low speed limits and required a man waving a red warning flag to walk ahead of cars. The removal of this saw interest in internal-combustion cars grow.
The major turning point in electric cars' fortunes, however, was the arrival of the Ford Model T (pictured above) in 1908. While earlier petrol-powered cars beat electric cars in terms of effective range, they were loud, dirty, hard to drive and prohibitively expensive for most. The Model T addressed all of these downsides while retaining great practicality and range, effectively killing off the electric car before it had a chance to develop.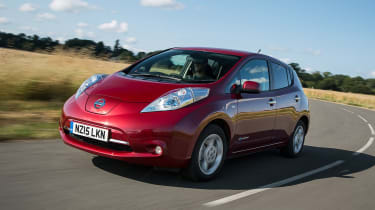 What was the first modern electric car?
Internal-combustion cars have ruled the roost ever since the Model T arrived, but there have been a few efforts to kick-start the electric trend since then. In 1941, Peugeot was one of the only manufacturers to turn to electrification as an alternative to fossil fuels during wartime rationing, with its Véhicule Léger de Ville (VLV) built until 1943. It had a range of around 50 miles, but could only muster speeds of around 20mph, The fuel crisis in 1971 saw a number of small, flash-in-the-pan efforts to offer an alternative to thirsty petrol cars, but ultimately these weren't very successful. 
Partnership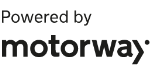 Need to sell your car?
Find your best offer from over 5,000+ dealers. It's that easy.
In 1992, Ford released its Ecostar – a Ford-Escort-based van that entered service with the Royal Mail and other operators in small numbers. In 1995 Peugeot introduced its 106 Electric, with over 3,500 examples built up until 2003. 
Other electric cars arrived across the Atlantic in the US as a result of new clean-air policies; sales of these models, including the streamlined General Motors EV1 in 1996, declined into the early 2000s as consumer interest waned and the SUV boom began.
The first examples of electric vehicles fitting the modern description of an electric car – that is, one that can perform ably on all roads and at the same speeds as an internal-combustion car – came thanks to improvements in lithium-ion battery technology in the eighties, nineties and early noughties. 
The first production electric car to use this technology was the first-generation, Lotus-Elise-based Tesla Roadster of 2008, with more practical offerings from other manufacturers following soon afterwards. 
It's here where the modern era of electrification began, with other pioneering models including the Nissan Leaf and Renault Fluence helping to start turning everyday buyers' heads towards electric cars as viable transportation.
Vauxhall Frontera to arrive as Crossland EV replacement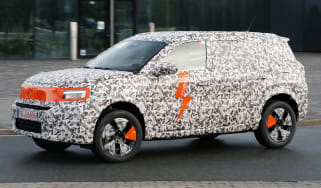 Vauxhall Frontera to arrive as Crossland EV replacement
The Vauxhall Mokka Electric will soon be joined by a chunkier, yet cheaper sibling that's set to revive a classic nameplate
New electric cars coming in 2023 and beyond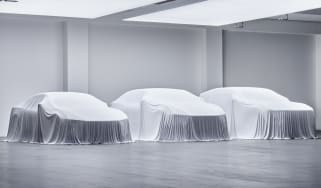 New electric cars coming in 2023 and beyond
With electric cars making up an ever-increasing proportion of sales, the industry is working flat out to launch new models – here's what's on the way …
Formula E-inspired Nissan Concept 20-23 previews hot electric Micra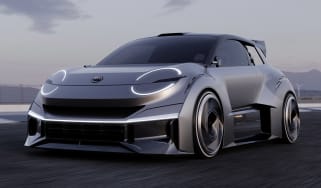 Formula E-inspired Nissan Concept 20-23 previews hot electric Micra
Nissan's latest concept car comes in the form of a high-performance version of its upcoming city EV