Volvo XC60 Recharge hybrid range, MPG, CO2 & charging
The Volvo XC60 plug-in is easy to live with, offering strong real-world economy and low CO2 for a big SUV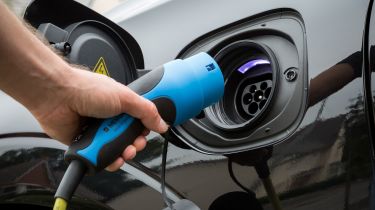 | Fuel economy | CO2 emissions | Electric range | Wallbox charge time |
| --- | --- | --- | --- |
| 86-113mpg | 55-73g/km | 28-32 miles | 3hrs 15mins (3.7kW) |
A mid-size premium SUV like the XC60 might not be the obvious plug-in hybrid choice, but Volvo's setup combines petrol and electric power to good effect here, with strong electric range, decent fuel economy and low CO2. Charging is easy – just remember you have to do it every day to get the best from the car.
Volvo XC60 Recharge hybrid range
With a full battery, the XC60 will cover up to 32 miles on electric power alone, and using that range as much as possible will see a best average fuel-economy figure of up to 113mpg. However, this isn't going to be achievable for everyone; you'll only see this number (or close to it) if your average daily mileage is low. If you can plug in at home and at your place of work, this helps maximise efficiency.
Our sister title Auto Express ran an XC60 Recharge T8 for six months and returned more realistic economy, but 58mpg is still very impressive. Based on this real-world figure, a cruising range of 888 miles on a tank of fuel is brilliant – the diesel XC60 Auto Express ran before the T8 managed 40mpg by comparison.
Charge time
The XC60 comes with a 4.5-metre three-pin cable as standard, while a 4.5-metre Type 2 cable for use with public chargers and wallboxes is a £50 optional extra, which seems a little tight on Volvo's part given the price of the car.
The XC60's on-board charger limits its maximum charging speed to 3.7kW, however, so the best time you'll see to fully recharge the battery is a little over three hours, regardless of what you're plugged into.
This is the most efficient way to charge the 11.8kWh lithium-ion battery, but there is another method. There's a driving mode that forces energy into the battery on the move – useful if you want to top the battery up for electric driving when you get to a town, but it does place more strain on the engine, so expect your fuel economy to decrease if you engage this setting.
Battery warranty
Every Recharge model in Volvo's line-up gets an eight-year/100,000-mile warranty on its battery. This means if the battery starts to deteriorate beyond prescribed levels then you'll get a new one, free of charge. However, we don't expect this to happen.