Used Volkswagen e-Golf buying guide
All you need to know about buying a used Volkswagen e-Golf electric hatchback, on sale since 2014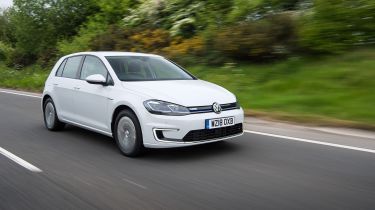 The Volkswagen Golf Mk1 arrived in 1974 and since then more than 35 million Golfs have been sold, virtually all with either a petrol or diesel engine. A few came in plug-in hybrid form (the Golf GTE) while some have come with battery power only. The first was an electric Golf Mk1 called the Citystromer, but it was only a prototype rather than a production model.
Then in 1984 came the next Citystromer, this time based on the Golf Mk2, but just 100 were made before production ended in 1985. There was also a Golf Mk3 Citystromer, but it wasn't until the Mk7-based e-Golf was unveiled in 2013 that the electric Golf went mainstream.
But while it may have taken more than three decades to get a series-production battery-powered Golf, in typical Volkswagen fashion the end result was slick and desirable, making the wait worthwhile.
History
March 2014: UK orders open for the Volkswagen e-Golf, with the first cars delivered to their owners three months later. Offered only in five-door hatchback form, the e-Golf is priced at £31,325, from which a £5,000 grant is deducted. Powering the e-Golf is a 114bhp electric motor, driving the front wheels through a single-speed gearbox.
March 2017: A major range-wide facelift for the Golf brings a bigger battery pack (now 36 instead of 24kWh) which boosts range to as much as 186 miles. The electric motor's peak power rises to 134bhp, to cut the 0-62mph time from 10.4 to 9.6 seconds. There's also a raft of new driver-assistance systems, a mild design refresh for the nose and tail, plus new digital instrumentation called Active Info.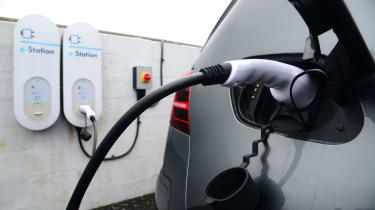 Which one should you buy?
All e-Golfs came in just one trim level, based on the 'regular' Golf Match or SE grade (depending on year). This brought DAB radio, Bluetooth, an eight-inch touchscreen, 16-inch alloy wheels, dual-zone climate control, front and rear parking sensors, satellite navigation plus electric windows front and rear.
The multimedia system gives the option to pre-programme the vehicle's heating or cooling systems. For smartphone users, the e-Golf also came with Volkswagen's Car-Net app, which enabled many vehicle functions to be controlled remotely, including charging, heating and cooling.
The options list for the e-Golf is less extensive than for other Golf Mk7s. Aside from an array of extra-cost paint finishes, e-Golf buyers could spend more on a heated steering wheel, leather trim and privacy glass as well as an upgraded audio system, heated windscreen and a rear parking camera.
A Winter pack was also available; this brought headlight washers, heated front seats and heated windscreen washer jets. It's also worth finding an e-Golf that was specified with the heat pump option. This reduces the electric power usage of the heating system by recycling heat from ambient air and waste heat from the drivetrain components. Volkswagen claims its fitment can increase range by up to 20%.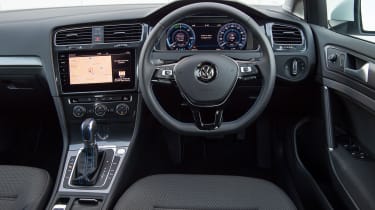 Alternatives
Perhaps the most enticing alternative to an e-Golf is the aforementioned plug-in hybrid Golf GTE, as it offers up to 30 miles of electric-only driving and there's no range anxiety thanks to the petrol engine. You get the same ergonomic brilliance, ease of ownership and usability with the Golf GTE as you do with the e-Golf, but with a far shorter electric-only range.
Partnership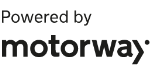 Need to sell your car?
Find your best offer from over 5,000+ dealers. It's that easy.
If you want something that runs on electricity only, the BMW i3 is a tough adversary with its neat design, brilliant driving experience, spacious cabin and excellent usability, although its boot is small. There's also the option of an i3 range extender (REX) with a small petrol engine and a nine-litre fuel tank, just in case you're worried about being stranded because of flat batteries.
The Nissan Leaf is the biggest-selling electric car in the UK and it's very accessible, as there are plenty of them and prices aren't that high. But the Leaf's range isn't very impressive – even the Mk2 version that came out in early 2018 isn't as good as it should be, although at least it has a greater range than the e-Golf.
The Renault ZOE offers perhaps the best balance of price, usability and range in that you don't have to pay a lot to secure a decent example of this family-friendly small hatchback, but the real-world range can be as little as 60 miles if you buy an early car. Newer Zoes could do closer to 200 miles, but be careful when buying one of these electric Renaults, as some cars came with a leased battery pack which adds a monthly charge.
The Hyundai Kona and Kia e-Niro are both very impressive cars with a decent range along with impressive build quality and ergonomics. And if you're not sure about the idea of going fully electric just yet, hybrid versions of both are also available.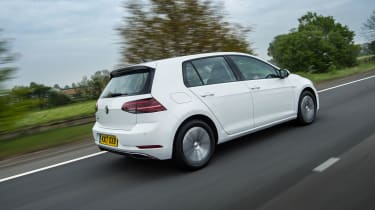 Verdict
The Volkswagen e-Golf is no niche seller, with more than 100,000 sold around the world by the end of 2019. It's easy to see the appeal, as this is a car that's as good to drive as any other mainstream Golf, just as well made, just as easy to use and every bit as practical.
As with any Volkswagen you'll pay a premium to buy an e-Golf compared with some rivals, but in return you get a very slick car. However, replacement battery packs are very expensive and as these cars get older it'll cost you more to fit a new battery pack than the car is worth, so be careful if buying an early e-Golf.
Checklist
- The peak charging level for the e-Golf is 40kW. That allows the original 24kWh battery pack to be charged from empty to 80% in 35 minutes. From a standard household supply, a full recharge takes 13 hours.
- There's no spare wheel. Instead, the e-Golf comes with a tyre repair kit.
- One thing you shouldn't have to worry about is having to replace the headlamp bulbs, as the e-Golf was the first Volkswagen to be fitted with LED headlights as standard.
- As well as a standard driving mode, the e-Golf has two economy profiles: Eco and Eco+. Eco cuts peak power to 94bhp, reduces the output of the air-con, modifies the throttle response and cuts top speed to 74mph, while also blunting acceleration slightly. Eco+ limits the peak power to 74bhp and top speed to 56mph, while the accelerator response is modified and the air-con is disabled. In either mode, full performance can be accessed by kicking down on the accelerator pedal.
- The e-Golf has five modes for the regenerative braking: D, D1, D2, D3 and B. In D, the vehicle coasts without regenerative braking when the accelerator is lifted. In each other mode, lifting off the accelerator pedal provides greater regenerative braking. In D2, D3 and B, the brake lights are activated when the driver's foot is lifted from the accelerator pedal, provided that a predetermined level of deceleration is achieved.
Recalls
June 2015: Sub-standard wheelbearing housings were fitted to 303 Golfs made in April 2015.
June 2016: The child locks of some Golfs made between November 2015 and April 2016 were faulty.
January 2017: Because of ECU glitches, the lights could go out altogether on some Golfs made between June 2015 and October 2016.
March 2017: Airbag and seatbelt pre-tensioner failures were the reason for this recall that affected some Golfs built between May and October 2016.
March 2018: Some Golfs manufactured in August 2017 left the factory with faulty rear wheelbearing housings.
December 2018: Poorly made rear-seat head restraint mountings were fitted to some Golfs built between May and August 2018.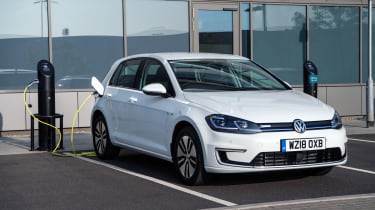 Running costs
Insurance groups: 20 (pre-facelift), 26 (post-facelift)
Typical range: 81-118 miles (pre-facelift), 124-186 miles (post-facelift)
CO2 emissions: 0g/km
The e-Golf needs its first service after two years or 18,000 miles, then every 12 months or 18,000 miles. Services alternate between minor and major; the former involves checking the brakes, high-voltage cables, battery pack and electrics. The major service also involves replacing the brake fluid and the pollen filter.
At the time of writing (December 2019) the minor service was priced at £120 and the major at £170. Volkswagen offers payment plans and service packages to help spread the cost, but thanks to the e-Golf's simplicity compared to a conventionally powered car, the company reckons maintenance costs for the electric-only Golf should be significantly lower.
The warranty on the battery pack lasts for 100,000 miles or eight years; for the rest of the car, the guarantee expires after three years or 60,000 miles.
New electric cars coming in 2023 and beyond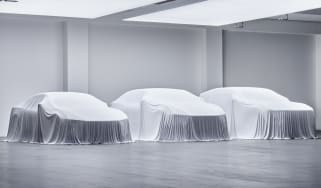 New electric cars coming in 2023 and beyond
With electric cars making up an ever-increasing proportion of sales, the industry is working flat out to launch new models – here's what's on the way …
Volvo EX30 electric SUV: prices, specs and ride review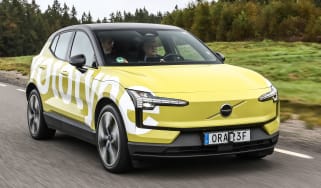 Volvo EX30 electric SUV: prices, specs and ride review
We ride shotgun in Volvo's smallest electric car, which is set to undercut rivals like the Kia Niro EV
"Everyone wins in the switch to EVs. We must hold our nerve on the 2030 ICE ban"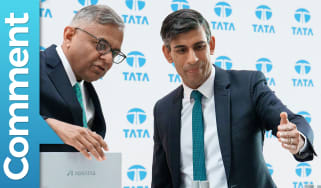 "Everyone wins in the switch to EVs. We must hold our nerve on the 2030 ICE ban"
DrivingElectric's Tom Jervis thinks the government's rollback on the 2030 petrol and diesel ban is a blunder that could kill EV consumer confidence