New Volkswagen ID.3 SUV in the works, says CEO
An SUV version of the popular electric hatch is in the works, alongside improvements to ID.3's interior quality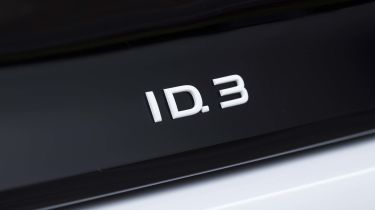 Volkswagen's new CEO Thomas Schäfer has revealed that the brand will launch a total of 10 new electric cars by 2026, including a compact SUV version of its ID.3 hatchback. The new model would rival cars including the latest Kia Niro EV and Peugeot e-2008.
VW's top boss said: "We're working hard to develop an additional compact SUV based on the ID.3 so that we can also launch a VW product in this fast-growing vehicle segment."
The new ID.3 SUV will sit below the ID.4 and ID.5 family SUVs in VW's electric car line-up, and will share much of its interior and running gear with the existing ID.3 hatchback. We expect the new ID.3 SUV to be offered with the same choice of 45kWh, 58kWh and 77kWh batteries as the hatch, with the largest likely to offer a range of over 300 miles.
A hot GTX version is also a possibility, as Volkswagen will soon offer a high-performance variant of all its EVs, including the ID. Buzz minibus. However, the ID.3 SUV will have a taller body than the existing hatchback (below) and its styling will be more heavily influenced by the facelifted ID.3 that's due to go on sale next year.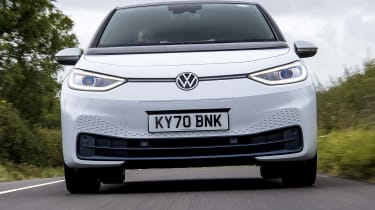 On that subject, Schäfer said: "we've listened very carefully to the ID.3 community, and we're bringing forward the facelift of our first MEB model to 2023. The new ID.3 is taking a significant and noticeable leap forward in terms of quality, materials and system stability. A car that delivers what the Volkswagen brand promises."
The refreshed ID.3 isn't expected to look radically different from the current car, with only minor tweaks to the lights and bumpers likely. But more significant changes are expected for the interior; the frequently-criticised infotainment system could be replaced with new software and an updated user interface, while material quality throughout the cabin is likely to get a significant boost.
The ID.3's touch-sensitive steering wheel controls are also likely to be ditched in favour of physical buttons, as Schäfer has stated Volkswagen will be reintroducing them after customers voiced their opinions.
Schäfer also promised that Volkswagen would have the broadest electric car range on the market: "From the entry-level e-car with a target price of under €25,000 (approx. £21,700), to the ID.Buzz and the new flagship ID.Aero – we will have the right offer in every segment." 
The entry-level models Schäfer mentioned are the Polo-sized ID.1 and its crossover sister car, the ID.2, both of which are due to go on sale in 2025.
New electric cars coming in 2023 and beyond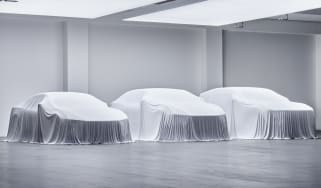 New electric cars coming in 2023 and beyond
With electric cars making up an ever-increasing proportion of sales, the industry is working flat out to launch new models – here's what's on the way …
New Toyota battery tech to deliver 500-mile EVs by 2026; 750-mile ranges to come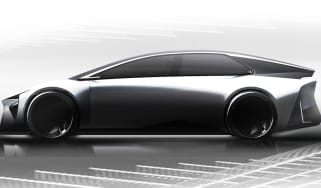 New Toyota battery tech to deliver 500-mile EVs by 2026; 750-mile ranges to come
Toyota has revealed details on its latest battery technology, set to underpin its next generation of EVs
New Fiat 600e SUV prices announced: £3,000 cheaper than a Jeep Avenger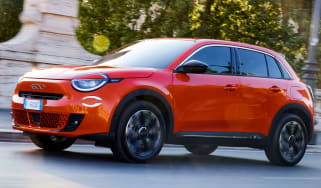 New Fiat 600e SUV prices announced: £3,000 cheaper than a Jeep Avenger
The larger sibling to the Fiat 500e gets a stylish SUV-like design and a 249-mile range