Toyota C-HR MPG & CO2 emissions
The Toyota C-HR delivers impressive fuel economy, with low CO2 emissions likely to keep company-car drivers happy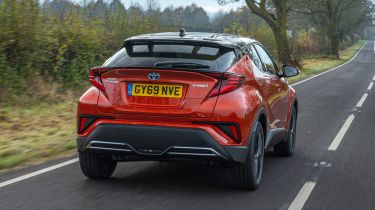 | Fuel economy (combined) | Fuel economy (high) | Fuel economy (low) | CO2 emissions |
| --- | --- | --- | --- |
| 54-59mpg | 60-66mpg | 64-71mpg | 109-119g/km |
As a 'self-charging' hybrid, the Toyota C-HR uses its petrol engine and regenerative braking technology to top up a small battery while driving. This means it frequently switches between petrol and electric driving modes, with the transition between the two barely noticeable from behind the wheel.
The 2.0-litre model is more capable than the 1.8-litre version in this respect thanks to a larger electric motor: this can power the car unaided at speeds of up to 75mph, which means you can spend a long time on the motorway and still complete around half the journey in 'zero-emissions' mode.
That said, the 1.8-litre model remains the most efficient overall, and a diesel alternative may still be more cost-effective for you if you cover a lot of motorway miles over the course of a year.
Toyota C-HR MPG & CO2 emissions
The C-HR has on-paper fuel-economy figures of between 54 and 59mpg, the time we spent in the 1.8-litre version of the car suggested that you should average around 55mpg in varied driving, which is not be sniffed at. Even the 2.0-litre model will break the 50mpg mark on a steady motorway cruise.
Around town, the latter will switch into all-electric mode anywhere between 40 and 60% of the time; Toyota claims it's possible to see highs of 80% in certain situations.
The Toyota C-HR's CO2 emissions are reasonable, with the 1.8-litre version achieving 109g/km and the 2.0-litre model hitting 119g/km. They make either model an affordable proposition for company-car buyers – even compared to non-hybrid alternatives that might have lower list prices but higher CO2.