Skoda Citigo-e iV vs Volkswagen e-up!: range and charging
The basic Skoda Citigo-e iV doesn't come with fast charging as standard, but the SE L does – and for less than the price of the single-spec Volkswagen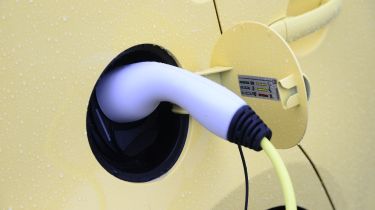 You'd be forgiven for thinking there's little to separate these two cars aside from the badge on their nose, and a quick glance at the numbers does little to change that impression. Both the Skoda and Volkswagen use a 36.8kWh battery (with a usable capacity of 32.3kWh) powering a single electric motor for a total system output of 81bhp.
Officially, they'll each manage 159 miles on a single charge. However, our time with the cars suggested that in cold, wet weather that figure will be closer to 120 miles. Still not a bad effort, and close to what more expensive cars like the MINI Electric and Honda e can manage.
The simplicity of these models will be part of the appeal for many e-up! and Citigo-e buyers, but the one of the inevitable shortcomings is that there's no clever technology to preserve the cars' batteries and no innovative sat-nav that can route you around charge-sapping motorway runs. Each car has a selection of drive modes, but use them at your peril – the most restrictive setting switches off the climate control for only a few miles of extra range.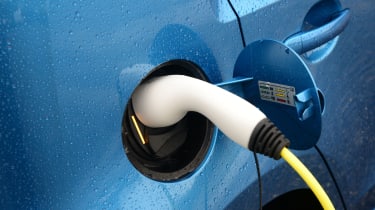 Charging
The main difference between the Citigo-e iV and e-up! is the rate at which they can charge. The basic Citigo-e iV SE is restricted to a 7.2kW charge; you need to pay extra (£720) for CCS fast charging, whereas every e-up! – and the Citigo-e iV SE L we've tested here – gets this technology as standard.
Using a home wallbox allows you to recharge the Skoda's batteries in five and a half hours, or almost 17 hours if you've only got access to a three-pin socket. These numbers apply to the e-up! if you charge in the same way.
However, by specifying the CCS fast charging option you'll be able to recharge the Skoda to 80% in just under 50 minutes at a public charging point. The Volkswagen will accept the same 40kW charge rate for an identical top-up time.
Both cars come with Type 2 (AC) and Mode 3 (three-pin) cables as standard – and each is a decent length, which will help with charging flexibility. There's a small box at the base of the boot for storing the wires, although space is limited so you have to be selective about which leads you carry around.