Skoda Citigo-e iV vs Volkswagen e-up!: performance and handling
The transition to battery power has done this pair a world of favours; fun, agile and easy to drive, both the Skoda Citigo-e and Volkswagen e-up! are perfectly suited to electrification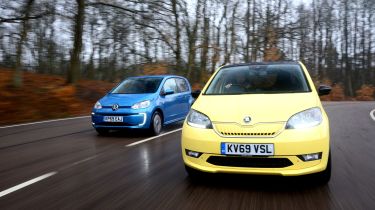 If you're after a small electric car that's easy and fun to drive, the Skoda Citigo-e iV and Volkswagen e-up! are well worth considering. Hop in, select D (for 'Drive') on the gearlever and off you go. It really is as simple as that.
With a decent slug of torque from a standstill, both cars feel quick off the mark. Around town, you'd rarely wish for more power, while the cars' diminutive size makes nipping in and out of gaps a doddle. While acceleration does tail off the faster you go, both the Skoda and Volkswagen feel accomplished all the way up to motorway speeds – but spending much time at or above 70mph will see your available range plummet.
Understandably, the two cars feel all-but-identical to drive. There's more than enough grip to drive with confidence, and the steering remains responsive even as you up your speed. While few buyers will find themselves throwing the Citigo or up! around bends with sustained vigour, you can feel confident that each would behave as intended should the need for speed arise.
There are three drive modes on offer in both the Skoda and Volkswagen; Normal, Eco and Eco+. Throttle response is limited in the latter two, with Eco+ affecting things like the heating and climate control, too. There are different levels of regenerative braking, with the most aggressive setting almost allowing for one-pedal driving; with increased anticipation, you can slow the car sufficiently without using the brakes at all.
With no three-cylinder petrol-engine thrum to deafen the driver or passenger, both the Citigo and e-up! are all-but-silent around town. There's a small amount of wind and road noise at higher speeds, but due to the cars' city-focused nature, that's unlikely to be a cause for concern. The ride is good, too, with each model demonstrating comfort and composure over speed bumps and small potholes.