Porsche Taycan electric 2021: prices, specs and pictures
Software updates add to Porsche Taycan's tech offering with new features for suspension, charging and sat nav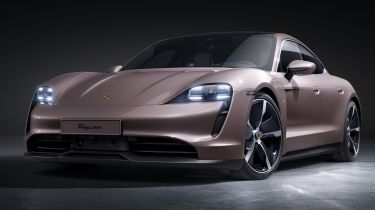 Porsche has announced a round of software updates for its Taycan electric car, including upgrades for the satellite navigation, suspension software and charging functions.
New models will come with all this as standard, but cars bought before the 2020 model year will get the update for free. Some calibration work needs doing by engineers, so the update requires a visit to a dealer – but there's no fee.
The first feature of the update is a 'Smartlift' function that allows the suspension to automatically raise and lower itself when it arrives at a location it has had to be raised for before – such as a speed bump on a road that you encounter every day. The update also optimises chassis control settings, which improves acceleration due to better wheel slip control. It means the Taycan Turbo S, for example, is now 0.2 seconds faster from 0-124mph.
The update also adds more charging functions. After the update, owners will be able to set a charge level for a journey's completion. For example, you might want at least 80% charge left when you arrive at a hotel for the night – the system will tell you when and how much to charge up to achieve this.
A lower-temperature but slightly slower charge mode has also been added, to extend the life of the battery, and the sat-nav has been tuned to improve the amount of information on the screen. Extra functions for Apple users include Apple Podcasts and Apple Music Lyrics functions, plus wireless Apple CarPlay.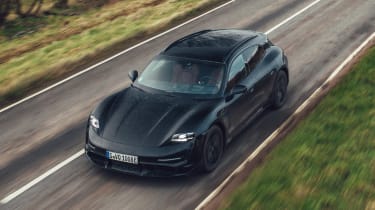 New Porsche Taycan variants being considered
Porsche has revealed it is considering convertible, sporty estate and two-door coupe variants of its Taycan electric sports car, shortly after unveiling the production version of the Taycan Cross Turismo – a rugged shooting-brake estate with off-road capability (pictured above).
Porsche's Dr Stefan Weckback, who is head of the Taycan model line, says all of the above are possible on the Taycan's platform, but that the brand would have to see a compelling business case for putting any or all of them into production.
Speaking shortly after the Cross Turismo's launch, Weckback said: "The platform is perfect for future additional product ideas and we are thinking in different directions. We are discussing definitely different ideas and this [a road-biased 'Sport Turimso' estate] could be one of those."
Porsche's next electric car is set to be based on its Macan compact SUV and will arrive at some point in 2022, but after that, according to Weckback, the company is "prepared to react quite fast in terms of market requirements and changes."
Rear-wheel-drive Porsche Taycan
Earlier in 2021, Porsche announced the arrival of an entry-level rear-drive variant of the Taycan (pictured top) for the UK market. It first appeared in China in late 2020, but has now been confirmed for these shores. It's simply called 'Taycan' and sits below the Taycan 4S, Taycan Turbo and Taycan Turbo S in the range.
Like the 4S, the rear-wheel-drive Taycan offers a choice of two battery sizes: 79.2 or 93.4kWh, translating to maximum driving ranges of 268 and 301 miles respectively. With the smaller battery (which Porsche calls the 'Performance Battery'), power output is 331bhp (temporarily increasing to 414bhp in Overboost mode), while the larger-battery version (known as the 'Performance Battery Plus') makes 375bhp – or 469bhp with Overboost.
Partnership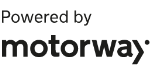 Need to sell your car?
Find your best offer from over 5,000+ dealers. It's that easy.
The Performance Battery has a maximum charging speed of 225kW, while the Performance Battery Plus can charge at 270kW. The increased speed for the latter model cancels out the difference in capacity when it comes to charging times; Porsche says both versions can be topped up from 5% to 80% capacity in just over 22 minutes, which works out at five minutes of charging to add just over 60 miles of driving range.
Both versions of the car can accelerate from 0-62mph in 5.4 seconds and hit a top speed of 143mph. Due to improved packaging, Porsche claims the rear-wheel-drive Taycan's available boot space jumps from the four-wheel-drive versions' 447 litres (front and rear boots combined) to 491 litres. This is thanks to a larger front compartment, where the engine would sit in a conventional petrol or diesel car.
The rear-wheel-drive Taycan is available to order now, with prices starting at £70,690. The rest of the Taycan range is priced from £83,580 (Taycan 4S), £115,860 (Taycan Turbo) and £138,830 (Taycan Turbo S).
Porsche Taycan 2020 updates
In late 2020, Porsche made a series of improvements and updates to the Taycan. In addition to new colours and personalisation options that can be chosen when ordering, Porsche also made software-based improvements to the car. On the performance front, the car's already-rapid 0-124mph time was improved by two tenths, to 9.6 seconds.
Other software tweaks allow management of the charging speed if the current maximum rate of 270kW (available in the UK only from Ionity chargers) isn't required. Further integration with Ionity's systems saw the arrival of a 'Plug & Charge' function, whereby all the driver has to do is connect their Taycan to an IONITY charger and topping up commences immediately, with payments processed automatically.
Another function allows the Taycan to optimise a domestic charge. When charging at a house with solar panels, the Taycan can smart charge itself using any excess solar energy not used by the home. Elsewhere, active lane-keeping assistance and InnoDrive (a function that automatically adjusts speed based on corners, traffic and road furniture) are now offered as options. Variable power steering is also available; all these functions can be added after buying the car courtesy of over-the-air updates.
The new colours are Mahogany, Frozenberry, Cherry, Coffee Beige, Chalk, Neptune Blue and Ice Grey. It's also now possible to choose two-tone finishes, as well as a new colour: Blackberry. Contrasting finishes for the seat centres and the stitching are now possible, while equipment was upgraded with an optional colour head-up display, and the Taycan 4S now gets heated front seats as standard.
Physical improvements included the addition of a raising and lowering function for the car's air suspension, allowing the Taycan to negotiate large speed bumps or steep ramps without fear of damaging the underside.
Prices, specs and trim levels
The entry-level rear-wheel-drive Taycan is priced from £70,690, while prices for the 4S start from £83,580. The latter car also offers either the 'Performance' (79.2kWh) or 'Performance Plus' (93.4kWh) battery; the larger battery is standard in the Turbo and Turbo S, which start from £115,860 and £138,830 respectively.
A second bodystyle for the Taycan, the Taycan Cross Turismo shooting-brake estate, has now joined the range. It's offered with the full range of powertrain and battery options available for the standard car, with the exception of the entry-level rear-drive setup, as it has a focus on off-road capability as well as on-road performance.
Power and performance
The rear-drive, entry-level Taycan has a peak power output of 414bhp with the standard 'Performance' battery, while the 'Performance Plus' makes a maximum of 469bhp with Overboost. That translates to a 0-62mph time of 5.4 seconds and a top speed of 143mph
The Taycan 4S also comes in either 79.2kWh 'Performance' or 93.4kWh 'Performance Plus' guises, but peak power outputs are higher than for the rear-drive car, at 523 and 563bhp respectively. Both have the same 0-62mph (four seconds) and top speed (155mph) figures.
Both the Turbo and Turbo S have a 'baseline' power output of 617bhp, with differing maximum figures when in 'overboost' mode. The Taycan Turbo has a maximum output of 671bhp and generates 850Nm of torque. It's electronically limited to a top speed of 161mph and accelerates from 0-62mph in 3.2 seconds.
The Turbo S promises even greater performance, with 750bhp and 1,050Nm of torque on tap in overboost mode. It boasts a launch-control-assisted 0-62mph time of just 2.8 seconds, a 0-124mph time of 9.8 seconds and a standing quarter-mile time of 10.8 seconds. Top speed is the same 161mph as the Turbo.
Range and charging
The 73.2kWh battery in the most basic version of the rear-drive Taycan and Taycan 4S – which has a maximum charging rate of 225kW – returns a range of 268 miles in the Taycan and 253 miles in the Taycan 4S, while the 93.4kWh version can achieve up to 301 miles in the Taycan and 288 miles in the Taycan 4S.
The Turbo and Turbo S models both feature the larger 93.4kWh battery, which has a maximum charging rate of 270kW. At the moment only a handful of public charging stations support this speed, primarily those on the IONITY network, but more should arrive with time.
Topping up from five to 80% capacity from one of these should take 23 minutes, Porsche says, while doing the same from a 50kW rapid charger – a far more common sight in the UK – should take just over an hour and a half. A full recharge from a 7kW home wallbox charger is expected to take around 13 hours.
A driving range of 279 miles, calculated using the latest WLTP test method, is claimed for the Taycan Turbo – less than the 365 miles claimed for the top-spec Tesla Model S. The more powerful Taycan Turbo S sees its range reduced to 257 miles.
Chassis, motors and suspension
The Taycan is built on an all-new electric-car platform from Porsche, known internally as J1. It's slightly smaller than the conventionally powered Panamera, measuring 4,963mm long, 1,966mm wide and 1,381mm high, with a wheelbase of 2,900mm and a weight of 2,395kg.
The Turbo and Turbo S models get a pair of electric motors (one on each axle), while the less powerful entry-level version has one (on the rear axle). On the two-motor models, the front motor is single speed, while the rear gets its own two-speed transmission, with a first gear for rapid off-the-line acceleration and a second for cruising.
Porsche says these permanent magnet synchronous motors are less prone to losing performance with heat than other electric motors. The company claims that this, combined with the car's 800v electrical system, means it will be able to deliver its maximum performance over and over, without any degradation.
Some of the Taycan's suspension components are shared with the Panamera sports saloon, while it also incorporates four-wheel steering for greater maneuverability at low speeds and better agility at high speeds. Adjustable air suspension allows the driver to select from a range of settings: everything from pillow-soft for motorway cruising to rock-hard for a trackday on a smooth circuit.
A brake-energy recuperation system is also standard: this can be switched off entirely for a more natural driving feel, or set to automatic to recover the greatest amount of energy back into the battery. The two-speed transmission of the Taycan Turbo models also behaves differently depending on the mode selected: Range, Normal, Sport and Sport Plus are all available, with Range using the longer second gear exclusively and Sport Plus offering the strongest acceleration.
Exterior design
The original Porsche Mission E concept appeared at the 2015 Frankfurt Motor Show, but the looks of the Taycan have not strayed too far from that initial idea in the intervening time.
The nose profile and side windows of the car are strongly reminiscent of Porsche's signature 911 model, but elsewhere there are innovative details such as slim LED headlights, vertically-orientated air intakes and a full-width LED light strip across the tail of the car.
Porsche says the Taycan's sleek shape gives it the lowest drag coefficient of any car it makes, and moving aerodynamic parts and cooling flaps have been integrated into the design.
Interior design and technology
Porsche says the Taycan's cabin is inspired by that of the original 911 from 1963, with a clean, driver-focused layout. The dashboard can hold up to four large screens, with the option of a fifth in the rear.
A curved 16.8-inch instrument cluster lies behind the steering wheel, featuring four display modes: Classic, with rounded instruments and a conventional set-up; Map, which replaces the central display with a map; Full Map, which omits all instruments to display the sat nav across the entire screen; and Pure, for essential driving information only.
The instrument cluster is flanked by two small touch-control edges, operating lighting and chassis functions. Meanwhile, the dashboard houses a 10.9-inch touchscreen, which the driver can use to control all manner of vehicle settings and functions. There are apps for navigation, media and smartphone connectivity, as well as charging, weather and servicing.
In addition to touch controls, voice control features can be activated with the phrase 'Hey Porsche'. Buyers also get the option of a second dashboard touchscreen for the front-seat passenger, allowing them to interact with the car without distracting the driver.
A further 8.4-inch touchscreen in the centre console is designed to give the feeling of a low driving position. Climate-control settings can be selected here, with haptic feedback and handwriting recognition technology included for a more 'intuitive' experience.
The air vents are operated digitally – a feature also found in the Tesla Model 3 – while a switch in the instrument panel removes the need for a driving-mode lever. Taycans fitted with the optional four-zone 'Advanced Climate Control' get a fifth, 5.9-inch touchscreen in the back to allow rear-seat passengers to choose their preferred settings.
A six-month subscription to the Apple Music streaming service is standard with the Taycan. Porsche says this is the first time full Apple Music integration has been offered in any vehicle: drivers have access to over 50 million songs, with the German manufacturer providing complimentary in-car internet roaming for three years.
A premium Burmester surround-sound audio system is optional and drivers will be able to search for music on the move using Porsche's voice-control assistant. The Taycan is compatible with Apple CarPlay, too.
Test runs and lap records
The Taycan's full reveal came just days after it had set a new lap record for four-door electric cars around the Nurburgring Nordschleife circuit in Germany. Lars Kern, one of the brand's test drivers, went around the 20.6-kilometre circuit in seven minutes and 42 seconds at the wheel of a pre-production version of the Tesla Model S rival.
Other landmarks the Taycan hit during testing included 26 successive 'launch control' starts from 0-200kph (124mph) and covering more than 2,000 miles in 24 hours at the Nardo test track in Italy. A team of six Porsche drivers averaged between 121 and 134mph throughout, stopping a handful of times to recharge and swap drivers.
Test mules of the Porsche Taycan have covered more than six million kilometres during the vehicle's five-year development programme, which has spanned 30 countries and temperatures ranging from -35 to +50 degrees Celsius. It has also been put through more than 100,000 charging cycles to make sure the battery is robust as possible.
Top 10 best electric sports cars 2023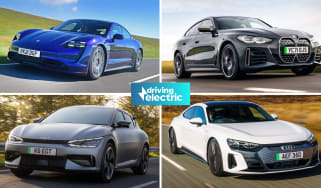 Top 10 best electric sports cars 2023
Top 10 slowest-depreciating electric and hybrid cars 2023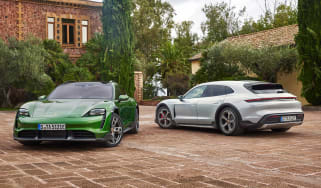 Top 10 slowest-depreciating electric and hybrid cars 2023
Top 10 best luxury electric cars 2023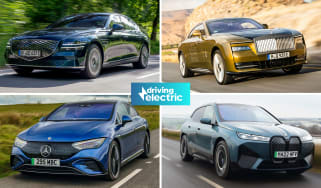 Top 10 best luxury electric cars 2023
BMW i4 facelift to topple Tesla with huge range and tech upgrades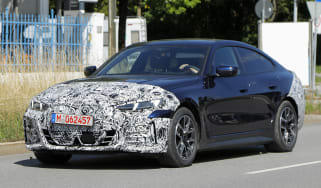 BMW i4 facelift to topple Tesla with huge range and tech upgrades
An updated version of the BMW i4 has been spotted testing, likely sporting a longer range and the latest technology
Electric BMW iX2 is set to take the kidney grille to the next level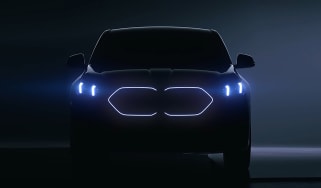 Electric BMW iX2 is set to take the kidney grille to the next level
BMW has teased the highly-rumoured iX2 coupe-SUV, which has been revealed to get enlarged illuminated kidney grilles