New Porsche Cayenne Turbo S E-Hybrid revealed
New, sportier version of the Porsche Cayenne E-Hybrid delivers 671bhp and 0-62mph in 3.8 seconds
The new Porsche Cayenne Turbo S E-Hybrid has been revealed, with a starting price of £123,349 and the first deliveries set to take place this October. The plug-in hybrid is available in two bodystyles – a regular SUV and a Coupé – and features the same powertrain as the Porsche Panamera Turbo S E-Hybrid: that means a 4.0-litre V8 petrol engine and a single electric motor combine for all-wheel drive and a total output of 671bhp.
With Porsche's Chrono Sports package fitted as standard, that translates to staggering performance, with 0-62mph achieved in 3.8 seconds en route to a top speed of 183mph. Meanwhile, the Cayenne has a 14.1kWh battery capable of returning up to 25 miles of electric range. Under electric power alone, Porsche says the car will reach speeds of 84mph.
Charging from a typical home wallbox will see the battery fully topped up in two hours and 24 minutes, while a standard three-pin socket will do the same in around six hours. Officially, the Cayenne Turbo S E-Hybrid returns 52.3mpg, with CO2 emissions of 122g/km. However, for tax reasons the latter figure won't take effect until April 2020, with an 'NEDC-correlated' figure of 90g/km being used until then.
The electric motor is mounted over the rear axle, meaning boot space is less than that in internal-combustion-engined versions of the Cayenne: the regular car boasts 645 litres of luggage capacity, while the Coupé has 500 litres. Four driving modes are provided: the default E-Power mode, as well as E-Hybrid, Sport and Sport Plus modes. In E-Power mode, the engine will only start if battery power is running out or if  you accelerate quickly. The E-Hybrid setting automatically finds the most efficient mix of electric motor and engine power, with Sport and Sport Plus increasing the emphasis on performance.
Adaptive dampers offer a range of suspension settings – including adjustable ride height – while the range-topping version of the car comes with ceramic brakes as standard. Measuring 440mm at the front and 410mm at the rear, they also include a regenerative braking function, helping to top up the battery when the car slows down. In terms of design, only subtle fluorescent-green badging and brake calipers mark out the Cayenne Turbo S E-Hybrid from the rest of the line-up.
Porsche Cayenne Turbo S E-Hybrid prototype review
Ahead of order books opening this week, we got a chance to try out the Cayenne Turbo S E-Hybrid for the first time in prototype form. Our test route in Germany featured several miles of autobahn, where Porsche believes the Cayenne will thrive. It's certainly where the car's enormous power makes most sense, with the acceleration building ferociously past 150mph on the derestricted roads.
With such enormous performance available, the electric-only running makes for a nice change of pace, especially in urban environments where the V8 engine would otherwise be wasted. There are drawbacks, though: the brakes feel inconsistent and the 14.1kWh battery adds to the weight of an already-heavy car, dulling the enjoyment in fast corners.
While the Cayenne is relatively quiet when electric-only mode is engaged at conventional speeds, there's an awful lot of road noise when you ask for more performance from the engine.
Top 10 best plug-in hybrid cars 2022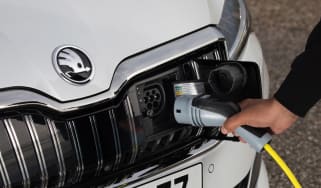 Top 10 best plug-in hybrid cars 2022
Plug-in hybrid cars are great for keeping fuel and company-car tax bills low. Here are the best ones to buy in the UK right now
Top 10 best luxury electric cars 2022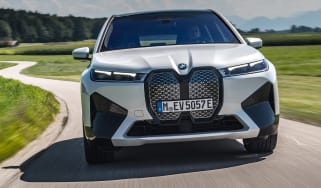 Top 10 best luxury electric cars 2022
From Audi to Tesla, here are our top picks of the most luxurious zero-emissions motoring options on the market right now
How much is the Benefit-in-Kind company-car tax on an electric car?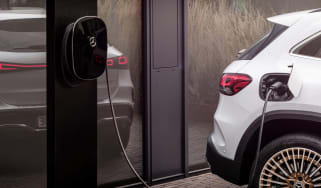 How much is the Benefit-in-Kind company-car tax on an electric car?
The company-car tax, or BiK, on electric cars is 1% during the 2021/22 financial year and will rise to just 2% in 2022/23, making a zero-emissions veh…