Porsche Cayman and Boxster to go electric-only by 2025
New Cayman GT4 ePerformance racing-car concept further refines technology first seen on 2021's Mission R, previewing the next electric Porsche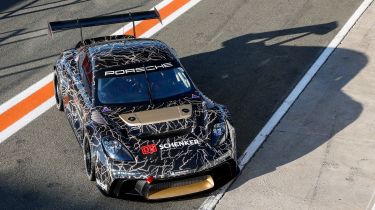 The next-generation Porsche 718 Cayman coupe and 718 Boxster convertible will ditch their combustion engines in favour of an electric powertrain, with the new zero-emissions sports cars set to arrive by 2025. No official images or details of the models have appeared as yet, but two electric racing-car concepts, the 2021's Mission R and 2022's Cayman GT4 ePerformance, hint at what a roadgoing electric 718 could be like.
Porsche boss Oliver Blume has revealed the pair will be use a bespoke platform, and even though they'll be exclusively available with electric power, he said the Cayman and Boxster EVs are being designed like a mid-engined combustion-engined car would be, in order "to have agility of the car, fantastic performance values we want to achieve. We want to launch it as the most sporty car in the B-segment."
These will be the third and fourth electric cars in Porsche's line-up, joining the Taycan saloon and estates – which last year outsold the brand's iconic 911 – and the next-generation Macan SUV, which is arriving in 2023 and will be exclusively electric, too. Porsche expects 50% of its sales to be electrified cars by 2025.
Porsche 718 Cayman GT4 ePerformance
Following 2021's Mission R concept racing version of an electric Cayman (see below), Porsche unveiled a second electric Cayman racer concept in 2022, called the 718 Cayman GT4 ePerformance (pictured above). It sees the electric drivetrain of the Mission R fitted to the chassis of the 718 Cayman GT4 Clubsport 'customer racing' car, which is used extensively by amateur drivers and private teams around world.
The Mission R's peak output of 1,073bhp for a qualifying is maintained, with 671bhp available for 30 minutes – the same duration as the races that Porsche's combustion-engined 911 Carrera Cup cars contest. Porsche says the GT4 ePerformance is capable of similar lap times to the current 992 generation of the latter model.
Physically, the GT4 ePerformance is 14cm wider than a  GT4 Clubsport, and incorporates around 6,000 new parts. The body is partly made of natural fibre composite materials and recycled carbon-fibre, while the large 18-inch racing tyres from Michelin incorporate a high proportion of renewable materials.
Porsche has planned a series of public outings for the GT4 ePerformance, the first at the Goodwood Festival of Speed in the UK on 23-26 June. It'll also appear at the 20th anniversary celebrations for Porsche's Leipzig factory on 20 August. In 2023, it'll make appearances in North America, before heading to Asia in 2024.
Porsche Mission R concept drive
The Mission R features twin electric motors generating a maximum output of 1,073bhp in 'qualifying mode'; enough to accelerate from 0-62mph takes less than 2.5 seconds, while top speed is 186mph. Thanks to 900-volt electrics allowing for a maximum charging speed of 340kW, the Mission R's 80kWh battery can be topped up from 5% capacity to 80% in just 15 minutes of being plugged in.
The car is wide and surprisingly short, with huge slick tyres and a massive rear wing that dominates its looks. We weren't experiencing the Mission R concept in full-on 'qualifying mode', nor in its normal 671bhp 'race mode'. The car was perhaps producing more like 400bhp, but in a circa-1,500kg vehicle, that should still make for very lively performance.
Sitting inside the Mission R, after climbing through the bars of the roll cage and strapping into the racing seat, the track ahead is visible through a narrow rectangle of a windscreen. The car is silent when switched on, but once in motion, earplugs were vital, as it erupted into a riot of screaming gears and electric motors.
It's not the same soundtrack that fans of motorsport are used to hearing – nor does it sound like any conventional electric road car – but from the inside, at least, the Mission R still has the full amount of presence and aggression you'd expect.
The brakes may not be anti-lock, but they're hugely powerful, while only small movements of the steering wheel are required to access the incredible amount of grip on offer. Driving the Mission R was a very physical and involving experience, but also surprisingly emotive, despite the lack of a combustion engine.
SAIC Maxus Mifa 9 eight-seater electric MPV goes on sale in Europe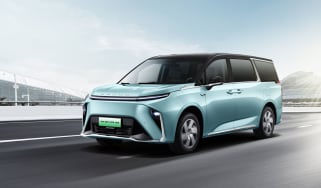 SAIC Maxus Mifa 9 eight-seater electric MPV goes on sale in Europe
The electric MPV will come to the UK, offering a range of 323 miles and choice of seven or eight seats
Top 10 best electric cars 2022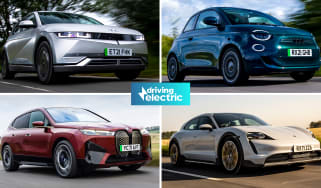 Top 10 best electric cars 2022
Here, we run through our favourite new electric cars that you can buy right now in the UK…
Top 10 best seven-seater electric and hybrid cars 2022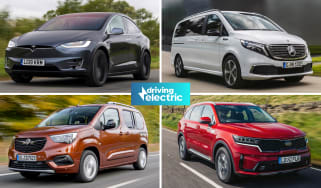 Top 10 best seven-seater electric and hybrid cars 2022
If the regular crop of electrified SUVs and family cars don't provide enough practicality for you, then take a closer look at the range of electric an…