New Polestar 2 driver-focused special edition with 469bhp revealed
As the name BST edition 270 suggests, just 270 examples of the tuned Polestar 2 will be produced, priced from £68,900
If the regular Polestar 2 wasn't fast enough for you, the Swedish electric carmaker has revealed a more driver-focused version of its answer to the Tesla Model 3 and BMW i4. It's called the BST edition 270 – essentially the production version of an experimental concept we first saw at the 2021 Goodwood Festival of Speed.
According to the brand's CEO, Thomas Ingenlath, the response to the modified Polestar 2 motivated the special edition's creation. It has the same 469bhp and 650Nm of torque dual-motor setup as the top-of-the-range Polestar 2 when fitted with the performance pack; enough to go from 0-60mph in 4.2 seconds.
A range figure for the BST edition 270 has yet to be confirmed, but we expect it'll be able to cover a little less than 300 miles with its 78kWh battery fully charged.
What Polestar has done is modified the electric saloon's suspension, lowering the ride height by 25mm, fitting 20% stiffer springs, a front strut brace and two-way adjustable Ohlins dampers specifically developed for the driver-focused EV. It also gets 21-inch matte black alloy wheels taken from the Polestar 1 plug-in hybrid performance coupe, and bespoke Pirelli tyres.
The special edition Polestar 2 also gets some styling tweaks, including body coloured front bumper and side skirts, and gloss black side mirrors. It also features gold brake callipers, seatbelts, valve caps and dampers. Customers can choose between Snow white and Thunder grey paint, with the option of a matte black body stripe (£1,000) or full-body Battleship Grey satin wrap (£5,000).
The limited edition model also comes with a panoramic glass roof, Harman Kardon sound system, Pixel LED headlights and 360-degree camera setup thanks to the additional of the Plus and Pilot packs that are optional on the regular Polestar 2.
Prices for the BST edition 270 start from £68,900, with potential buyers able to register their interest on Polestar's website now. Production of the 270 examples will begin soon, before first deliveries begin towards the end of the year.
Experimental high-performance Polestar 2
An experimental high-performance version of the Polestar 2 was first unveiled in 2021 to drive up the famous hillclimb at the Goodwood Festival of Speed. Power was boosted from 402bhp to 469bhp, along with wheel, brake and suspension tweaks for a more aggressive look and improved handling.
Key aspects of the upgrades made to the car include a 10mm wider track each side and a 30mm drop in ride height. The six-piston Akebono brakes used for the plug-in hybrid Polestar 1 coupe have been fitted, and this has necessitated an alloy-wheel upgrade to 21 inches. The wheel arches in turn have also been widened.
Stiffer springs (80% greater at the front and 40% greater at the rear), three-way performance dampers from Swedish company Öhlins and carbon-fibre front and rear suspension strut bars, combined with the aforementioned software-based power increase, complete the upgrades.
Finishing touches on the outside comprise updated front and rear bumpers, a racing stripe, a colour-coded front grille and glossy black mirrors. The bumpers and side skirts feature an additional colour-coded design accent, while the wheels have both glossy and matte black surfaces.
Development of the prototype was prompted by Polestar's top boss, who said: "I challenged the design and engineering teams to play with [the] Polestar 2 and come up with something that makes a strong statement… We want to flex our muscles and explore opportunities."
Electric MINI Aceman crossover arriving in 2024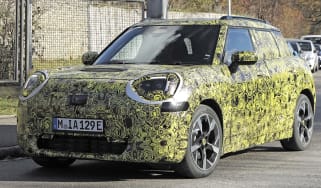 Electric MINI Aceman crossover arriving in 2024
New Mercedes EQG: first ride in electric G-Class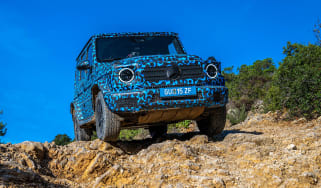 New Mercedes EQG: first ride in electric G-Class
New Abarth 500e electric hot hatch revealed in full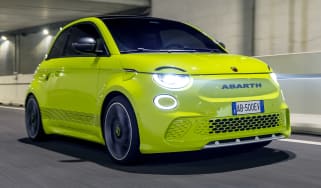 New Abarth 500e electric hot hatch revealed in full
The hot version of Fiat's electric city car does 0-62mph in seven seconds, and will be offered as a hatchback and convertible
Will an electric car work in the winter?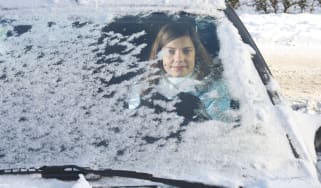 Will an electric car work in the winter?
Worried about a cold snap immobilising your electric car? Here, we explain how cold weather affects electric vehicles
Tethered or untethered home charger?
Tethered or untethered home charger?
All the pros and cons of home wallbox chargers with either tethered or untethered cables