Nissan e-NV200 electric ice-cream van revealed for Clean Air Day
Concept combines e-NV200 drivetrain with energy-storage system for emissions-free ice-cream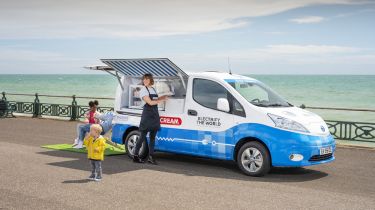 Nissan has unveiled a concept electric ice-cream van to mark the UK's 'Clean Air Day'. The van was designed in collaboration with Mackie's of Scotland, an ice-cream producer that runs its farm on wind and solar energy.
Based on the standard Nissan e-NV200, the van combines the production model's zero-emission drivetrain with Nissan's forthcoming 'Energy ROAM' energy storage system. The latter uses 'second-life' Nissan electric-car batteries, while solar panels on the roof provide additional power generation while the van is stationary.
The van has a range of 124 miles between charges, and while its motor is propelled by the standard e-NV200 40kWh battery, the on-board ice-cream making and refrigeration equipment draws its power from two Energy ROAM units.
This unit will go on the market later in 2019, aimed at both professional and leisure customers. It's a portable power pack made up of lithium-ion cells taken from first-generation Nissan electric vehicles that have reached the end of their life on the road. Nissan previously used this in its x OPUS camping trailer concept.
The two Energy ROAM units on board the ice-cream van have a combined storage capacity of 1.4kWh and can output power at up to 1kW. They can be recharged either from the mains, or, in weather suitable for ice-cream, from a solar-panel array on the van's roof. The latter takes between two and four hours.
Other features of the Nissan ice-cream van include the vendor standing beside the van to serve customers, rather than inside behind a counter, as well as the ability to accept contactless card payments. In addition, instead of playing a musical jingle to advertise its presence, the van generates tweets giving its precise location using the What 3 Words (W3W) global addressing service.
The van also supports vehicle-to-grid (V2G) charging, and Nissan suggests owners could use this to boost income during the quieter winter months by storing surplus energy from the National Grid and then selling it back when needed.
By basing the ice-cream van on an electric vehicle, the issue of keeping an engine idling to power the on-board refrigeration equipment is eliminated. Local air pollution caused by this has led some UK towns and cities to consider a ban on ice-cream vans.
Commenting on the project, Nissan Motor GB managing director Kalyana Sivagnanam said: "Consumers are increasingly mindful of the environmental impact of how we produce [food] and the 'last mile' of how [it] reach[es] us.
"This project is a perfect demonstration of Nissan's Intelligent Mobility strategy, applying more than a decade of EV experience and progress in battery technology to create cleaner solutions for power on the go."
Karin Hayhow, marketing director at Mackie's of Scotland, added: "We're delighted to have worked with Nissan on this project, as it's the perfect complement to our own vision of becoming self-sustainable in renewable energy – and eliminating carbon in the journey from 'sky to scoop'."  
New Fisker Ocean Sport washes up in the UK: £36k for a 288-mile range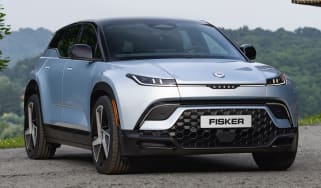 New Fisker Ocean Sport washes up in the UK: £36k for a 288-mile range
American EV startup Fisker has just launched its entry-level Ocean SUV in the UK, with a range of up to 288 miles
Big price cut: Electric Renault Megane prices slashed in time for Christmas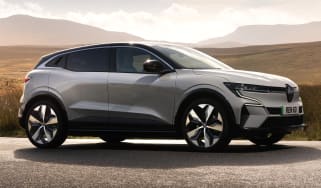 Big price cut: Electric Renault Megane prices slashed in time for Christmas
Renault Megane E-Tech gets a price drop of up to £3,500, bringing the starting price to just £34,495