Rivian investment: Ford announces £386 million deal
Ford investment follows Amazon-led, £546 million cash injection; first all-electric Ford could follow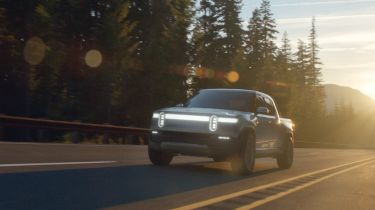 Ford has become the latest firm to invest heavily in start-up carmaker Rivian, creators of the forthcoming all-electric R1S SUV and R1T pickup truck.
The American car giant - which has fallen behind in the fully-electric car market - has announced a $500 million (around £386 million) tie-up which will see the two companies work together on a new electric vehicle.
"This strategic partnership marks another key milestone in our drive to accelerate the transition to sustainable mobility," said RJ Scaringe, Rivian's founder and CEO.
"Ford has a long-standing commitment to sustainability, with Bill Ford being one of the industry's earliest advocates, and we are excited to use our technology to get more electric vehicles on the road."
Bill Ford, Ford's executive chairman, added: "We are excited to invest in and partner with Rivian. I have gotten to know and respect RJ, and we share a common goal to create a sustainable future for our industry through innovation."
Ford's only confirmed electric vehicles so far are the Mustang-inspired Mach 1 SUV - due in 2020 - and a zero-emissions version of its popular F-150 pickup truck.
Back in February, Rivian attracted substantial backing from online retailer Amazon after taking the Los Angeles Motor Show by storm towards the end of 2018.
Amazon is said to have led a $700 million (around £546 million) equity investment in Rivian, bringing the firm's total support at the time to well over $1 billion.
However, Rivian said the partnership is more of a strategic relationship than a financial one, raising the possibility that Amazon could act as a sales outlet for its vehicles in the future.
"This investment is an important milestone for Rivian and the shift to sustainable mobility," said RJ Scaringe. "Beyond simply eliminating compromises that exist around performance, capability and efficiency, we are working to drive innovation across the entire customer experience.
"We're inspired by Rivian's vision for the future of electric transportation," added Amazon CEO Worldwide Consumer Jeff Wilke. "RJ has built an impressive organization, with a product portfolio and technology to match. We're thrilled to invest in such an innovative company."
Back in November, the Rivian R1S electric SUV was launched to much acclaim at the LA show, with impressive figures including a 420-mile range and 750bhp power output. Production is set to begin in 2020, with right-hand-drive models commencing in 2021.
Rivian launched the R1T electric pickup truck in the same week, with equally exciting credentials: three battery options (105, 135 and 180kWh) are planned, with the latter delivering similar range to the R1S SUV.
A third model – an electric 'rally car' – is also in the pipeline, although this is still in the early stages of development.
Rivian employs around 600 people at its base in California, and is refurbishing an old Mitsubishi factory in Illinois for the beginning of its production phase.
As well as building its own cars, the company is open to licensing its technology to other brands.
New Fisker Ocean Sport washes up in the UK: £36k for a 288-mile range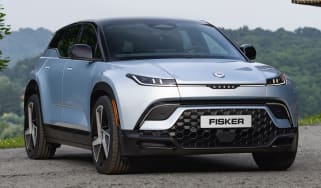 New Fisker Ocean Sport washes up in the UK: £36k for a 288-mile range
American EV startup Fisker has just launched its entry-level Ocean SUV in the UK, with a range of up to 288 miles
Big price cut: Electric Renault Megane prices slashed in time for Christmas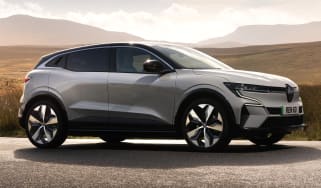 Big price cut: Electric Renault Megane prices slashed in time for Christmas
Renault Megane E-Tech gets a price drop of up to £3,500, bringing the starting price to just £34,495