Connected Kerb reveals new 'Chameleon' on-street charging point
Connected Kerb's new 'Chameleon' charger features two charging ports and is capable of speeds up to 22kW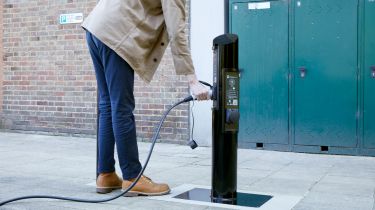 UK charging-point provider Connected Kerb has revealed its latest on-street EV charger called the 'Chameleon'. Standing at just under one metre tall, the new unit is one of the smallest on the market capable of charging two electric cars simultaneously.
The kerbside Chameleon charger is also capable of up to 22kW charging speeds, is made primarily from recycled steel and is accessible for disabled drivers, including those in wheelchairs, according to Connected Kerb. 
Last year, Connected Kerb announced an ambitious goal of 190,000 new charging-point installations in the UK by 2030 – the date when the government's ban on the sale of new combustion-engined cars comes into force. The company secured partnerships for the installation of 10,000 new chargers in 2021, and says it's aiming to conclude contracts for a further 30,000 during 2022. It hopes to continue this rate of expansion to hit the 190,000 target by 2030.
Connected Kerb CEO Dr Chris Pateman-Jones said: "Knowing you can arrive at virtually any location, at any time, in any vehicle and cheaply charge your battery without inconvenience or faff is the reality we have to deliver to create an EV society. Our rollout of public chargers – one of the most ambitious the UK has ever seen – encapsulates that future, helping individuals and businesses to confidently make the switch to electric, reducing their carbon footprint and cutting air pollution.
"Targets are important – for an industry so critical to the decarbonisation of transport, we need goals to work towards and objectives to which we are all accountable. However, they need to be met with action. With deals confirmed for 10,000 chargers this year alone and 30,000 more expected next year, we are demonstrating that we're getting on with the job and delivering the change that needs to happen – not just talking about it."
West Sussex Council is responsible for the bulk of this year's confirmed points, having awarded a tender to Connected Kerb for thousands of points on streets, in public-sector car parks and at community facilities in the area over the next 10 years. The rollout is believed to be the UK's largest-ever deployment of chargers by a local authority and is being described by Connected Kerb as "a blueprint for local authorities across the UK to deliver affordable, reliable, and accessible chargers in their thousands".
In addition, Kent County Council has chosen Connected Kerb to deploy at least 600 chargers by 2023, with installations beginning during 2021. Other confirmed tenders for the company include 300 chargers in Coventry, 360 in Cambridge, 100 in Plymouth, 250 in Milton Keynes, 30 in Warrington, 30 in Medway and another 100 across Glasgow City Council, East Lothian Council, Shropshire County Council and Hackney Council.
In August 2021, Connected Kerb and Lambeth Council announced plans to install charging points on several council estates. The aim of the project is to improve charger accessibility, which remains a significant barrier to electric-car adoption for many people. Connected Kerb will work with the council to install 22 points across 11 estates in the borough. The revenue from the units will go to the council, to help fund the maintenance and expansion of the network. This project is part of Lambeth Council's strategy to install more than 200 charging points by 2022, with the goal of ensuring every household without off-street parking is within a five-minute walk of a charging point.
Connected Kerb's most recent announcement comes in the wake of a report that detailed how half of UK councils have spent nothing on charging-point installations in the past 12 months.
Connected Kerb chargers
Connected Kerb produces three different types of on-street charging points, all of which use the Type 2 connector to ensure compatibility with most electric cars. The first are wall-mounted 'Limpet' chargers, which are capable of up to 7kW charging speeds. Then there's the 'Gecko' model, which can reach speeds up to 22kW. Importantly, Geckos can be retrofitted to lamp-posts and other existing street features as opposed to a wall. Finally, there's the kerbside 'Chameleon' unit which features two charging ports and stands at just under one metre tall.
As well as acting as public charging points, Connected Kerb's chargers provide wi-fi access, with fibre broadband speeds of up to 1GB/s. Each unit is also future-proofed and ready for 5G mobile connectivity. The chargers are considered 'smart', which means they're capable of communicating with in-car apps. They can also be fitted with sensors that can monitor everything from air quality and road temperature to parking-bay occupancy and power demand forecasting.
This added functionality is key for making a business case for installing these charges in more rural areas. Local authorities could, for example, purchase road-temperature information to help make gritting roads more efficient, while broadband providers could use these chargers as an opportunity to offer broadband in areas that wouldn't otherwise be upgraded.
While on-street chargers like Connected Kerb's are open to being blocked by parked combustion-engined cars (or electric cars that aren't charging), CEO Dr Chris Pateman-Jones says there are a number of measures that can by taken to combat this problem. "We mitigate the risk by having multiple charging points not only on the same streets but close by; this reduces the chances of charging points not being available for users," he told us.
"We also work with the councils to add clear signage with information about the EV bays. We monitor very closely complaints by users and residents and report them back to the councils who can decide to make the bays subject to a Traffic Regulation Order (TRO). Some councils decide to launch EV-dedicated bays, too."
Where can I buy hydrogen and where is my nearest hydrogen filling station?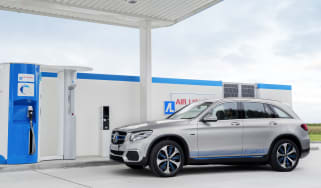 Where can I buy hydrogen and where is my nearest hydrogen filling station?
A guide to where you can find UK hydrogen fuel stations for filling up a hydrogen fuel-cell car
Tesla Supercharger network: complete guide to Tesla charging stations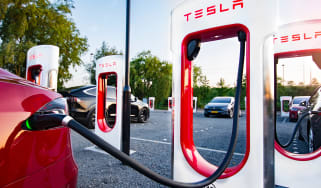 Tesla Supercharger network: complete guide to Tesla charging stations
The Tesla Supercharger network is expanding fast, providing reliable rapid charging throughout the UK to Tesla and non-Tesla owners alike
Top 10 best electric SUVs 2022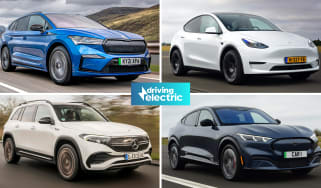 Top 10 best electric SUVs 2022
Electric SUVs combine style and practicality with low running costs, making them a very popular choice in the UK. Here are our top 10 favourites to bu…