Dyson electric car: first pictures of cancelled project emerge
The intended design of the appliance maker Dyson's seven-seat crossover electric car, codenamed 'N526' has been revealed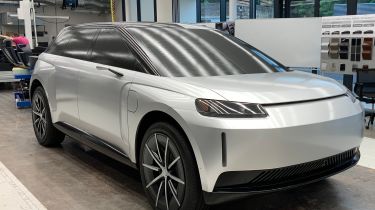 Further pictures and details of the now-cancelled Dyson electric car been released by the company, in tandem with company founder James Dyson going into more detail about the model's development.
Dyson said: "We put together an exceptional team, built world-class facilities, and developed a radical car which was loaded with technology. We solved lots of problems that are traditionally associated with electric vehicles and together the team made great progress and delivered a car which was ready for production."
However, Dyson added that it would not have been possible to sell the car at a price competitive with rivals, as large car manufacturers are currently selling electric vehicles at a loss, offset by their profits from the sales of petrol and diesel-engined models. With Dyson unable to do the same, the project was declared unviable and cancelled.
Dyson electric car design
The Dyson car, codenamed N526 internally, was a large luxury SUV that would have been a clear rival for the likes of the Tesla Model X, Jaguar I-Pace, Mercedes EQC and Audi e-tron, as well as the forthcoming electric Range Rover. Dyson says the platform on which it sat could be fitted with many different bodystyles, and that the SUV model could 'hunker down' at higher speeds for greater aerodynamic efficiency.
James Dyson points to the wheels as one of the most interesting aspects of the design, commenting: "because of their size, you get lower rolling resistance and you can ride bumps and potholes more easily – it's exactly the opposite of a Mini. The wheels are right in the corners and I don't think you'll find any other car with the rear wheels as far back as this. The placement and size of the wheels gave us some unexpected advantages in comfort and road holding."
The N526 was to be powered by a bespoke electric motor and battery pack developed in-house by the company, which already has extensive experience with designing electric motors for its various household appliances. The battery pack assembly was designed as an integral part of the body structure, as well as being flexible to allow for a variety of possible sizes and types of battery to be fitted.
Images of the Dyson car depict a painted clay model, but many details are present, such as head and tail-lights, pop-out doorhandles, tiny door mirrors and a flap covering what would be the charging port. Pictures of a mocked-up interior (below) reveal sweeping, angular surfaces and a distinctive-looking seat design.
Dyson said: "I hate the 1930s armchair look that car seats typically have and I haven't yet found a car seat that has proper lumbar support. We wanted a more elegant, structural seat, with well considered posture support. When you sit in this, it gives you that support in all the right areas."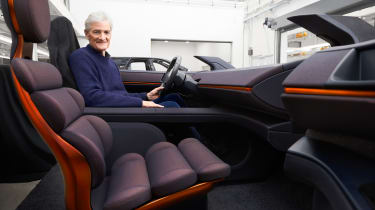 Dyson electric car cancellation
Dyson ended development of its electric car in October 2019. In a statement at that time, James Dyson said: "The Dyson Automotive team have developed a fantastic car; they have been ingenious in their approach while remaining faithful to our philosophies. However, though we have tried very hard throughout the development process, we simply cannot make it commercially viable.
Partnership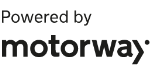 Need to sell your car?
Find your best offer from over 5,000+ dealers. It's that easy.
"We have been through a serious process to find a buyer for the project which has, unfortunately, been unsuccessful so far. I wanted you to hear directly from me that the Dyson Board has therefore taken the very difficult decision to propose the closure of our automotive project."
Dyson went on to emphasise that "this is not a product failure, or a failure of the team... Their achievements have been immense – given the enormity and complexity of the project. We are working to quickly find alternative roles within Dyson for as many of the team as possible and we have sufficient vacancies to absorb most of the people into our Home business."
The statement also said that the company will continue to work on systems developed for the car project, among them "sensing technologies, vision systems, robotics, machine learning, and AI".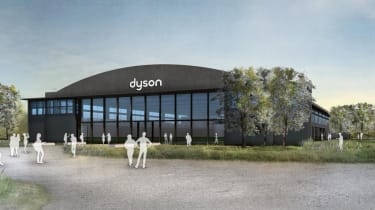 Dyson electric car battery technology
There was no confirmation on what battery type the Dyson electric car would have used. Previously it had been reported that next-generation solid-state technologies were under consideration, but it's not clear that these would have been ready in time for the car's anticipated launch date of 2021.
The Dyson electric-car project was led by former head of BMW and Infiniti, Roland Krueger. Krueger, who was previously president of Infiniti and senior vice-president of its parent company Nissan, worked out of Dyson's factory in Singapore.
Hundreds of people were involved in the project, most based at Dyson's facility in Hullavington, Wiltshire (above). As much as £775 million was expected to be invested in the car in 2019 alone, although that figure was to be spent globally and not exclusively in the UK.
We've had a ride in the new electric MG Cyberster and it's NOT what we first thought…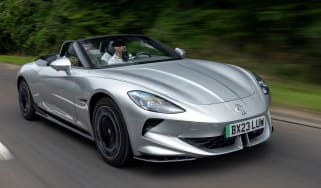 We've had a ride in the new electric MG Cyberster and it's NOT what we first thought…
The MG Cyberster is due to go on sale next year with up to 536bhp and scissor doors – and we've already had a ride in it
Has the UK given up on EVs? New government 'Plan for Drivers' says no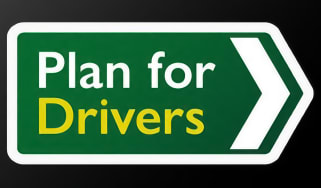 Has the UK given up on EVs? New government 'Plan for Drivers' says no
UK government has announced a new 30-point manifesto which, in part, focuses on electrifying Britain's roads