Spotlight: Who's buying the Tesla Model 3?
We talk to some UK customers of the new, more affordable Tesla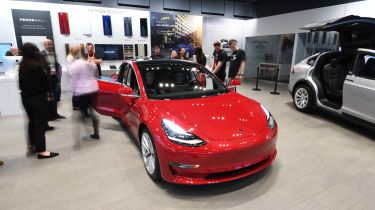 The Tesla Model 3 is being displayed in UK showrooms for the first time ahead of predicted deliveries in mid-2019, and we've spoken to some of the buyers who placed a reservation. Prices are expected to start from £52,000 for the top-spec, all-wheel-drive model that the compact, four-door Tesla saloon will be launched with in the UK.
WLTP range has been confirmed as 338 miles, or 329 miles for the AWD Performance, which will hit 62mph from rest in 3.7 seconds. Cheaper, rear-wheel-drive Model 3s with a shorter range (expected to be around 220 miles) will go on sale later, although there's no confirmation of prices or when they will arrive, given issues with production that have seen some customers waiting four years since placing a deposit, with another six months still to go.
We found out why they're willing to wait.
Oriol Pujol
Why are you interested in a Model 3? 
"I've actually ordered two Dual Motor models with the long-range battery and autopilot – one for me, and one for my Dad. For me, it's more about Tesla the brand than the Model 3 specifically – the Model 3 is just a more reasonable price.
"I've never had an electric car before, but I want one for both cost and environmental reasons. The car would be mostly for social or pleasure – I use the train for work, so the Tesla would be for trips with the kids at the weekend, or we sometimes drive to Spain for a holiday, which often accounts for 80% of our annual mileage."
How long have you been waiting?
"I've been waiting 2.5 years, but I don't actually need the Tesla, as we have a BMW 3 Series for now so I don't mind the wait."
Andy Cleaver
Why are you interested in a Model 3?
"I own an early, rear-wheel-drive Tesla Model S – one of the first 200 that arrived in the country – and I've now done 79,000 miles and reckon I've saved £15,000 on fuel. So, I love Teslas – it was the torque addiction that did it. I had a 993 Porsche 911 at the same time and sold it eventually, as it never got used.
"The Model 3 Dual Motor Performance that I want will probably be a replacement for the Mk1 Nissan Leaf that we have, as my wife is getting a bit fed up of the 80-mile range. I think the Model 3 is beautiful, and the interior actually feels more solid than the Model S."
How long have you been waiting?
"I placed the reservation four years ago, before the Model 3 had even been revealed. I don't mind the wait, but I'm debating whether I actually want to buy one now or if I wait a bit, as Tesla brought out updates to the Model S weeks after I received my car, so I don't want that to happen again."
Steven Heape
Why are you interested in a Model 3?
"I was involved with the world solar challenge and I had a Renault ZOE, which was fun, but had an annoyingly short range. So I have an interest in electric cars anyway, and I like the look of the 3, but it's a real shame that you can't have the rear-wheel-drive car with long-range batteries.
"I reckon you're looking at £41,000 after the incentive even for the cheapest car that I'd want, or around £400-£500 per month on lease, and I could get a much bigger car for that.
"That's the thing for me – I think it looks great and is lovely inside, but the Model 3 doesn't have a tow bar so I can't tow a trailer or stick the bikes on it, and I think it might be a bit snug inside for the family ski trips. I'd have to keep a diesel car with a tow bar for outdoorsy stuff, so maybe a BMW i3 would be more affordable as a second car."
How long have you been waiting?
"I placed my £1,000 reservation at 11am the day ordering opened and then hoped that when the presentation came out later on that day it was going to be something I wanted to buy."
Will Fealey
Why are you interested in a Model 3?
"I actually run the Tesla Owners club in the UK, and I think this would make a great car for my wife. I've had a Tesla for four years – I was going to buy a Lamborghini, but I tried the Model S and it's changed me completely.
"So this would be the second car to my Model S P100D that I have now, and we've also got a Hyundai Kona 64kWh and we'll get a Tesla Roadster, too. We do a lot of long-distance touring for holidays, or trips at the weekend, and I've drag-raced the Model S. Given that this will be a second car, we'll probably actually go for a low or medium-range Model 3."
How long have you been waiting?
"I ordered it in 2016 – the first or second day of when it went live. I trusted the brand already, so it was a no-brainer. I waited nine months for my first Model S. If it was someone like Mercedes that have been building cars for 100 years, I might be annoyed at the wait, but Tesla's quite different, so I don't mind."
Best plug-in hybrid SUVs 2021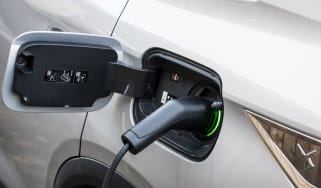 Best plug-in hybrid SUVs 2021
A good plug-in hybrid SUV should combine low running costs with excellent practicality. These are some of the best on sale right now
Best electric SUVs 2021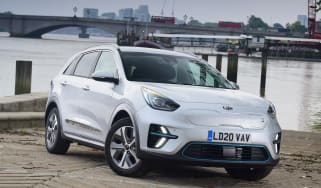 Best electric SUVs 2021
Our selection of the best electric SUVs you can buy features cars that promise to mix style, practicality and rock-bottom running costs
Longest range electric cars 2021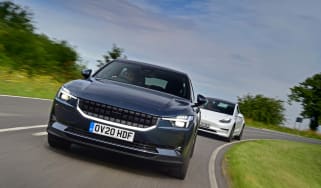 Longest range electric cars 2021
The range of electric cars is continually improving. Here are the top 10 models with the longest range on a single charge