Electric Renault Twingo revealed as £17k rival to Citroen e-C3
Renault has unveiled its smallest EV yet; a sub £20k city car with a claimed high level of efficiency
The long-lost Renault Twingo city car is set to return to the UK market with a splash in 2026. The new Twingo is an all-electric city car, disclosed to cost from "under €20,000" – or the equivalent of £17,000.
Returning as a rival for other budget EVs like the forthcoming Dacia Spring, Citroen e-C3 and entry-level BYD Dolphin Active, the Renault Twingo will sit below the soon-to-arrive Renault 5 in the French marque's rapidly-growing electric-car line-up.
Exact specifications remain under wraps for now, although Renault has stated that the Twingo will be capable of efficiency as high as 6.2 miles per kilowatt-hour; to put this in perspective, using a small 40kWh battery pack, this would offer a range of almost 250 miles. Of course, in the real world it'll probably be quite difficult to reach such a figure, with a combined WLTP range of anything between 150-200 miles being more realistic.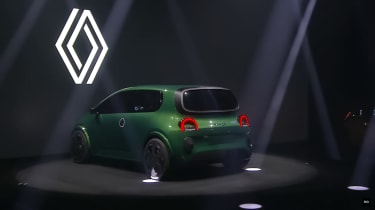 Unlike the larger Renault Megane E-Tech that's built in the firm's factory in Douai, France, the Twingo will instead be produced by Renault's newly-formed 'Ampere' arm, and shall therefore be built in Slovenia to keep costs as low as possible. It will still wear the company's diamond-shaped badge and will be sold alongside other Renault models in the brand's showrooms – most likely sharing the same AmpR Small underpinnings as the forthcoming and larger Renault 4 and 5.
As mentioned, the new electric Renault Twingo is set to go on sale next year. When it arrives on European shores, Ampere states its Renault city car will be available for as little as €100 (roughly £90) per month, which would undoubtedly make it one of the cheapest routes into electric motoring, other than vastly compromised quadricycles like the Citroen Ami.
New Ora 03: naming strategy killed the Funky Cat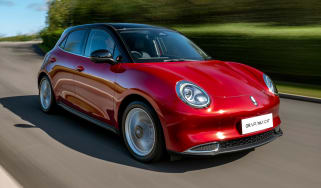 New Ora 03: naming strategy killed the Funky Cat
Ampere set to become the Dacia of the cheap EV world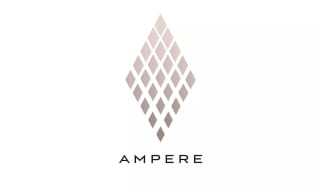 Ampere set to become the Dacia of the cheap EV world
DrivingElectric Awards 2024: the winners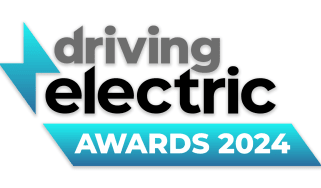 DrivingElectric Awards 2024: the winners
We celebrate the very best products in the EV world
Electric Renault 5: prices, 2024 launch date and teaser images of the MINI Cooper rival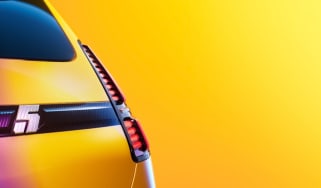 Electric Renault 5: prices, 2024 launch date and teaser images of the MINI Cooper rival
New official teaser pictures for Renault's electric supermini confirm the 5's reveal in February 2024
Tesla Cybertruck: pricing and specs for Elon Musk's electric pickup truck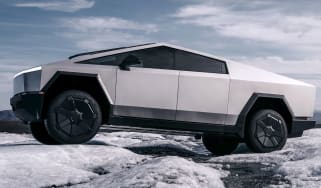 Tesla Cybertruck: pricing and specs for Elon Musk's electric pickup truck
The Tesla pickup truck is now on sale, with a range of up to 340 miles and a starting price of just over $60,000