Europe's most powerful EV charging hub opens in Oxford
The 'Energy Superhub Oxford' features 10 300kW ultra-rapid chargers and 12 250kW Tesla Superchargers, all powered by renewable energy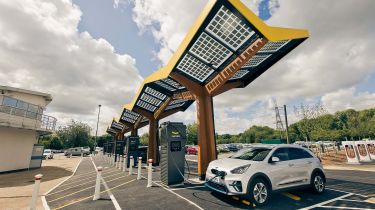 Pivot Power, part of EDF Renewables, has opened what it calls Europe's most powerful electric car charging hub on the outskirts of Oxford. The aptly named 'Energy Superhub Oxford' is capable of charging 42 EVs simultaneously, with potential to accommodate close to 400 charging points in the future.
Located at Redbridge Park & Ride, the Energy Superhub features 10 Fastned 300kW ultra-rapid chargers, which can add as much as 300 miles of range in 20 minutes to certain EVs. Michiel Langezaal, CEO of Fastned, said of the first Superhub's opening: "Since we opened the UK's first public ultra-rapid charging station in Sunderland in 2019, Fastned has been committed to using our experience from across Europe to accelerate the EV revolution in the UK.
"We are looking forward to opening many more of our distinctive stations powered by energy derived from sun and wind, offering fast, reliable, consumer-friendly charging, across the UK in the coming months."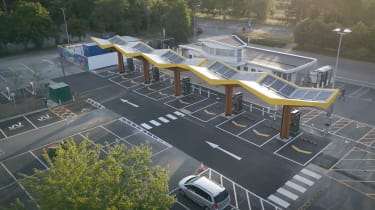 The Energy Superhub also features 12 Tesla V3 Superchargers, capable of charging speeds up to 250kW. At that speed, Tesla Model 3 and Tesla Model Y owners can expect to add 75 miles of driving range in around five minutes. There are also 20 (AC) 7-22kW chargers, intended for slower charging while drivers visit the city centre via the site's park and ride service.
The Energy Superhub Oxford is powered by 100% renewable energy. Some of this is generated by the hub's solar roof, helping the site avoid straining the local electricity network when potentially charging hundreds of cars simultaneously. All told, the charging hub can deliver up to 10,000kW, or 10 megawatts, of energy.
The location also features a hybrid battery system, developed by Pivot Power, which stores renewable energy at times of high supply. When it's not sunny or windy, the battery helps power the site's charging points, ensuring a reliable service at all times.
Overall, the Energy Superhub Oxford cost £41 million to complete and is one of several sites the company plans to open across the UK. Work is already underway on the next two: one in Coventry and one in Sandwell, near Birmingham.
MINI Cooper Electric: pricing and specs for British-built electric supermini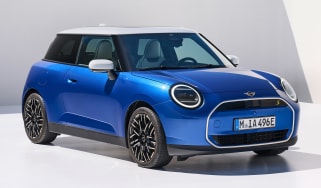 MINI Cooper Electric: pricing and specs for British-built electric supermini
MINI's latest electric hatchback introduces a revolutionary interior design, as well as larger batteries to provide a 250-mile range
Tesla Cybertruck: pricing and specs for Elon Musk's electric pickup truck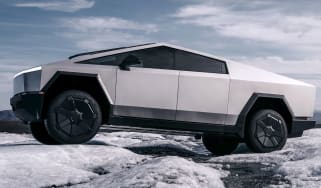 Tesla Cybertruck: pricing and specs for Elon Musk's electric pickup truck
The Tesla pickup truck is now on sale, with a range of up to 340 miles and a starting price of just over $60,000
Electric Renault 5: prices, 2024 launch date and teaser images of the MINI Cooper rival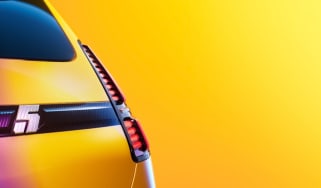 Electric Renault 5: prices, 2024 launch date and teaser images of the MINI Cooper rival
New official teaser pictures for Renault's electric supermini confirm the 5's reveal in February 2024