New Toyota electric SUV teased: reveal set for April
A Toyota RAV4-sized electric SUV will be unveiled at the Shanghai Motor Show in April, with many more electric Toyota models to follow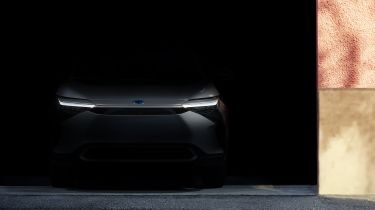 Toyota is close to unveiling the first in what's expected to be wide range of pure-electric models. A patent filing revealed the new BZ badge that a "mid-size battery-electric SUV" will be sporting when it's revealed in full at 2021 Shanghai Motor Show on 19 April, and Toyota has now revealed an initial teaser image of the car (above).
The new BZ is rumoured to be a similar size to the existing Toyota RAV4 hybrid SUV, but as a pure-electric car, it'll be a likely rival for the Volkswagen ID.4 and Kia e-Niro. It was first announced last year, with additional teaser images and extra information published in early 2021. Other recent pictures showed the car under a sheet, giving us a heavily disguised look at the new SUV's shape and basic proportions.
Toyota has also confirmed the new model will sit on an electric-specific version of its TNGA mechanical platform, which currently forms the basis for the RAV4, as well models such as the Corolla and C-HR. Toyota says the architecture "allows for fixed key elements and the freedom to vary others, giving the freedom to create vehicles with different widths, lengths, heights and wheelbases."
The release also said the platform can accommodate "front, rear or all-wheel drive with a wide range of battery and electric motor capacities to suit different vehicle types and uses."
Previous concept renderings, first seen in 2019, depict a range of similarly designed models (above). Based on an all-new electric-car platform co-developed with Subaru, the cars are likely to be offered in a similar form from that manufacturer, too – something that seems to be confirmed by comparing Toyota's previews with a recent Subaru concept car.
Toyota hasn't officially named its new electric car yet, but has recently trademarked a number of potential candidates. The trademark registrations all centre around the 'BZ series', with designations running from BZ1 to BZ5, as well as BZ4X and BZ5X, which may signal four-wheel-drive variants. DrivingElectric understands that BZ stands for 'Beyond Zero' – what Toyota calls its zero-emission plans.
Speaking to DrivingElectric, Toyota Europe's executive vice-president Matt Harrison said the new electric model would be slightly more expensive than the RAV4, but would also occupy a similar part of the brand's line-up. "The size is similar to RAV4," Harrison said, "so between RAV4, which is already available as a hybrid and plug-in hybrid, and this product as a zero-emissions option, we've pretty much got this covered. Customers would choose between these two vehicles in our portfolio."
Best plug-in hybrid SUVs 2021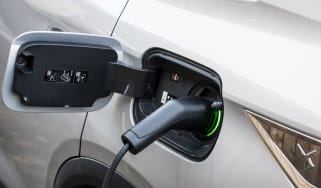 Best plug-in hybrid SUVs 2021
A good plug-in hybrid SUV should combine low running costs with excellent practicality. These are some of the best on sale right now
Where can I buy hydrogen and where is my nearest hydrogen filling station?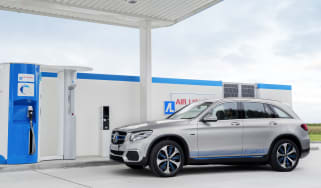 Where can I buy hydrogen and where is my nearest hydrogen filling station?
A guide to where you can find UK hydrogen fuel stations for filling up a hydrogen fuel-cell car
Best electric SUVs 2021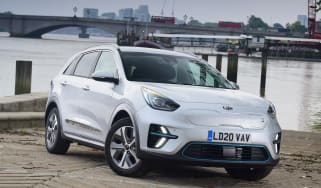 Best electric SUVs 2021
Our selection of the best electric SUVs you can buy features cars that promise to mix style, practicality and rock-bottom running costs