Toyota bZ4X electric SUV concept gives first glimpse of wider range
Shanghai motor show concept previews Toyota bZ – "beyond zero" – line-up of electric cars that'll be built on the brand's e-TNGA platform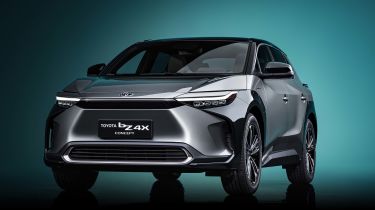 The first of Toyota's new wave of 'bZ' badged electric cars has been previewed with the bZ4X concept, which has been revealed at the 2021 Auto Shanghai motor show in China.
As well as being our first look at the bZ line-up, the bZ4X also marks the debut of the brand's e-TNGA electric-car platform, which has been developed jointly with Subaru. The bZ4X will be the first of 15 electric cars Toyota plans to launch by 2025, seven of which will be badged bZ. 
Broken down, the name 'bZ4X' signifies "beyond zero", with '4' representing the size of the car and 'X' signifying it as a crossover SUV. It has a long wheelbase and short overhangs to maximise interior space. Toyota claims passengers in the mid-size crossover SUV will have as much legroom as a luxury saloon like the Lexus LS. The model will be a rival for the likes of the Volkswagen ID.4 and Kia EV6 when it goes on sale in mid-2022. 
In terms of design, the bZ4X shows some similarities with the Toyota RAV4 and Toyota Yaris Cross combustion-engined SUVs. Instead of a grille, Toyota has gone for what it calls a "hammerhead" front end on the bZ4X concept. It also says the car will be capable of solar charging, likely through roof-mounted solar panels.
Inside is where the bZ4X stands apart from its conventional, combustion-engined brethren. You're not only given a driver's display and large central infotainment screen, but the bZ4X also features a 'yoke' steering wheel – something that seems to have become a trend in the electric-car world, having appeared on both the latest Tesla Model S and the MG Cyberster sports-car concept.
But it's not just there for style points. The yoke steering wheel highlights a new steer-by-wire system that's debuting in the bZ4X. Toyota says this reduces the need for you to move your hands around the wheel and allows the yoke design to be implemented.
Previous rumours and trademarks filed by Toyota suggest the bZ range will include smaller models, with names ranging from bZ1 to bZ5, as well as plans for a larger SUV named the bZ5X. So far, there's been no official confirmation of these, nor of what models Subaru will build on the platform it helped to develop.
A price range for the production version of bZ4X has yet to be confirmed, but we expect it cost around £40,000 to match its electric SUV competitors, the Skoda Enyaq iV and Mercedes EQA.  Despite this being Toyota's first all-electric car, the Japanese brand is no amateur when it comes to electrification. The Toyota Prius remains one of the most popular hybrids in the UK, and the Toyota C-HR hybrid SUV is featured on our list of the best hybrids available to buy right now.
Top 10 best seven-seater electric and hybrid cars 2021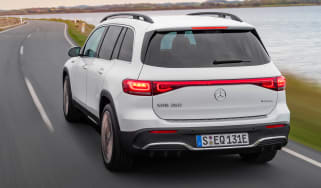 Top 10 best seven-seater electric and hybrid cars 2021
If the regular crop of electrified SUVs and family cars don't provide enough practicality for you, then take a closer look at the range of electric an…
Top 10 best luxury electric cars 2021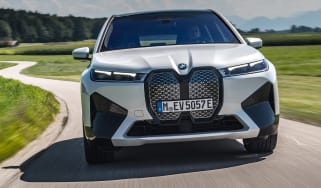 Top 10 best luxury electric cars 2021
From Audi to Tesla, here are our top picks of the most luxurious zero-emissions motoring options on the market right now
Complete guide to the IONITY charging network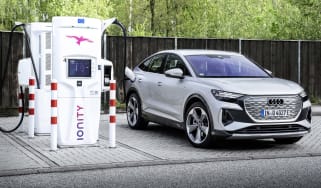 Complete guide to the IONITY charging network
The manufacturer-backed IONITY rapid-charging network is expanding across the UK and Europe – here's all you need to know