Chevrolet and Ford bring electric concepts to 2019 SEMA Show
Classic hot-rod pickup and electric Mustang concepts debut at US aftermarket and tuning event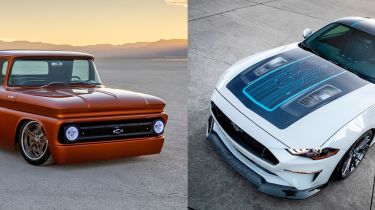 US automakers Chevrolet and Ford have both brought electric-car concepts to the 2019 edition of the SEMA Show in Las Vegas – an annual event for the US automotive aftermarket and tuning industries.
The Chevrolet E-10 and Ford Mustang Lithium both retrofit pure-electric drivetrains to models popular with tuners and modifiers – the C-10 pickup truck from the 1960s and the contemporary Mustang coupe.
Chevrolet E-10 concept
Chevrolet's E-10 concept is a 'hot-rodded' example of the brand's 1962 C-10 pickup truck that has been converted to pure-electric power.
Using drivetrain components from the US-market Chevrolet Bolt electric car, the E-10 produces an estimated 444bhp, will do 0-60mph in five seconds and complete the all-important standing quarter mile in the high 13-second range.
The electric hardware is arranged in the engine bay to mimic the shape of a classic V8 engine, and the truck also incorporates a sound emulator with three speakers, which can generate engine sounds appropriate to its speed and rate of acceleration.
By using two Bolt battery packs, the E10 boasts twice the power and twice the range of the production vehicles, and the two batteries can also be charged simultaneously.
On the outside, an eye-catching paintjob, lowered stance and large wheels (20 inches at the front and 22 at the rear) ensure the E-10 stands out.
Ford Mustang Lithium
The Mustang Lithium is a collaboration between Ford and Webasto, a company that develops heating and cooling technologies vital to electrified vehicles.
It develops a total of 888bhp and serves as a testbed for battery and thermal-management technologies that the two brands are co-developing for use in future electric models.
The Mustang Lithium's key features include custom carbon-fibre body components, a lowered stance and 20-inch staggered fitting forged wheels.
It's propelled by a Phi-Power dual-core electric motor and dual power inverters, powered by an 800-volt Webasto battery system. Highly unusually for an electric car, it also has a six-speed manual transmission.
Upgraded suspension and braking components also feature, while the driver has a choice of driving modes, including 'Valet', 'Sport', 'Track' and 'Beast', selected from the car's 10.4-inch touchscreen dashboard display.
First contact: facelifted Kia EV6 will look even more like a UFO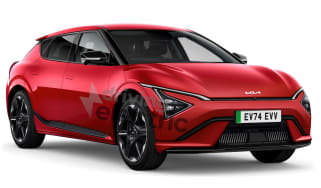 First contact: facelifted Kia EV6 will look even more like a UFO
Kia is readying an update for the EV6 crossover, which is set to include a new face and tech from the larger EV9
New Fisker Ocean Sport washes up in the UK: £36k for a 288-mile range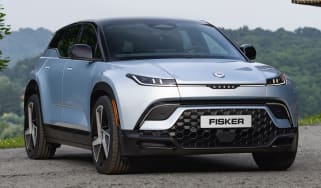 New Fisker Ocean Sport washes up in the UK: £36k for a 288-mile range
American EV startup Fisker has just launched its entry-level Ocean SUV in the UK, with a range of up to 288 miles
Electric Renault Twingo revealed as £17k rival to Citroen e-C3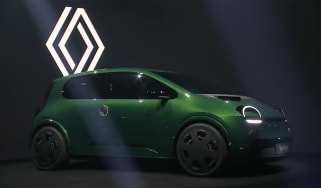 Electric Renault Twingo revealed as £17k rival to Citroen e-C3
Renault has unveiled its smallest EV yet; a sub £20k city car with a claimed high level of efficiency