Amazon Rivian van: pure-electric delivery van gets closer to service
Amazon to put 100,000 Rivian electric delivery vans into service by 2030 as part of its climate-change action plan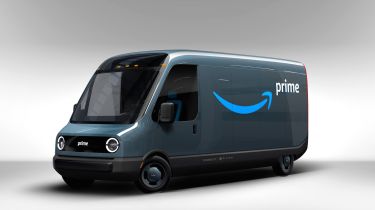 Retail giant Amazon has shown off its new electric delivery van, developed and built in partnership with US electric-car brand Rivian. 
In 2019, Amazon placed a $5 billion order with Rivian for 100,000 fully electric delivery vans, to hit the road from 2021. In June 2020, Rivian confirmed that despite a shutdown and subsequent reopening of its factory in Illinois, the coronavirus pandemic has not affected the new van's planned arrival date.
Amazon says it intends for 10,000 of these vans to be on the road by the end of 2022. The remaining 90,000 will all be added to the fleet by 2030.
While technical specifications have not been detailed, some of the van's features have been previewed. A large infotainment screen will be used to control many of the van's functions, including a 360-degree camera to improve the driver's spatial awareness. Naturally, Amazon Alexa voice commands also feature and can be used to get weather forecasts or to control the sat-nav system.
In the back of the van, there's a three-level storage system, a bulkhead door between cab and cargo area and a roller-shutter rear door. Up front, a large windscreen features for maximum visibility, while the van's wheels are positioned as close to each corner as possible in the name of agility and load space.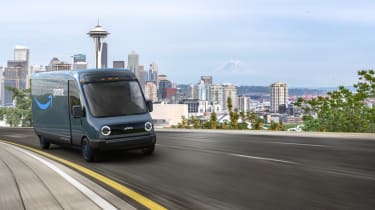 Amazon's order for 100,000 vans forms part of the company's climate-change plan, revealed by CEO Jeff Bezos at an event held in 2019 at the National Press Club in the US capital Washington D.C.
According to Bezos, Amazon is aiming to use 100% renewable energy by 2030, with a target of 80% by 2024.
The company is also planning to assist its suppliers to help them decarbonise and hit the same goals. Back in February 2019, Amazon led a $700 million investment round in Rivian, which has also attracted investment from Ford.
Rivian has previously announced its R1S SUV and R1T pickup-truck models, and is also plotting a rally-car-style offering for its third vehicle. It's believed the electric van being developed for Amazon will sit on the same platform as those models.
Best plug-in hybrid SUVs 2021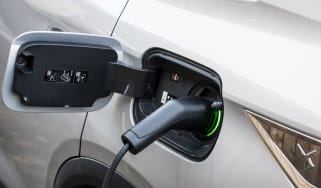 Best plug-in hybrid SUVs 2021
A good plug-in hybrid SUV should combine low running costs with excellent practicality. These are some of the best on sale right now
Best electric SUVs 2021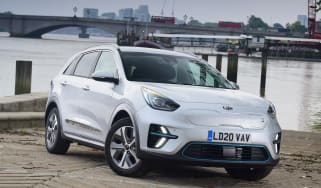 Best electric SUVs 2021
Our selection of the best electric SUVs you can buy features cars that promise to mix style, practicality and rock-bottom running costs
Where can I buy hydrogen and where is my nearest hydrogen filling station?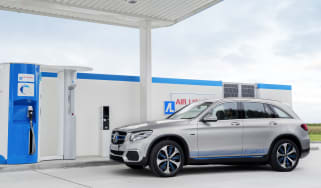 Where can I buy hydrogen and where is my nearest hydrogen filling station?
A guide to where you can find UK hydrogen fuel stations for filling up a hydrogen fuel-cell car