Mitsubishi MI-TECH concept breaks cover at Tokyo Motor Show
The plug-in-hybrid Mitsubishi MI-TECH concept car has made its Tokyo Motor Show debut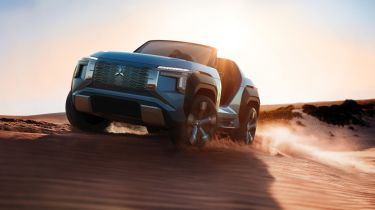 Mitsubishi has revealed its MI-TECH plug-in hybrid concept car at the Tokyo Motor Show. Potentially previewing the next-generation ASX – in terms of technology if not styling – the MI-TECH has a four-motor electric four-wheel-drive system, as well as advanced driver assistance and safety technology.
The concept's shape is unconventional for an SUV, bearing more of a resemblance to the Volkswagen ID. Buggy concept than an everyday family vehicle. Its chunky off-roader looks are likely to be toned down or changed significantly for any production version.
The concept uses a gas turbine generator as opposed to an internal-combustion engine, with a range of electric and hybrid driving modes offered. The manufacturer claims the powertrain will provide a "new kind of driving experience" that gives "reassurance and safety in everyday driving about town, while allowing drivers of all abilities to confidently push further over the unmade or rough road surfaces".
No performance details have been given away, but Mitsubishi says the concept will deliver "unparalleled driving pleasure and confidence over all terrain". The vehicle will have "a downsized, lower-weight" plug-in hybrid drivetrain, with a total of four electric motors giving four-wheel drive. Two motors will be placed on each axle, which Mitsubishi says will result in "precise handling" around town as well as "ingenious performance" off-road.
Future technology also includes a 'human machine interface' that projects information on the windscreen, and active driver assistance systems to help avoid collisions by taking partial control of steering and braking.
Mitsubishi's Super All-Wheel Control (S-AWC) system works in tandem with the four-wheel-drive setup, and the MI-TECH can continue to progress even with two of its wheels out of contact with the ground. Electric brake callipers allow precise drive and braking force control to all four wheels, promising much improved turning performance and traction.
Mitsubishi unveiled another plug-in hybrid concept – the Engelberg Tourer Concept SUV – at the Geneva Motor Show in March 2019. That car featured the same 2.4-litre petrol engine and electric motors as the Outlander PHEV, although it had a larger 20kWh battery for greater zero-emissions range.
Electric Renault 5: prices, 2024 launch date and teaser images of the MINI Cooper rival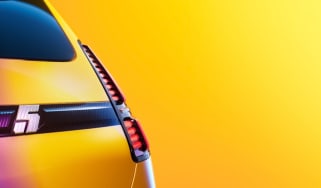 Electric Renault 5: prices, 2024 launch date and teaser images of the MINI Cooper rival
New official teaser pictures for Renault's electric supermini confirm the 5's reveal in February 2024
Big price cut: Electric Renault Megane prices slashed in time for Christmas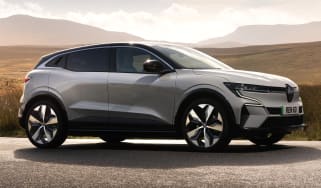 Big price cut: Electric Renault Megane prices slashed in time for Christmas
Renault Megane E-Tech gets a price drop of up to £3,500, bringing the starting price to just £34,495