MG 5 SW electric motor, drive & performance
Performance is pretty strong, but the MG 5's overly soft suspension means it's not very satisfying to drive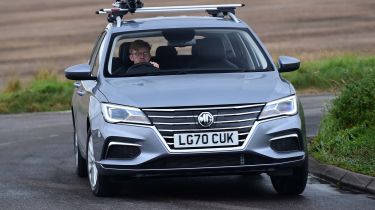 | 0-62mph | Top speed | Driven wheels | Power |
| --- | --- | --- | --- |
| 7.7s | 115mph | Front | 154bhp |
The MG 5 uses a single electric motor sending power to the front wheels through a single-speed transmission. Peak power is quoted as 154bhp and maximum torque is a useful 260Nm, which is a shade below potential rivals like the Kia e-Niro but still enough to give the MG peppy performance.
There are three driving modes – Eco, Normal and Sport. Eco maximises range by limiting performance, Normal offers a bit more of that addictive electric-car off-the-line performance, while Sport helps you to achieve the car's official acceleration figures. These modes are complemented by three selectable levels of regenerative braking.
MG 5 SW 0-62mph, top speed and acceleration
Performance is surprisingly good. With 260Nm of torque, acceleration is enough to catch most other road users napping: 0-62mph takes 7.7 seconds in Sport mode and it feels plenty fast enough and there's a 115mph top speed. Sport mode allows full access to that performance, but even if you choose to put the car in its Eco mode, there's still plenty of oomph for getting around, and naturally there's a small range benefit in limiting the performance on offer.
Handling
It's not quite as good news here, as the 5 isn't much fun in corners. It pitches and rolls as you fight with the lifeless steering. This isn't a sports car, though, and the lack of communication and above-average levels of body lean will be absolutely fine for most drivers. The trouble is, that softness doesn't automatically translate to ideal ride comfort either. It handles motorway driving neatly enough, but seems to be caught out by the kind of bumps you find around towns and cities.