Mercedes S-Class hybrid (2019-2020) engines, drive & performance
The Mercedes S-Class hybrid is serene and luxurious, although it has a turn of speed when needed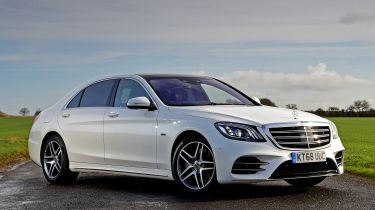 | 0-62mph | Top speed | Driven wheels | Power |
| --- | --- | --- | --- |
| 5.0s | 155mph | Rear | 469bhp |
The Mercedes S-Class plug-in hybrid features a 3.0-litre, turbocharged six-cylinder engine, however breakneck acceleration isn't what it's designed for. Instead, the engine is deathly quiet in almost all conditions, ensuring that occupants aren't disturbed on the move.
With up to 700Nm of torque available, the S-Class can accelerate quickly when required, but most buyers will likely be more interested in comfort than speed. And this is what makes plug-in hybrid technology such a good match for the S-Class: electric-only running suits the relaxed, luxurious vibe of the car, and switching between electric and petrol power happens so seamlessly that you might not always notice it.
The S-Class will cruise along the motorway with little effort, although the plug-in is more suited to urban driving than the petrol and diesel alternatives. The city, after all, is where you'll reap the most reward from the electric powertrain.
Mercedes S-Class hybrid 0-62mph, top speed and acceleration
With the engine and electric motor working together to produce 469bhp, the S-Class plug-in hybrid is no slouch: 0-62mph takes just five seconds, putting it firmly in hot-hatchback territory. Like many cars of this nature, the top speed is limited to 155mph. This falls to 80mph in electric-only mode, although this is more than you're ever likely to (or indeed, be legally allowed to) use on UK roads.
Handling
Weighing in at 2,215kg, the S-Class plug-in is some 10% heavier than its petrol and diesel siblings, and this added bulk – much of which can be attributed to the 13.5kWh battery – shows in corners. But while the PHEV model isn't as responsive when going round a tight bend, interpreting this as a problem is to misunderstand the S-Class entirely.
As a luxury limousine, its purpose is to glide along with the minimum of fuss, and in that respect the plug-in is indistinguishable from the rest of the line-up. Rear-seat passengers being chauffeured from A to B are especially unlikely to notice the difference.