Mercedes E 300 de: Living with it
Mercedes is bucking the trend with diesel-electric plug-in hybrid powertrains; we've spent some time with an E-Class hybrid in AMG Line spec to find out if it's a good idea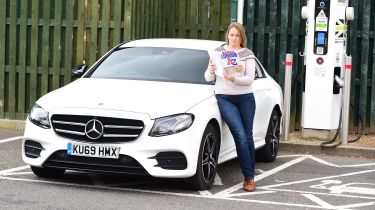 Report 4: Door issues
Life with the Mercedes E 300 de has been pretty faultless until now, with no issues beyond the sometimes-patchy digital radio reception. I rarely have issues even with that since I generally listen to radio, music or podcasts through my phone, via the standard Apple CarPlay app on the Mercedes' system. 
The other day, I noticed that the driver's door seemed a needed more of a slam than usual to close it. Nothing to worry about, I thought, since giving it a little more gusto did have the door closing properly. Then matters got worse when I looked back at the Merc after I got home, and noticed that the door hadn't closed fully even though the car seemed to have locked - wing mirrors folded in and all.
Even more worrying was when I walked up to the should-have-been-locked Mercedes, and found that the drivers' door was most definitely not locked. You could open it no problem at all. No alarm goes off, the wing mirrors stay tucked in, all of the other doors are locked and even the app shows that the car is secure. The car is absolutely convinced that all is locked, even though you're stood there with the driver's door open. All very weird.  
Since then, the door seems to have improved a little in that it doesn't need to be slammed to shut properly, and as long as it has closed properly then it locks as it should. Given that it's not an urgent issue and we're in the midst of the coronavirus lockdown, I've chosen not to bother my local service centre just yet. Rest assured, I most certainly will when we get back to something resembling normality. 
Date: 20 April 2020Mileage: 6,783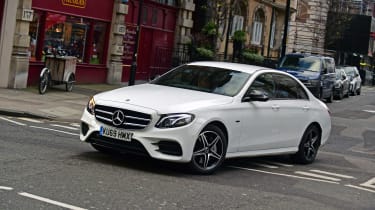 Report 3: App frustration
I've been using the 'Mercedes me' app recently. It wasn't too difficult to connect to our long-term car, beyond the annoyance of having to register via the website rather than the app itself, and then a bit of faffing about with connecting codes on the car, etc.
There was also a slightly alarming message that suggested I had to go to my nearest Mercedes dealer with my passport for proof of ID to complete the app registration, but that seems not to be the case and everything is working well.
The app is all very swish and connects with the car reliably and quickly. But frustratingly, it doesn't offer you the ability to delay charging.
It allows you to set personalised dial design, ambient lighting and more, but not to set specific charging hours. Weird, since that's the chief reason most electric car drivers want an app, so it seems a huge oversight on Merc's part.
You can set your departure time and the charging is clever enough to speed up or slow down charging appropriate to that time. It also pre-warms the cabin using mains power from your house for that set departure time, too – always a welcome comfort in the sodden winter drudgery, so I make use of that function regularly.
Partnership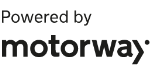 Need to sell your car?
Find your best offer from over 5,000+ dealers. It's that easy.
But I'd still like a simple function to set charging parameters so that I can tell the car to charge only when I benefit from the cheap off-peak tariff of my electricity provider, between midnight and 4.30am. Then I want to be able to set the cabin pre-conditioning separately, to suit my departure time. I don't think that's too much to ask for, really.
Otherwise, life with the E 300 de has been great. It's returning over 70mpg on my commute into the office, which involves around 20 miles of faster motorway, seven miles of 40mph dual carriageway and four miles of torturous traffic through central London. I always save the battery charge on the motorway, and stick it in electric for the rest of the journey, which reliably gets me well over 70mpg for the round trip. 
Alternately, I'm seeing around 21-23 miles of pure electric running in cold weather, so for local journeys I rarely need to trouble the diesel engine at all. Unlike rivals such as Volvo, which can be prone to starting the petrol engine if you accelerate hard in EV mode, the Mercedes sticks to battery power even if you go for a quick getaway into traffic.
It's worth managing the electric mileage in the Merc, though, as diesel usage through town is quite poor and can drop to as little as 43mpg. That improves quickly out on the motorway, where I often see the E 300 de hit 50mpg even if it hasn't been charged.
Disappointing given that many non-electrified diesels will do better than this, but given the electric range it's still a great compromise of fuel-free town miles and way more efficient motorway running than most petrol PHEVs will offer. 
Date: 2 March 2020Mileage: 5,493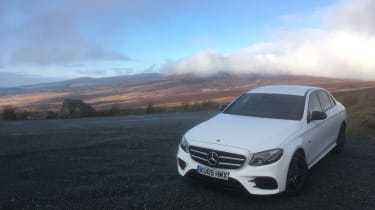 Report 2: A Christmas road trip
Managing editor Stephen Errity took our E 300 de from London to Dublin, Ireland, and back over the Christmas and New Year holidays. The trip took in every type of road, from a long motorway run to North Wales to catch the ferry across the Irish Sea, to short suburban trips around Dublin to see family and friends, as well as a New Year's excursion to the Wicklow countryside (pictured) along winding rural routes and a diversion through Snowdonia on the return leg.
With temperatures remaining in single figures throughout, even the car's own dashboard display never promised more than about 20 miles of pure-electric running from a full battery, which is some way off the official claim of 30+ miles. We'd expect to see an improvement in warmer weather, though. Running the car primarily in Hybrid mode, charging from a domestic socket and occasionally using the engine charge function saw economy of 43mpg from a tank of fuel.
Elsewhere, the E 300 de boasts all the good points that apply across the E-Class range: it's a fantastically smooth, quiet and comfortable long-distance cruiser, with very supportive seats, an attractive, high-quality interior and an intuitive infotainment system linked to two large and clear dashboard screens. The hybrid system's torque boost, allied to an already torquey diesel engine and very smooth nine-speed automatic gearbox, makes the car very responsive when overtaking or getting up to speed on a slip road.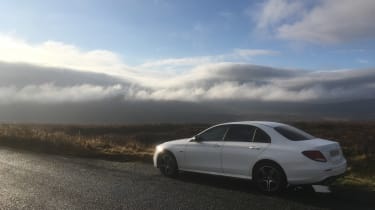 On the downside, you're always aware this is a pretty heavy vehicle and brake feel is vague at best due to the regenerative system. On the practicality front, the large box-shaped intrusion into the boot by the hybrid battery can be a real pain; you can probably count on fitting one large suitcase into the luggage area, rather than two as would be the norm with a large saloon. Those in need of true versatility should definitely look to the estate if they're considering an E 300 de.
The E-Class hybrid's cables can also be a problem; they arrive very neatly packed and wrapped with plastic in carrying cases that can be secured to the boot floor to stop them sliding around, but are difficult to pack away neatly again once you've opened them, and there's no dedicated cable storage area, so you end up just leaving them untidily splayed around the boot most of the time.
The overall impression of the E 300 de EQ Power from the two-week Christmas stint was a positive one, but that compromised boot means it's probably not one for buyers with young families to use as their main car. And it also served to reinforce our regular reminder that the quoted fuel-economy figures for plug-in hybrids should be viewed as 'ideal maximums', with the real day-to-day figures only likely to be around half as good.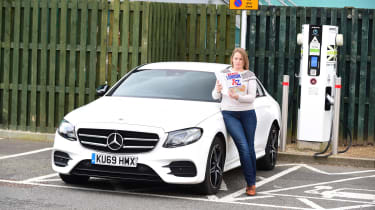 Report 1: Introducing our E 300 de
Diesel plug-in hybrids like our new Mercedes E 300 de make a whole lot of sense. After all, the thing that's most frustrating about many plug-in hybrids is the fuel economy you get when the battery power runs out. Most petrol plug-in hybrids will only return around 35mpg or so, some rather less, so the prospect of a diesel car that'll do 50mpg when your 34 miles of electric running is up sounds great to me.   Don't get me wrong, I'm not glossing over the last few years of bad press and anti-diesel legislation that's seen company-car tax and inner-city charging rise along with awareness of local NoX emissions and poor air quality. Yet many modern diesels are just as clean as their petrol counterparts, and the benefits of better economy and lower CO2 are still persuasive for many high mileage drivers.   Which is why I'm so intrigued to find out how the Mercedes fares in terms of its efficiency over the next six months. We'll have a chance to really test its real-world economy and find out for sure if this is a powertrain combination to advocate and encourage.
An official claimed electric range of 34 miles is one thing, but we need to know how far the 13.5kWh battery will take the big E-Class on electric power alone in cold and warm weather, and how motorway miles affects the range as well. And, of course, how economical the 2.0-litre diesel engine is thereafter, and what sort of economy you get if you plug in regularly and leave the car in default hybrid mode.
I even plan on investigating how much difference it makes to plug your route into the car's nav when in hybrid mode, as the car will shuffle its power sources as it sees best according to your route. My commute covers some 30-odd miles each way, including around 70% on the motorway and the rest in crawling London traffic, so finding out how much variation there is hybrid mode with and without the info from the nav should be interesting.   I'm already equipped with a home charger, which means I can easily take advantage of the Mercedes' peak charging rate of 7.2kW. That means it'll fully charge in under two hours; half the time it takes most other plug-in hybrids, including the E-Class' nemesis, the BMW 530e.   Our car comes in the sportier-looking AMG Line trim, and the optional £595 Night package adds 18-inch alloys in the trademark Mercedes five-spoke design. That same pack also includes a gloss-black grille and exterior trim highlights, which look great contrasting with the standard Polar White paint.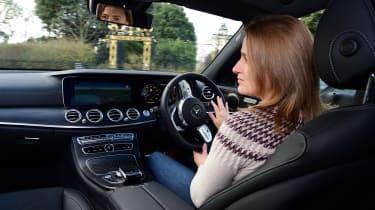 The only other option on our E-Class is the £2,395 Premium package, which adds a memory function to the standard electric seats, and most notably the 'Intelligent' LED lights that I'd rate as one of the best pieces of safety kit of all, especially at this time of year.   But it's frustrating that the Mercedes doesn't get standard adaptive cruise control. Even more so as it has all the fancy hardware and software required for adaptive driving, and uses it routinely when it adjusts the regenerative braking force in response to traffic ahead.
But if you switch on the standard, old-school cruise control, the car overrides all of the info streaming in from its cameras and radars, and accelerates mindlessly onwards at the chosen speed until you respond to a closing gap up ahead.
Speaking of odd omissions, there's no keyless entry. That feature is only included on top-spec E-Class trims, which the plug-in powertrain isn't available with. So if you want hands-free entry (which I always do) on an E-Class PHEV, you're stuffed. Those frustrations aside, I already look forward to driving the E 300 de, regardless of the kind of journey I might be considering.
Yes, the electric range and fuel economy it achieves will be a critical gauge of this car's relevance, but for any driver that does a lot of mileage and also spends time in town, the common sense behind it is clear. I can't wait to see how it fares as the DrivingElectric team spend time with it over the coming months.