Hyundai Ioniq 5 N: electric hot hatch arriving in 2023
The first electric car to wear Hyundai's N performance badge is likely to get a dual-motor powertrain for all-wheel drive and close to 600bhp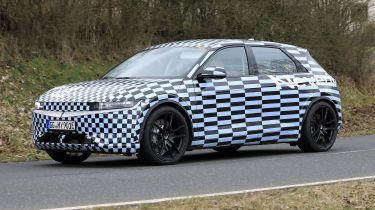 Hyundai's N performance division has been active since 2017, creating hot versions of the petrol-powered i30, i20 and Kona to considerable acclaim. In 2023, the N badge will appear on a high-performance version of the Hyundai Ioniq 5 electric family car, the South Korean brand has confirmed.
Technical details for the Ioniq 5 N are thin on the ground, but Hyundai's latest RN22e concept (below) does provide us with some hints at what's possible. The RN22e is a high-performance version of the Ioniq 6 saloon, featuring a 77.4kWh battery and two electric motors making 569bhp and 740Nm of torque; enough for a 0-62mph time of well under four seconds.
This powertrain could be carried over to the Ioniq 5 N almost unchanged, considering its Kia EV6 GT sister model also uses a dual-motor, all-wheel-drive setup producing 577bhp, and is capable of 0-62mph in just 3.5 seconds. We expect the Ioniq 5 N to come close to the EV6 GT's 263-mile range, too.
Like the RN22e, the Ioniq 5 N will be built for track days, as well as daily road use, so other technology that could filter through includes torque vectoring, weight reduction thanks to 3D-printed parts and heavily upgraded brakes. The radical, track-focused EV concept also features 'N Sound+' – a system that pumps artificial sound into the cabin, like the e-ASD system that's debuting in the Ioniq 6 – and 'N e-shift', which is designed to mimic the feeling of gearchanges.
While we've yet to see any official images of the Ioniq 5 N, a prototype was spotted testing in Germany by spy photographers earlier this year. Stiff sports suspension and huge alloy wheels with large brake discs were visible on the car, as was a large air intake on the front bumper, likely to help cool the batteries.
We expect there to be some more visual changes on the production model, including a larger rear spoiler and front splitter, while the cabin is likely to get a pair of deep bucket seats up front and revised graphics for the dual-screen information system. The N division's signature Performance Blue paint is also likely to be available.
The nRN22e concept gives us our best look yet at what a high-performance version of the Ioniq 6 saloon could look like, if Hyundai was tempted to take on the BMW i4 M50 or Tesla Model 3 Performance. Sadly, the brand hasn't yet confirmed whether it'll make a roadgoing Ioniq 6 N based on the RN22e.
Top 10 best 4WD electric cars 2022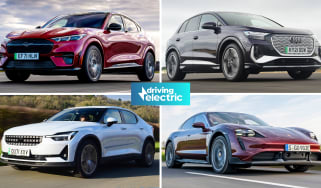 Top 10 best 4WD electric cars 2022
We pick the best four-wheel-drive electric cars to buy in the UK right now, with options to suit various budgets and lifestyles
Can solar panels charge an electric car?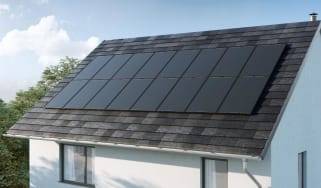 Can solar panels charge an electric car?
Using solar panels to charge your electric car can save you money in the long run. Here's everything you need to know about charging an electric car w…
New MG4 EV electric hatchback starts from £25,995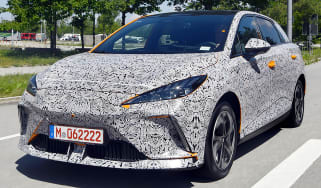 New MG4 EV electric hatchback starts from £25,995
MG's Volkswagen ID.3 rival will be one of the cheapest EVs on sale. We've driven a prototype