New Honda electric SUV previewed by e:Ny1 Prototype
Compact SUV will see Honda offer a family-friendly electric car for the first time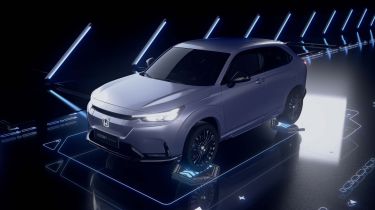 Honda is to introduce a second fully electric car to its European line-up in 2023. Previewed by this e:Ny1 Prototype, the compact SUV will slot into the range above the Honda e city car, offering a slightly larger and more practical option for Honda electric-car buyers.
Looks-wise, the e:Ny1 is similar to the e:prototype the brand unveiled at the Shanghai Motor Show in April 2021. This was a more conventional development of the three-door SUV e:concept seen at the Beijing show in 2020. That car had a more rakish, three-door design with a sloping roofline and was generally more futuristic than the conventional styling of the car unveiled in Shanghai and then refined for the e:Ny1.
Further details of the production version are thin on the ground for the moment, but Honda has said that the e:Ny1 will sit "at the centre of [its] future product line-up", will offer "the unique blend of dynamics, technology and design that Honda is known for" and will provide "a great option for families looking for their first EV". It'll almost certainly use a larger battery than the 35.5kWh unit in the Honda e, which has a range of 137 miles.
The e:Ny1 was revealed at the same time as the new hybrid-only Civic hatchback, which will join the existing hybrid-only Jazz, HR-V and CR-V to make Honda's European line-up fully electrified. A next-generation CR-V, offered with plug-in hybrid technology for the first time, will also join the brand's range in 2023, along with an as–yet-unnamed Civic-sized SUV, also exclusively hybrid-powered.
Tom Gardner, senior vice-president at Honda Motor Europe, said: "The new models we will introduce in 2023 set the course for the next generation of electrified Honda cars, all retaining the engaging driving dynamics, comfort and exceptional usability to which our customers have become accustomed."
Honda also recently announced a collaboration with Sony to develop electric cars, based on designs the electronics manufacturer has already previewed with concept models at the 2020 and 2022 editions of the Consumer Electronics Show (CES). The two companies aim to launch their first production model in 2025.
Volkswagen ID.3 facelift due in spring 2023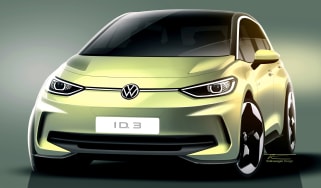 Volkswagen ID.3 facelift due in spring 2023
New sketches provide a glimpse at refreshed styling and cabin of Volkswagen's electric family hatchback
Tesla Semi truck showcases 500-mile range as first examples delivered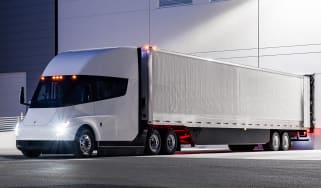 Tesla Semi truck showcases 500-mile range as first examples delivered
The Tesla Semi made its world debut in November 2017, and will become part of Tesla's own fleet