Ford Transit Custom hybrid running costs
Running costs for the Ford Transit Custom hybrid should be low, provided you charge the battery regularly and don't rely too heavily on the petrol engine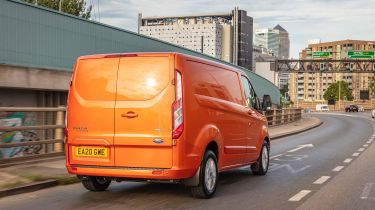 | Insurance group | Warranty | Service interval | 2019/20 company-car tax cost (20%/40%) |
| --- | --- | --- | --- |
| TBC |  3yrs / 100,000 miles | 2yrs / 18,000 miles | £686 / £1,372 |
Depending on the kind of work you use your van for, the Ford Transit Custom Plug-In Hybrid could deliver the kind of ultra-low running costs that would more than justify the steep initial outlay.
The key is being able to regularly charge the battery. Using a home (or work) wallbox, a full charge of the 13.6kWh battery should cost less than £2, affording you up to 26 miles of electric range (up to 30 miles in town) without using a drop of petrol. If you're in the business of urban deliveries, where the total distance covered in a day is relatively low, the Ford Transit PHEV could slash your fuel bills significantly.
However, if this is the case, it may be worth considering a pure-electric van – many of which can manage 80-100 miles on a single charge. If your daily duties fit the bill, take a look at models like the Volkswagen ABT e-Transporter and Mercedes eVito.
But if you drive substantially further than the Ford's – or indeed the Mercedes and VW's – electric-only range will allow, there's still a case to be made for the Transit Custom PHEV. It features an 'EV Charge' driving mode that uses the 1.0-litre EcoBoost petrol engine to charge the battery on the move, negating the need to plug the van when the batteries run dry. It's not as efficient (or as cheap) as plugging into the grid while stationary, but it could well extend the Ford's appeal to a wider audience.
Vans that are used exclusively for business aren't subject to Benefit-in-Kind (BiK) company-car tax. However, those that do include private journeys are levied a flat rate of £3,430 – whether that's taking the van home at the end of your shift, or simply detouring during the day for a cup of coffee.
So, if you use your van for private journeys you'll need to cough up. For 20% rate taxpayers, this comes to £686, while 40% payers will pay £1,372 for the 2020/21 financial year. Unlike with cars, there's no financial advantage to be gained in this regard by choosing a hybrid or electric van.
Ford Transit Custom hybrid insurance group
The Ford Transit Custom PHEV's insurance group hasn't been confirmed yet.
Warranty
The warranty for the Ford Transit Custom PHEV stands at three years or 100,000 miles, whichever comes first. Meanwhile, the battery is covered separately for up to eight years or 100,000 miles – on par with rivals in this regard.
Servicing
If you buy a Ford Transit PHEV, you'll need to be prepared to service it slightly more often than the equivalent diesel version. While every version needs to visit a workshop at least every two years, if you pick the plug-in, the intervals shrink from every 25,000 miles to every 18,000 miles.
Road tax
Vans aren't charged for Vehicle Excise Duty (VED), colloquially known as road tax. However, they do incur light commercial vehicle (LCV) road tax, which is currently a flat rate of £260. A new system based on CO2 emissions could be introduced in the future.