New 2023 Ford Transit Custom to offer electric and hybrid power
The next generation of the mid-size Ford Transit Custom van will get a fully electric, zero-emissions version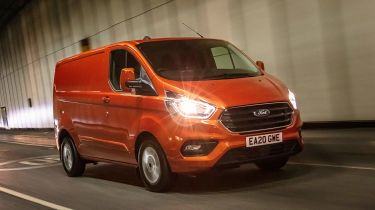 Ford has confirmed that the next generation of its mid-size Transit Custom van will offer mild-hybrid, plug-in hybrid and fully electric power when it arrives in 2023.
Like the current Transit Custom (pictured above), the new model will be built at Ford's commercial-vehicle factory in Turkey. It'll also form the basis for the upcoming T7 generation of the Volkswagen Transporter mid-size van, as part of a deal that'll see the Ford build electric passenger cars on Volkswagen's MEB platform.
Ford plans to offer zero-emissions capability (so either electric or plug-in hybrid power) across its entire commercial-vehicle line-up by 2024. It's aiming for two-thirds of all its commercial-vehicle sales to fall under these categories by 2030, but mild-hybrid diesel engines will continue to be offered, so Ford's engine factory in Dagenham, Essex is secure for the medium term at least.
In addition to its electrified drivetrain options, the 2023 Transit Custom is set to get a host of connected technology, covering areas such as security, software updates and fleet management.
Stuart Rowley, president of Ford Europe, said: "The next generation Transit Custom range – including the all-electric version – will strengthen Ford's position as Europe's number-one commercial vehicle brand. Transit Custom is the jewel in our commercial-vehicle crown and key in our drive to grow our commercial-vehicle business as we continue to create a sustainable, profitable Ford business in Europe rooted in an electrified future."
The current Transit Custom and its Tourneo Custom minibus variant are already available as plug-in hybrids, while Ford has also announced the E-Transit, a fully electric version of the full-size Transit van, for 2022. Additionally, the company's US arm is gearing up to launch an electric version of its iconic F-150 pickup truck.
Top 7 best hybrid and electric sports cars 2021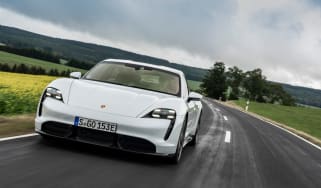 Top 7 best hybrid and electric sports cars 2021
Bringing thrills and performance with their powerful electric motors, these are the best electric and hybrid performance cars to buy in the UK in 2021
Are electric cars expensive to insure?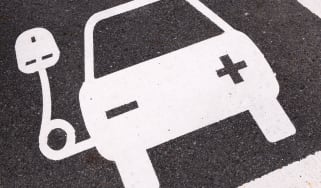 Are electric cars expensive to insure?
Everything you need to know about insuring an electric car, including how expensive it is and why
2021 Audi Q4 e-tron and Q4 e-tron Sportback: specs and prices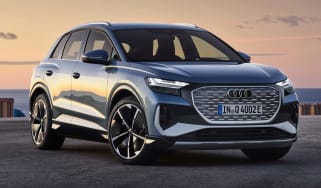 2021 Audi Q4 e-tron and Q4 e-tron Sportback: specs and prices
The pure-electric Audi Q4 e-tron and Q4 e-tron Sportback are on sale now, with prices starting from £40,750 for the regular SUV and £42,250 for the Sp…