Ford Kuga Plug-In Hybrid recall: the latest details
Ford has recalled a number of its Kuga plug-in hybrids over safety concerns. Here's everything you need to know
In August 2020, Ford recalled over 20,000 examples of its Kuga Plug-In Hybrid due to battery safety concerns. In some instances, faulty batteries have overheated when charging, causing fires in a small number of cases.
Ford refers to its recall as a 'Safety Action' and has written to all affected customers. Owners have been advised not to charge their cars and to operate them in 'EV Auto' mode only. Ford assures its owners that the car is entirely safe when following these rules.
In October 2020, Ford sent all affected customers a £500 fuel card for use at BP fuel stations, in acknowledgement of the fact that "the fuel economy of the Kuga Plug-In Hybrid may not be what our customers may have expected when they took delivery," according to a statement on its website.
Ford has also recommended that owners connect their cars to the FordPass app. The firm says this will allow the latest software to be installed on the Kuga and ensure direct access to any future communications regarding the recall.
Ford Kuga Plug-in Hybrid fix announcement
At the end of October 2020, Ford announced it had found a fix for the Kuga Plug-In Hybrid's issues. The information that follows has also been communicated to all affected owners:
"Ford is communicating with all our Kuga PHEV customers across Europe that we now have a fix for the issue related to the drive battery pack. This fix will be a replacement of the entire drive battery pack with a new pack as a result of our investigations with our supplier," the statement reads. 
"We will commence the drive battery replacement work towards the end of December for customers who already have their vehicles and expect this process to take until late March to complete," Ford stated. "We will be communicating with customers directly later in November to arrange a time to implement the replacement." 
The statement from Ford also points to an issue in the production of the car's battery, which is sourced from an external supplier: "We have worked in partnership with our supplier to determine both the cause and resolution. The root cause has been identified as a battery cell contamination issue in our supplier's production process and we have determined that the best course of action for the safety of our existing customers is to replace the drive battery pack."
The statement from Ford also reiterated that the affected Kuga models are still safe to drive in the meantime, as long as charging does not take place and only the EV Auto and Normal drive modes are used. Ford's goodwill fuel-card gesture also still stands, as does the offer of an extended warranty or service pack.
Affected owners with any additional concerns are encouraged to contact the Ford Customer Relationship Centre on 0203 564 4444.
BMW i4 facelift to topple Tesla with huge range and tech upgrades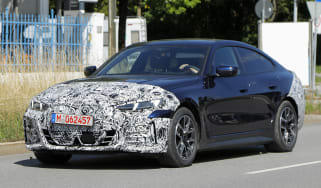 BMW i4 facelift to topple Tesla with huge range and tech upgrades
An updated version of the BMW i4 has been spotted testing, likely sporting a longer range and the latest technology
We've had a ride in the new electric MG Cyberster and it's NOT what we first thought…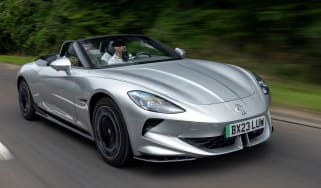 We've had a ride in the new electric MG Cyberster and it's NOT what we first thought…
The MG Cyberster is due to go on sale next year with up to 536bhp and scissor doors – and we've already had a ride in it