New Fiat e-Ulysse electric MPV with up to nine seats announced for 2022
A Fiat equivalent to the Citroen e-SpaceTourer, Peugeot e-Traveller and Vauxhall Vivaro-e Life will go on sale in early 2022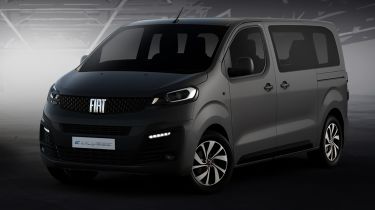 The Fiat electric-car range will expand in 2022 with the addition of the e-Ulysse: a large MPV offering seating for up to nine people. If it looks somewhat familiar, that's because it's a sister to existing models from other Stellantis Group brands like the Citroen e-SpaceTourer, Peugeot e-Traveller and Vauxhall Vivaro-e Life.
There's been no official confirmation from Fiat yet, but the e-Ulysse can be expected to share those cars' 134bhp electric motor and 50kWh battery pack for a claimed driving range of just over 140 miles on a charge. Full UK pricing and specification details are under wraps for now, but should appear before order books for the e-Ulysse open during the first quarter of 2022.
The Ulysse name was previously used for a Fiat MPV produced between 1994 and 2002, as part of a joint venture between what were then the separate PSA and Fiat groups. With the two now combined as Stellantis, the new Ulysse (which will also be available with a diesel engine) will be built in the same French factory that produced its predecessor.