Fiat 500 electric interior, dashboard & comfort
Mid-range electric Fiat 500s come with a good list of standard equipment, and while there are some cheaper materials in some areas, on the whole the electric hatchback feels well built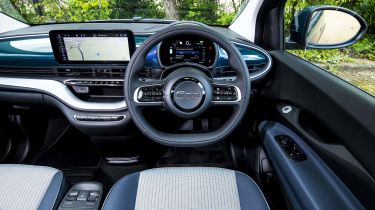 Inside, the electric Fiat 500 does a good job of keeping pace with the competition. The Honda e is undoubtedly more futuristic, while the MINI Electric perhaps feels a little more solid to the touch. However, what the Fiat lacks in outright quality or technology, it makes up for with its slick, classy design.
So far we've only driven an Icon-spec model, but the design and layout are logical, with the wide central screen offering plenty of functionality. Comfort is good, too, with a set of plush front seats and a ride that isolates the very worst lumps and bumps. 
Beware that the convertible version doesn't offer the same insulation from the outside world as the hatchback – you'll notice a lot more wind noise and even voices of passers-by when crawling around in urban traffic.
Fiat 500 dashboard
The old petrol 500 was really starting to show its age inside. It had been updated a few times since it launched in 2008, but recently the car's design and technology fell some way short of the class best.
Now, though, Fiat has brought the 500 bang up-to-date. Okay, it's perhaps not as overwhelmingly digital as a Honda e, but it's got the MINI Electric licked for visual appeal. Quality is slightly patchy in places, with the hard scratchy plastics of the centre console contrasting with the lovely leather on the steering wheel.
We have reservations about the electric door release switches, too – they feel unnecessary, adding extra complexity to the small car when a conventional door pull would do. Thankfully there's a manual emergency lever lower down should the system fail.
Equipment, options & accessories
Entry-level Action cars don't get much in the way of luxury kit: you get halogen headlamps instead of LEDs, parking sensors instead of a reversing camera, and air-conditioning as opposed to climate control. These models only come with the smaller 24kWh battery, too, meaning you're stuck with a range of just 115 miles – and that's according to official tests. You do get 50kW fast charging on every Fiat 500, however, as well as a Mode 2 cable for topping up at public charge points.
Step up to the Passion spec for around £3,500, and as well as the larger 42kWh battery and a more generous 186-199-mile range, you also get that all-important touchscreen with DAB radio, Apple CarPlay and Android Auto, plus cruise control, climate control and split-folding rear-seats. You'll be able to charge at 85kW, too, making this version the real value sweet spot of the range.
Moving up the range, Icon adds the lovely 10.25-inch screen, as well as 16-inch alloy wheels, keyless entry, automatic wipers and traffic-sign information. If technology is high on your agenda, then the extra £1,500 or so it costs is well worth it.
For now, La Prima sits at the top of the range. It costs £2,000 more than the Icon, at a smidge under £27,000 – or £30,000 for the convertible – but adds big-car luxury features like wireless smartphone charging, a panoramic roof, a parking camera, LED lights and 17-inch alloy wheels. There are extra driver aids and semi-autonomous technology features, too.
Infotainment, apps & sat nav
Every version of the electric 500 gets a seven-inch digital instrument cluster, but the very cheapest Action trim makes do with a smartphone cradle on the dashboard rather than a central screen. To get the huge 10.25-inch central display, you need to bypass the seven-inch screen of the Passion model and upgrade to the Icon trim level.
The infotainment system itself is light years ahead of anything we've seen in Fiats before, with a fairly slick interface and plenty of functionality. Provided you go for Passion spec or above, you get the aforementioned Apple CarPlay and Android Auto, meaning you can use your phone's mapping and music apps, plus any associated voice features.