Fiat Topolino is a convertible Citroen Ami
Fiat's soft-top rendition of the Citroen Ami is coming to the UK next year with a 47-mile range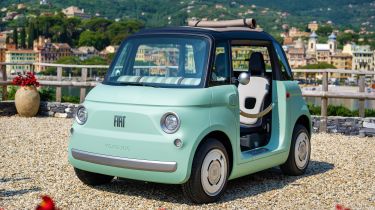 Ever looked at the Citroen Ami and thought: "that'd make a good convertible"? Well, for readers that have, we've got good news – the Fiat Topolino is coming to the UK, adding a touch of the Italian riviera to the French electric quadricycle.
Sharing its underpinnings with its Citroen counterpart, the new Fiat Topolino gets a design reminiscent of the Fiat 500 of the 1950s and '60s, despite taking its name from the original 500 which also went by the nickname 'Topolino' – Italian for 'little mouse'.
While the Ami makes-do with a glass roof, the Fiat gets a retractable fabric top – manual, of course – which allows drivers to get the wind in their hair at the Topolino's maximum speed of 28mph. Adding to the open-air feel is the Topolino's lack of doors, with these instead replaced by a rope, like what you'd find in the queue for a nightclub in Milan.
Inside, there are two seats and very little else. The striped dashboard is accented by a pair of decorative straps, while behind the Fiat-branded steering wheel sits a small digital instrument display. There's no flashy touchscreen infotainment system, either; drivers instead must connect their phone to an included Bluetooth speaker.
That's not to say the Topolino is completely void of features; removable seat covers can double as beach towels, while a built-in shower accessory is ideal for showering off sandy feet. Several cubbyholes add up to a total of 63 litres of storage space, plus a rack on the tailgate is sized to hold a specially-designed Fiat-branded bag. 
Powering the tiny Topolino is an equally small 5.5kWh battery, which is almost half the size of the unit fitted to the plug-in hybrid Renault Captur E-Tech. This, Fiat says, will provide a range of up to 47 miles and can be charged via an included three-pin cable in around four hours.
As you'd expect from what is essentially a battery-powered version of the iconic Little Tikes car, the Topolino is not allowed on motorways – handy given it only produces 8bhp. Unlike in Europe where you can drive the Fiat at 16, UK drivers will need to be at least 17 and hold either a AM moped licence or a full driving licence.
So when can we expect to see the Fiat Topolino cruising UK city streets? Well, the Italian maker says first deliveries are due to commence in 2024, shortly after the Topolino goes on sale. Pricing is yet to be confirmed, but we expect the Ami and ARK Zero rival to start from under £10,000, making it one of the cheapest EVs you can buy.
BMW i4 facelift to topple Tesla with huge range and tech upgrades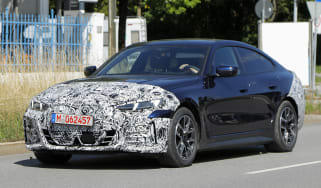 BMW i4 facelift to topple Tesla with huge range and tech upgrades
An updated version of the BMW i4 has been spotted testing, likely sporting a longer range and the latest technology
Electric BMW iX2 is set to take the kidney grille to the next level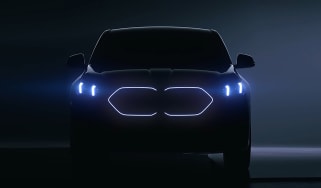 Electric BMW iX2 is set to take the kidney grille to the next level
BMW has teased the highly-rumoured iX2 coupe-SUV, which has been revealed to get enlarged illuminated kidney grilles