DS 7 Crossback E-TENSE: specs, price and release date
A new, less powerful, front-wheel-drive '225' model is joining the DS 7 Crossback E-TENSE plug-in hybrid SUV range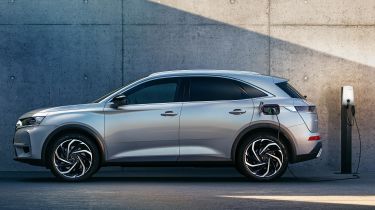 The plug-in hybrid version of the DS 7 Crossback luxury SUV launched in 2019 in 'E-TENSE 300' form, with a 296bhp petrol-electric drivetrain and four-wheel drive. The range is now set to expand with the addition of a 222bhp front-wheel-drive model, badged 'E-TENSE 225'.
This mirrors the powertrain choices available in the DS 7's sister models, the Citroen C5 Aircross Hybrid, Peugeot 3008 Hybrid and Vauxhall Grandland X Hybrid.
First deliveries of the DS 7 Crossback E-TENSE 225 to the UK market will take place in November 2020, but pricing has yet to be confirmed, beyond the obvious fact that it'll cost less than the four-wheel-drive 300, which starts at just under £48,000, rising to £56,000 for the top-of-the range spec.
The E-TENSE 225 has the same 13.2kWh battery as the E-TENSE 300, but instead of a pair of electric motors for four-wheel drive, it has just one, mounted directly on the eight-speed automatic gearbox. This can power the car on its own at speeds up to 84mph and for up to 34 miles, before the 1.6-litre petrol engine has to start up.
To maximise efficiency, the E-TENSE 225's default driving mode is electric, zero-emissions running. There are two other modes to choose from: sport boosts performance, while hybrid automatically finds the most efficient mix of electric motor and engine power. CO2 emissions are between 31 and 36g/km depending on alloy-wheel size, which is broadly the same as the E-TENSE 300's figures. Official fuel economy is 177-202mpg.
As well as employing a regenerative braking system to top up the battery on the move, the E-TENSE also features an 'E-SAVE' setting, which preserves a portion of energy in the battery to be used in the final miles of a journey. This should allow drivers to retain enough electric range to commute into a city.
With the battery located in the floor of the E-TENSE, boot space remains the same as in the standard DS 7 Crossback, at 555 litres. The interior is identical, too, expect for a subtle reference to the 'E' status of the car on the gear selector and some additional menus on the touchscreen.
As with other DS electrified models, both versions of the DS 7 Crossback E-TENSE come with two charging cables (one for use with standard domestic electric sockets and a Type 2 cable for hooking up to public charging points or a home wallbox). Charging can be controlled through a smartphone app or on the car's 12-inch screen.
Where can I buy hydrogen and where is my nearest hydrogen filling station?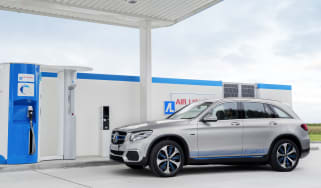 Where can I buy hydrogen and where is my nearest hydrogen filling station?
A guide to where you can find UK hydrogen fuel stations for filling up a hydrogen fuel-cell car
Tesla Supercharger network: complete guide to Tesla charging stations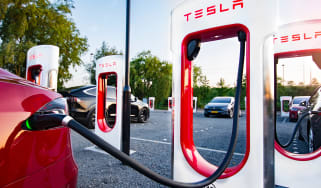 Tesla Supercharger network: complete guide to Tesla charging stations
The Tesla Supercharger network is expanding fast, providing reliable rapid charging throughout the UK to Tesla and non-Tesla owners alike
Top 10 best electric SUVs 2022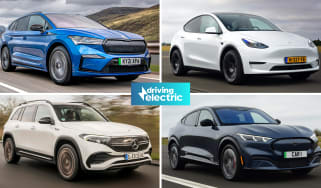 Top 10 best electric SUVs 2022
Electric SUVs combine style and practicality with low running costs, making them a very popular choice in the UK. Here are our top 10 favourites to bu…