Honda e vs MINI Electric vs Fiat 500: in numbers
The Honda e, MINI Electric and Fiat 500 go head-to-head in a battle of urban runabouts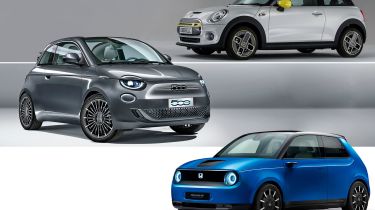 Fancy a posh electric city car? Well, your luck's in. The new Honda e, MINI Electric and Fiat 500 offer rather different takes on the high-end, compact electric car, yet there are significant similarities.
All are compact hatchbacks that major on offering a high-technology, high-class finish with a fairly low driving range and striking retro-modern design.
Each is also at the forefront of its manufacturer's journey into purely electric cars; Honda, MINI and Fiat have all dabbled with hybrids of one form or another, but these city cars represent those brand's first serious attempt at making a viable, full production electric vehicle.
Before that, here's how the important numbers stack up:
|   | Honda e | MINI Electric | Fiat 500 |
| --- | --- | --- | --- |
| Price (after PiCG) | £26,160 | £24,300 | £29,000 (top spec) |
| Official range (WLTP) | 136 miles | 124-144 miles | 199 miles |
| Battery size | 35.5kWh | 32.5kWh | 42kWh |
| Power | 134-152bhp | 181bhp | 117bhp |
| 0-62mph | 8.3-9.5s | 7.5s | 9.0s |
| Layout | RWD, single motor | FWD, single motor | FWD, single motor |
| Max. charging speed | 100kW | 50kW | 85kW |
| Fast charge time (20-80%) | 20mins | 40mins | 35mins (0-80%) |
| 7kW charge time | 5.5hrs | 5hrs | 5 hours (est) |
| Height (mm) | 1,495 | 1,425 | 1,510 |
| Length (mm) | 3,895 | 4,005 | 3,630 |
| Width (mm) | 1,750 | 1,727 | 1,690 |
| Doors | 5 | 3 | 2 |
Powertrains and performance
One of the biggest differences between the three is that the Honda gets rear-wheel drive as opposed to the more conventional front-wheel-drive layouts of the MINI and Fiat. Honda did this in order to improve the e's packaging and also to give it the smallest possible turning circle to make it better suited to cities.
It worked, too: the car has a turning circle of under nine metres, which is right up there with a Smart ForTwo; it really does feel like it's turning on its own length.
Which isn't to say that the MINI won't be as good to drive around town – the figures suggest it'll have slightly better performance – but the Honda's light-footed response certainly impressed. The 500 isn't any bigger than before, so we expect it to fare well in tight city streets, too.
We've yet to drive the 500, but its light weight, small wheelbase and claimed 9.1-second sprint from 0-62mph should mean it'll feel zippy around town. A power output of 117bhp and a top speed of just over 92mph mean it shouldn't feel too lethargic on larger roads. either. 
The Honda e is great fun to drive: natural, light steering, lots of grip and decent power mean it's got what it takes to thrill. Our experience of the MINI Electric has also been positive in this regard: it handles sharply, boasts similarly punchy performance and, while the suspension is a little on the firm side, it provides a decent-enough ride that's only troubled by the biggest bumps.
Check out our drives of the Honda e and MINI Electric for more detailed driving impressions, and see our full story on the Fiat 500 here.
Prices and equipment
The Honda looks a bit expensive next to the MINI, with prices starting at £26,160 for the Honda, while the MINI can be yours from £24,300. Even the entry-level Honda e is expected to be offered with finance deals from around £250 a month, and comes stuffed with high-tech equipment including a bank of five screens and 'virtual' mirrors that run camera feeds to the outer screens in place of conventional side mirrors. It's certainly the most technologically advanced of the trio. 
The Fiat is priced pretty strongly, at least in its top-spec, launch-edition La Prima version, which comes in at £29,000 including the plug-in grant. It's likely that prices for lower-spec versions will be more in line with those of the MINI and Honda, however.
Partnership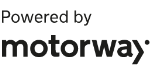 Need to sell your car?
Find your best offer from over 5,000+ dealers. It's that easy.
The full equipment list for this top-of-the-line model is impressive – highlights include 'Level 2' driver aids like adaptive cruise control and lane-centring, plus 360-degree parking sensors and Fiat's latest Uconnect 5 infotainment with Android Auto and wireless Apple CarPlay. A telematics box is also included, which allows for remote monitoring and control of some functions via a smartphone app.
Keyless entry and go, adaptive cruise control, traffic-sign recognition, advanced voice control and LED headlights are included on the impressively generous standard kit list for the Honda e. The higher-spec Honda e Advance costs from £28,660 and adds a rear-view mirror with reversing camera function, a heated steering wheel and front seats, upgraded audio and a semi-autonomous parking mode, as well as an additional 18bhp to bring power up to 152bhp. You also get five doors as standard on the Honda e, while the MINI Electric is three-door only.  In comparison, the entry-level MINI gets cloth seats, a 6.5-inch infotainment screen, Apple CarPlay compatibility, cruise control and automatic air-conditioning as standard. Silver and grey are the only exterior paint choices. It's likely that any lower-spec versions of the 500 will offer a similar level of standard kit.
Meanwhile, the mid-range trim costs £26,400, adding cloth and leatherette seats, keyless entry, heated seats, a parking camera and MINI logo puddle lights. Black, green and red join the paint options and larger alloy wheels are available. The top-spec model starts at £30,400, adding 'Lounge' leather upholstery, an 8.8-inch infotainment touchscreen, wireless charging and more colour and wheel choices. Finance details are yet to be confirmed for the MINI Electric.  
Range and charging
The MINI and Honda have similar official range estimates. Opting for bigger wheels on the MINI Electric sees the official range drop from 144 to 124 miles, while the Honda e manages 136 miles at best – we suspect the company's initial pre-production range estimate of 125 miles will be applicable for the more powerful Honda e Advance. 
Fiat, meanwhile, claims a much more useful 199-mile range from the 500 and its 42kW battery, but we'll have to wait to see if this transpires in real-world use.
All cars charge using a Type 2 or CCS cable, but the Honda certainly wins the charging-speed comparison; its 100kW capability means you could gain 100 miles of range from a 100kW rapid charger in just 20 minutes, while the same additional range will take around 40 minutes at the MINI's maximum 50kW charging rate.
The Fiat has 85kW charging capability puts it ahead of the MINI but behind the Honda. Fiat says a 35-minute charge will get the battery to 80%, and – perhaps most usefully – a five-minute charge will give enough power for a 31-mile journey. The car is set to be offered with an accompanying 3kW wallbox that can be upgraded to 7.4kW. 
Ultimately, we'll have to get these three contenders together for a back-to-back test before we can make a final decision on which one's best.
New electric cars coming in 2023 and beyond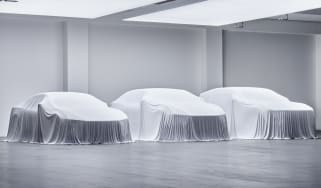 New electric cars coming in 2023 and beyond
With electric cars making up an ever-increasing proportion of sales, the industry is working flat out to launch new models – here's what's on the way …
New Toyota battery tech to deliver 500-mile EVs by 2026; 750-mile ranges to come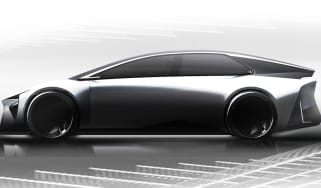 New Toyota battery tech to deliver 500-mile EVs by 2026; 750-mile ranges to come
Toyota has revealed details on its latest battery technology, set to underpin its next generation of EVs
New Fiat 600e SUV prices announced: £3,000 cheaper than a Jeep Avenger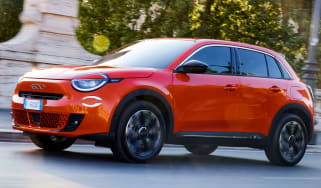 New Fiat 600e SUV prices announced: £3,000 cheaper than a Jeep Avenger
The larger sibling to the Fiat 500e gets a stylish SUV-like design and a 249-mile range