Golf Stream: meeting a serial Golf owner
The e-Golf is truly a Volkswagen for the 21st Century – so what does a serial Golf owner think of the electric revolution?
Who doesn't love the warm comfort of familiarity? Whether it's a favourite armchair or a film that you watch on TV even though you own the DVD, the reassurance of knowing what you're getting and the promise of satisfaction is a strong draw. It's hardly a surprise, then, that we're similarly guilty of sticking with the tried and tested when choosing our next car.
Armas Best can hardly be accused of failing to embrace change. Having graduated as a chemist and worked in the heavy chemical industry before switching into education and starting his own business, Armas has often changed his hometown, career and car.
"I can go right back to when I started with a Hillman Imp," he explains. "Certainly I did own a Volkswagen, but it was a secondhand vehicle when I was younger. I then worked in jobs where I had a company car, and I did choose a Volkswagen Passat. In fact I had two of those; very good cars, except one of those was mustard yellow – which was probably a mistake on my part!"
Moving into his own business gave Armas the freedom to start making more of his own decisions about the vehicle on his driveway, and it wasn't long before he found himself returning to Volkswagen.
He says: "I started reading up more about the kind of car I could get, and at that point it became clear that the Volkswagen Golf was considered by far the best in that particular range. I was very, very pleased with it; that would have been a Mk6. That was a fine car, that reminded me how good the Passat had been, and then I was totally committed to getting another Volkswagen.
"Although the car performs fine I tend to be a gentle driver, but if you need anything at all out of it, its responses are really good, the handling is superb and the finish inside. My father has a Mercedes and every time he sits in my car he says 'This is really good!'"
It had to be another Golf for Armas, too, and his current Mk7 1.4 TSI R-Line in brilliant white looks surprisingly sporty next to the clean-lined restraint of the e-Golf. Getting comfortable in the driver's seat is the work of a moment and Armas is instantly surrounded by the comfort of the familiar. It's only when the start button is pressed, the Active Info Display lights up and the sound of silence fills the cabin that the subtle differences begin to make themselves known. Not that this sprightly 70-something is remotely fazed by the e-Golf's electric propulsion.
"The whole concept of an electric motor seems to me to be a lot simpler than the petrol engine," he continues. "You don't need gears – you just put your foot down and it moves quickly and silently away. I really like that idea. Also, from what I've read the acceleration is absolutely marvellous. There's no hesitation – that to me is really something I find intriguing and worthwhile having."
Partnership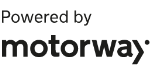 Need to sell your car?
Find your best offer from over 5,000+ dealers. It's that easy.
It seems cruel to deny Armas the pleasure of driving the e-Golf any longer, so Drive is selected in the gearbox and we move silently into the Hertfordshire countryside. Despite not having driven anything without a manual gearbox in some years, he is quickly up to speed with the local traffic and enjoying the smooth and effortless progress.
"It's very science-fiction, I quite like that!" he enthuses. "It's wonderful; I know gearboxes are much improved again from what they used to be, but to actually be able to drive along without even the slightest hesitation or change of note, it just goes."
It's a matter of minutes before Armas is completely at home, steering the e-Golf around unfamiliar roads and quickly learning how to get the most out of the electric motor and gearbox.
It may be a relatively brief drive of the e-Golf, but being so familiar with the regular version, Armas is quick to pick up on the key differences and more importantly the appeal that they hold.
"I enjoyed that, it was a really nice experience," he says. "I was just impressed by how easy it was; there's things to learn about how to drive in different ways, but I would probably buy one if I had the money. I really liked it, it was actually a different driving experience and I liked it. It's a closer driving experience to my petrol one; that handles really well and I think this one does exactly the same. When it boils down to it, it is how confident you feel between yourself, the car, the wheels and the road. I like the smoothness of the drive."
Armas may already be a Golf fan, but that just means it requires something a little out of the ordinary to prise him from the blend of comfort and performance he currently enjoys. It took the e-Golf less than an hour to deliver a convincing argument for the slick, friction-free experience of electric power and all the advantages that come with it. A white 1.4 TSI R-Line might be traded in at a Volkswagen showroom quite soon...
For more information on the Volkswagen e-Golf, visit volkswagen.co.uk
First contact: facelifted Kia EV6 will look even more like a UFO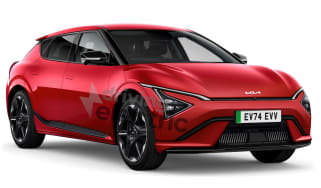 First contact: facelifted Kia EV6 will look even more like a UFO
Kia is readying an update for the EV6 crossover, which is set to include a new face and tech from the larger EV9
New Fisker Ocean Sport washes up in the UK: £36k for a 288-mile range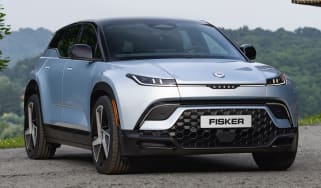 New Fisker Ocean Sport washes up in the UK: £36k for a 288-mile range
American EV startup Fisker has just launched its entry-level Ocean SUV in the UK, with a range of up to 288 miles
New Vauxhall Vivaro Electric is cheaper, yet has more range and tech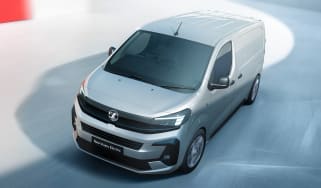 New Vauxhall Vivaro Electric is cheaper, yet has more range and tech
Vauxhall has given its Vivaro Electric panel van a mid-life refresh with a new face and some of the latest tech