BMW 2 Series Active Tourer: electric and hybrid possible for new model
The next-generation BMW 2 Series Active Tourer could potentially be offered as both a plug-in hybrid and pure-electric model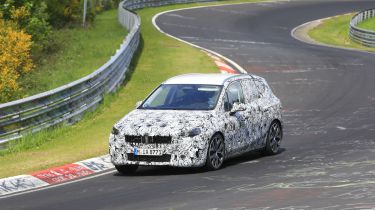 A new BMW 2 Series Active Tourer MPV is on the way in late 2020 or early 2021, and spy photographers have captured a prototype version testing under camouflage at the Nurburgring in Germany. Following on from previous images of the car cold-weather testing in Arctic conditions, these latest spy shots suggest that BMW is serious about making sure the 2 Series Active Tourer is great to drive.
Although the prototype car is heavily disguised, it's possible to discern a sleeker overall design than the current 2 Series Active Tourer, and in common with most BMWs these days, it looks like the new model will have a larger and more prominent grille than its predecessor. 
The current 2 Series Active Tourer was the first front-wheel-drive model from the brand, and shared much of its mechanical underpinnings with the MINI Countryman SUV. The next-generation one is set to be based on the same platform as the recently launched new 1 Series hatchback, which is also front-wheel drive.
That car's platform has been designed from the outset to accept a variety of powertrains, including conventional petrol and diesel engines, as well as plug-in hybrid (PHEV) and fully electric setups. It's logical to conclude, therefore, that the new 2 Series Active Tourer will once again be offered as a plug-in hybrid, but could also get a pure-electric variant this time around.
It's not yet known whether there'll be a seven-seat 2 Series Gran Tourer variant of this new car, or whether such a model would be available with plug-in or electric power. Seven-seater electric and hybrid cars remain quite scarce and the current 2 Series Gran Tourer is not available as a plug-in hybrid, unlike its smaller 2 Series Active Tourer sister model.
BMW is gradually introducing plug-in hybrid technology across most of its range, with PHEV versions of the X1, X2, X3 and X5 SUVs joining the established 330e and 530e executive saloons, as well as the luxurious 745e range-topper. It's also moving away from offering dedicated 'i' electric models like the i3, towards giving buyers the choice of electric or combustion power in various models.
The company is adopting a strategy of wide powertrain choice for customers with its next-generation cars: it has confirmed that the next 7 Series will be available with petrol, diesel plug-in hybrid and electric power, while elsewhere it continues to develop hydrogen fuel-cell technology, an alternative zero-emissions solution.
In late 2019, the current 225xe plug-in hybrid received a number of updates aimed at improving its efficiency and performance. With a new 10kWh battery occupying the same dimensions as the previous 7.7kWh unit, its claimed zero-emissions range increased by 25% to 31 miles from a single charge.
BMW i4 facelift to topple Tesla with huge range and tech upgrades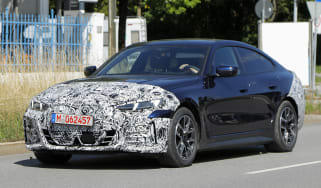 BMW i4 facelift to topple Tesla with huge range and tech upgrades
An updated version of the BMW i4 has been spotted testing, likely sporting a longer range and the latest technology
Electric BMW iX2 is set to take the kidney grille to the next level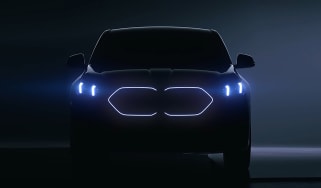 Electric BMW iX2 is set to take the kidney grille to the next level
BMW has teased the highly-rumoured iX2 coupe-SUV, which has been revealed to get enlarged illuminated kidney grilles