Bentley Bentayga Hybrid (2019-2020) interior & comfort
The inside of the Bentley Bentayga Hybrid is special, although certain elements are beginning to show their age
The Bentley Bentayga Hybrid is a luxury vehicle first and foremost, and as such the interior is finished to the highest of standards with a mix of exquisite leather, wood and metal materials used throughout.
Certain elements are beginning to look a little dated, but this is a minor gripe and every journey will still feel like a special occasion whether your behind the wheel or not.
Comfort is a high priority, too, and by and large the Bentayga Hybrid deals with bumps and potholes well, especially given that even the smallest wheels (options include 20, 21 and 22-inch alloys) are massive by any road-car standards.
However, on certain rough surfaces the car struggles to iron out a judder that can be felt through the seats.
Bentley Bentayga Hybrid dashboard
The dashboard contains a digital display, helping to convey key information to drivers on the go. Meanwhile, an analogue clock sits atop the centre console, flanked by two air vents with 'organ-stop' controls.
The fit and finish of all the buttons and stalks is extremely high throughout the Bentayga Hybrid. Everything feels satisfying to use, as should be the case on a car at this price point.
There is a caveat, however: many of the switches have been lifted directly from the Audi Q7, with the steering-wheel controls identical save for the construction material. Anyone looking for exclusivity may be left disappointed by the level of component-sharing here.
Equipment, options & accessories
The Bentayga Hybrid comes with lots of standard equipment, although be aware that a fair few of the functions and luxuries you'll want from your luxury SUV are costly optional extras.
A hands-free, powered tailgate costs £700, while privacy glass on the rear side windows and rear screen will set you back £1,595. Meanwhile, the analogue clock can be upgraded to a Breitling timepiece for £3,070, while some of the trim and stitching alterations will cost just as much.
Lambswool rugs in the front and rear are £780, and interior mood lighting is £375. A classic Bentley option is a Mulliner console drinks cooler, which costs £4,615.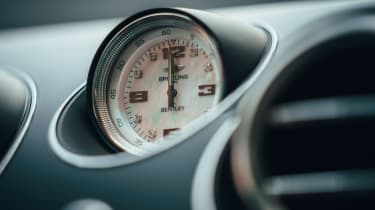 Infotainment, apps & sat nav
The Bentayga Hybrid features an eight-inch colour infotainment screen, which controls most of the vehicle's functions. The climate control and heated seats are all operated by a separate unit underneath, while smartphones can be stored.
Smartphone connectivity is provided in the form of Apple CarPlay, however the Bentayga isn't compatible with Android Auto. At £133,100, this is a poor oversight that could inconvenience lots of drivers.
You can at least use the My Bentley app to control various functions remotely: owners can start and monitor charging sessions using the app, and also search for public charging stations when out and about. Pre-heating and cooling the interior is also an option, with the app providing statistics for drivers after each journey.