Audi e-tron long-range run: 10 countries in 24 hours
Think electric cars can't manage long distances? Think again, as we drive an Audi e-tron 1,000 miles across Europe in a day
Slovenia's startlingly blue Lake Bled is not an obvious starting point for an extreme electric-car challenge. From the puttering boats to the looming Alpine backdrop and rows of cafes and restaurants, the whiff of beer and suncream is such that it's difficult to imagine that in 24 hours I will have covered 1,009 miles, 10 countries and seven charging stops – and consumed more coffee and greasy snacks than I care to think about.
Or that's the plan, anyway, and the Audi e-tron is the car to do it in. The trip is the perfect opportunity for us to find out how far the electric car and the fast-charging network have come, given that the Audi is one of the fastest-charging cars on sale.
After all, long-haul electric motoring was reserved mainly for Tesla owners until recently, thanks to the the company's proprietary Superchargers. But that's changing: for the last year, a joint venture called IONITY – formed by Audi, BMW, Daimler, Porsche, Volkswagen, Ford and in recent months also Hyundai and Kia – has been rolling out super-rapid, 350kW charging stations across Europe.
Don't worry if that 350kW number means nothing to you. All it means is seriously fast charging. The fastest, in fact. The Porsche Taycan can take full advantage of it, and it'll top up with an additional 100 miles of range before you've found the loos in the services. But the e-tron's 150kW maximum charging rate is more representative of the speeds offered by most premium electric cars, and we were about to find out what a 100-mile top-up in under 15 minutes meant for cross-continental travel.
Numbers are all well and good, of course. Actually covering such a vast distance without getting stranded courtesy of a plug-less autoroute is a much more realistic test of where the electric car and its plug-in lifeblood stands. We left the stunning Lake Bled at 8.30am with a full battery and 211 miles of range showing on the Audi's dashboard. One short hop across the mountainous Austrian border, and we were one country down and into the second.
By 10am, we reached our first charging stop at an IONITY station near Gmund. You do need an IONITY app to use these stations, but it's mercifully simple and charging is currently offered at a flat fee of €8 (£8 in the UK) regardless of how much electricity your car sucks out of the socket. That's set to change to a price-per-kWh system in the near future.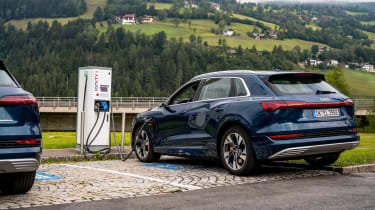 Given that the Audi's 95kWh battery is only down to 70% at this point, it takes 20 minutes to get a full battery (charging past 80% is slower, but the Audi was charging at a healthy 50kW even well past 90% full), and we hit the scenic Austrian motorways again. This feels like no chore at all given how comfortable the e-tron is at a cruise; cushy, steady and indulgently powerful.
Mind you, the virtual mirrors take some getting used to. Even two hours into our route, I still find myself glancing at the camera rather than the screen at the base of the windscreen pillar, and suffering a momentary panic when I can't see what's in my rear three-quarters.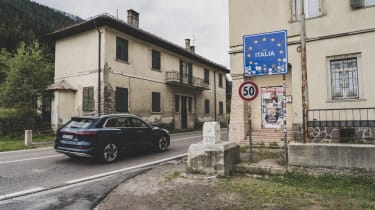 Cue another border crossing, marked only by a wonky sign and a bored-looking Polizia, for a lunch stop and charge in the town of Baracca. And to investigate a massive flaw in the European charging infrastructure – Italy. This country is to the progress of the electric car what snow is to an easy commute. Even so, the enormous temporary fast-charger that Audi had constructed at Barraca airport felt like a massive cheat, because you, dear reader, can't build your own charger.
Partnership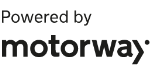 Need to sell your car?
Find your best offer from over 5,000+ dealers. It's that easy.
Yet, checking the e-tron's system to see where the nearest public chargers were, there was one 50kW point some 10 miles up the road (which would have taken two hours to charge the car), and after that, the next one was well over 60 miles away. Understandably, Audi doesn't see its temporary charger as cheating so much as facilitating, but it's safe to say that if you plan an electric-car road trip in Europe, you're best avoiding Italy for a little while longer.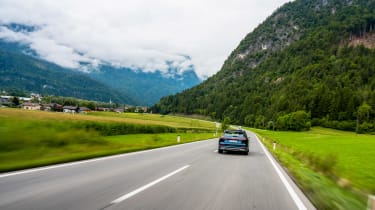 Our trip continued apace after that. My co-driver and I hustled the e-tron through yet more borders, threading back into Austria for a drive along the breathtaking Timmelsjoch pass, followed by more coffee and more IONITY charging before we breezed into and out of Lichtenstein in the time it took me to realise – bleary-eyed from the passenger seat – that we had actually just spanned a country.
Interestingly, despite the draining effect of driving up the Timmelsjoch Pass, the significant amount of regenerative braking we'd done on the way back down had seen the Audi return 2.7 miles per kWh – more than we've achieved in our long-term e-tron, and equivalent to a maximum range of 230 miles.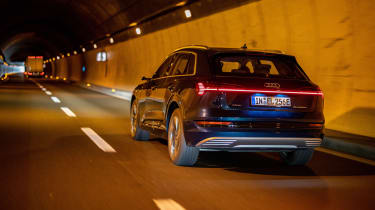 That was about to change. At 8.30pm, somewhere in Switzerland, we'd covered 445 miles. If we were to tick off another five countries and over 550 miles in the next 12 hours, we needed to make seriously good progress. But before we could stretch the Audi's electric legs on the autobahn, we had another long stretch in Switzerland and France. They were not kind. We missed a turn on our route in France and disappeared down a wormhole of roadworks and detours.
I was mostly asleep, but at 2.34am, my woolly brain heard my co-driver suggest that "we just drive in a straight line and at some point we'll hit water or another country". I made an executive decision to sleep some more, and hoped that he and our other travelling companion could find a way back into Germany by the time I woke up.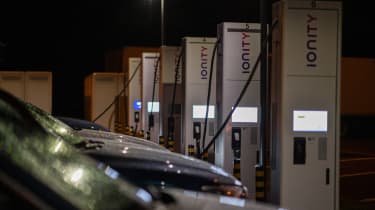 In the end, the miles we'd added during our detour meant we had to make an emergency charging stop that ate up another 20 minutes, but if there's anywhere you want to be when there's time to make up, it's the autobahn in the middle of the night.
The e-tron tops out at 124mph, and it feels as stoic as it whistles along at these speeds as it does at 70mph. We can't do a flat-out run for long, though, if we have any chance of reaching the next charging location. At these speeds the car's forecast maximum range dropped to just 150 miles – an equivalent of some 1.8 miles per kWh. Such is the rate at which you chew through battery power at v-max in an e-tron.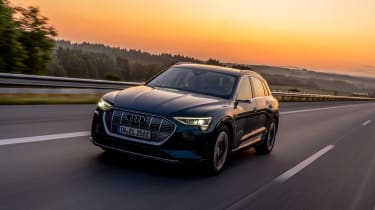 We make it to our stop, just. Plug in, run for the loo, buy water, coffee and snacks… 40 minutes later we're back in the car and heading onwards. It strikes me at this point that we haven't once just hung around waiting for a charge to end – it was always welcome time to do something other than sit in a car.
By 5.00am, the sun is creeping back into the sky and the odometer is reading 1,225 kilometres – 761 miles. Not enough, even by our sleep-addled maths. Still, we have a deadline to miss, and so we head into the welcome morning sun and the tree-lined roads of Luxembourg; a happy respite from the autobahn blur that doesn't last long enough for my liking before we pass into country number nine – Belgium.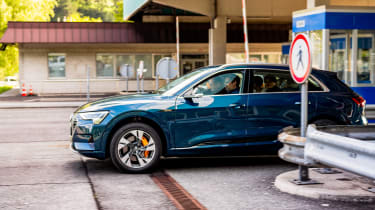 The beige monotony of Belgium's motorways, complete with lumbering, overtaking lorries taking up the two-lane stretches, are soul-destroying as I watch the 8.30am deadline creep closer. Eventually, it arrived. 24 hours after we left Lake Bled, we had covered 900 miles, driven in nine countries and completed seven charging stops at a cost of €56. We'd missed our target by 100 miles.
Honestly, I'm still happy with that. It still shows just how effective a long-distance car the e-tron is, but also how good the fast-charging infrastructure can be. Can be. I must emphasise that. Quite apart from the temporary Italian cheat-charger afforded by Audi's corporate budget, you still have to ruthlessly plan a drive like this if you've got batteries rather than a fuel tank – and that's the critical difference still frightening buyers away from electric cars, even if they never plan to do 100 miles in a day, never mind 1,000.
Mind you, it's estimated that there'll be 400 super-rapid chargers in Western Europe by some point in 2020, up from the circa 250 in place currently and including the 200 that IONITY expects to have live by then. Doubling the existing rapid chargers on offer now will be another game-changer, especially if it happens in a matter of months rather than years.
Infrastructure growth like this will likely see even a red-eye electric drive requiring no planning at all in the near future, and hopefully no apps either if tap-and-go payment also becomes the norm. More importantly, this trip also demonstrated that the electric car and charging infrastructure have already beaten the human body for convenience and endurance.
We needed to stop more often than the car did. We had to rush to finish eating because the car was fully charged. We got lost in France through human error. Neither the car nor the chargers missed the deadline – we did. So let's take that as the real message from our European epic. The electric car and the plugs it relies on are not faultless, and this sort of undertaking still needs a frustrating array of maps, apps and logistics.
But at least in 2019 it won't be the electric car and its chargers that'll lose you a 24 hour European time-attack, it'll be you.
New Audi Q8 e-tron and Audi Q8 Sportback e-tron: prices, specs and range revealed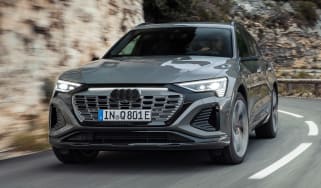 New Audi Q8 e-tron and Audi Q8 Sportback e-tron: prices, specs and range revealed
Tesla Model 3 facelift will be a double-edged sword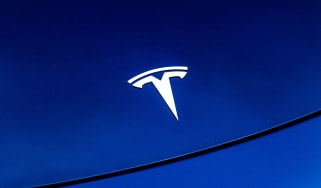 Tesla Model 3 facelift will be a double-edged sword
Tesla's updated EV will have an improved interior, greater range and a more affordable price – as well as one unfortunate drawback
Volkswagen ID. Buzz LWB is a retro, seven-seat electric MPV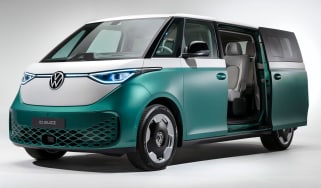 Volkswagen ID. Buzz LWB is a retro, seven-seat electric MPV
Volkswagen has unveiled a larger version of its ID. Buzz EV, boasting more seats and a larger battery with more range
Vauxhall Astra Electric: price, range and video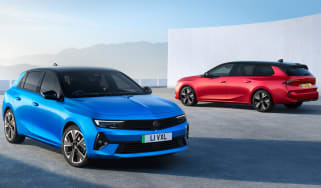 Vauxhall Astra Electric: price, range and video
The new Astra Electric shares its parts with the Peugeot e-308, with first deliveries due soon