Abarth range to expand with lighter, faster EVs
Italian sports car brand will stay wedded to Fiat, but is eyeing up a faster 500e, plus tuned versions of upcoming crossover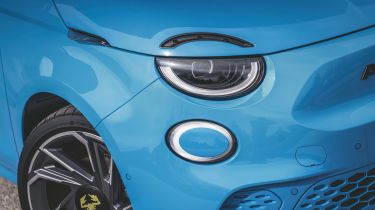 Abarth is looking to significantly expand its model line-up, including faster, lighter iterations of the new 500e, plus the possibility of an uprated version of the forthcoming Fiat 600 electric crossover, DrivingElectric can reveal.
Speaking from the launch of the 500e electric hot hatch, CEO Olivier Francois and his team told us that while Abarth will stay wedded to Fiat – unlike how Cupra recently split from SEAT – the sub-brand is eyeing up opportunities to build on its 500-based portfolio.
Guillaume Clerc, head of Fiat and Abarth product said: "We are proud of our ambition. We can do an evolution on any of our products. Maybe once we've launched the first editions [of the 500e]. It's a goal for the future.
"We will work everywhere we can to keep [Abarth] fresh and alive," Clerc told us.
When asked about the possibility of lighter, faster versions of the 500 – along the lines of the 695 Esseesse or last year's Tributo 131 Rally – global chief engineer Maurizio Salvia told us: "Something that can maybe be less comfortable, more sporty. There should be an opportunity to explore this in the near future." He went on to say separately: "Lighter is better".
As such, it seems bigger batteries and greater electric range is not on the maker's list of priorities. "It's not part of the product brief," Salvia told us.
"To have a big battery is to have less space in the car. More weight," Clerc added. The pair didn't rule out added battery capacity in the future – but only if it didn't compromise these core values.
Another of Abarth's non-negotiables is price; the 500e starts from £34,195 – the same as a top-spec Fiat 500. Francois is determined not to lose sight of his brand's position in the market: "We can see the Porsche Taycan; our price is a bit different," he told us. "We can just do plus, plus, plus and charge it to the customer – if he is willing to pay. 
"Or, as it is in our DNA, we can take all the opportunities from the car to pull the performance to its max, but while also keeping an eye on how we are going to price the car. We are unapologetic about our pricing – we want to keep a reasonable limit," Francois said.
Asked if he and his team wanted to do more with the brand, Francois reiterated that with over 160,000 engaged fans worldwide, it'd be foolish to dismiss such considerable equity. 
"We are expanding into the electric world," Francois told us. "It can enhance who we are. I don't want to compare [to Cupra]. We have four very strong pillars: clear heritage, community, performance, and we have the sound."
"We are expanding our equity. We are growing our business footprint. We have ideas," Francois said. 
While he wouldn't confirm whether this meant a racier version of the yet-to-be-revealed Fiat 600 might be in the works, he went on to say: "The brand is very important. Born in 1949 – if we are still here, there is a reason.
"I agree [we need to do more with the brand]," he said. "Your question makes us happy."
Partnership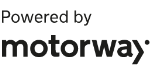 Need to sell your car?
Find your best offer from over 5,000+ dealers. It's that easy.
We expect Fiat to pull the covers off a new small SUV in the coming months, but an Abarth version is probably still a couple of years away. The Fiat 600 will share its platform with the 500 city car, but a lengthened wheelbase will mean an extra pair of doors and greater space inside – as well as the possibility of a bigger battery for more range.
As with the Abarth 500e, the crossover will likely get a wider track and a lower stance than the standard car, plus a boosted motor for increased straight-line speed. Unique alloy wheels, bumpers and side skirts will give it a sportier look, complemented by the new electric scorpion badges found on the latest hot hatchback. 
Given Francois' key brand pillars, it's almost certain the 600e will also inherit its smaller sibling's external sound generator.
Electric Abarth 500e costs over £10k more than the petrol model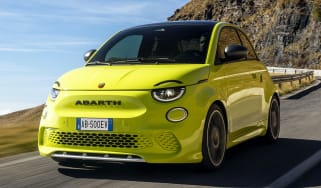 Electric Abarth 500e costs over £10k more than the petrol model
BMW i4 facelift to topple Tesla with huge range and tech upgrades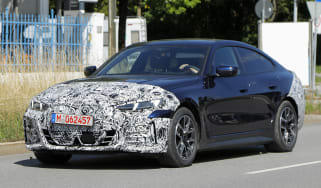 BMW i4 facelift to topple Tesla with huge range and tech upgrades
An updated version of the BMW i4 has been spotted testing, likely sporting a longer range and the latest technology
Electric BMW iX2 is set to take the kidney grille to the next level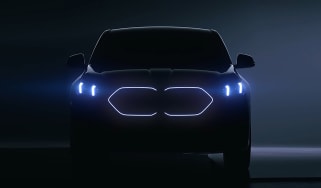 Electric BMW iX2 is set to take the kidney grille to the next level
BMW has teased the highly-rumoured iX2 coupe-SUV, which has been revealed to get enlarged illuminated kidney grilles