How to hire an electric car: rental and subscription services explained
Everything you need to know about hiring an electric car in the UK, for a one-off trip, pay-as-you-go, or on a longer-term basis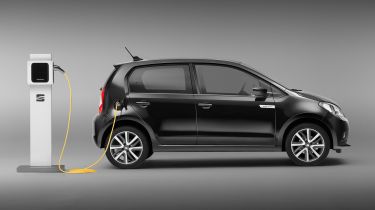 More and more people are buying electric cars of their own, either using cash or by going into a PCP finance agreement with a car dealer. The infrastructure is catching up as well, with more charging stations and home charging points being installed all the time. It will soon be as prevalent as petrol and diesel power.
But what if you want to test before you buy, or think you'll only use an electric car occasionally? Hiring an electric car could be the answer, and you're in the right place to find out more, as this is our comprehensive guide to the different types of hiring options available. We also have a guide to electric car leasing, if that's what you're after.
Why hire an electric car?
One good reason to hire an electric car is as an extended test drive. If you go to a dealership, you'll be able to test drive one for half an hour or so. If the dealer is really generous, they might let you take it for 24 hours.
Yet electric-car ownership is very different to petrol or diesel and you'll need a good few days to see how one can fit into your life. A hire car can be a great way to experience the ins and outs of ownership first-hand.
Another good reason is if you don't want to own a car at all, and instead prefer to hire cars as and when you need them. There are several companies that use memberships, allowing you to rent as you drive. You can also get longer-term rental, from daily to monthly, and many include all costs like insurance, maintenance and even charging.
Where can I hire an electric car?
Electric-car hire is a quickly growing market and the usual car-hire companies aren't the main place to go, as smaller and newer firms are taking the opportunity to offer new services.  
There are different types of electric-car hire companies, from car-club-style services with a monthly fee that allow you to pay for an electric car only when you need it, to more traditional 'self-drive' schemes.
What to look for when hiring an electric car
When hiring an electric car, check what's included in the price – charging is a good example. Some have this as part of the price, with an 'access card' that lets you charge up at public charging points. If this isn't included, then you may need to sign up to some charging services in order to refill the battery. Some ask that you return the car with a full charge, which can be a pain and if you don't do this then they might charge you a fee.
Traditional hire companies
The major rental companies like Avis, Enterprise, Europcar, Hertz and Sixt all promise the ability to hire electric, but when you research in a location like London, you'll find that few are available – for example, we only saw one (an MG ZS EV) available with plenty of notice on the Europcar site.
Their websites don't make it easy to search by powertrain type, either, sticking to the traditional method based on types of car, with no guarantee of reserving a specific make and model. Sixt offers electric cars for rental in the US, and says the service will be coming to the UK soon.
In late February 2020, Europcar announced that it would be adding the Renault ZOE to its UK offerings alongside the ZS EV, along with a selection of plug-in hybrid and mild-hybrid models.
Pay-as-you-go
There are a number of pay-as-you-go electric-car hire companies based in the UK. For a fixed monthly membership fee and a per-mile charge, you can pick up and collect electric cars parked on the street and pay for them only when you use them. This is perfect for people who only need occasional car access.
Co-Wheels Car Club
Co-Wheels offers a pay-as-you-go subscription hire service. Users sign up by paying a £25 joining fee. You then hire cars by the hour, with prices starting at £5.50 per hour for a Renault ZOE. You can also hire an electric van. The scheme doesn't exclusively offer electric cars, but it does have a substantial fleet of them, including the Nissan Leaf, Citroen C-Zero and BMW i3. It's available throughout the UK.
Ubeeqo UK (formerly E-Car Club)
Ubeeqo is a nationwide, self-service, app-based membership scheme offering flexible electric-car rental from one hour up to several days. To get started, you need to download the app and sign up. 
You can rent a Renault Zoe for £8.50 an hour or £85 per day, including insurance and charging. This is the only electric car the service has at present. If you pay a £5 monthly membership fee, the prices go down to £7 and £70 respectively.
Daily and longer-term rental
These companies offer longer-term electric-car rental, with the ability to book by the day or for longer with, typically, all costs included.
Onto (formerly Evezy)
Previously known as Evezy, Onto is one of the most interesting electric-car hire offerings, as it bridges the gap between short-term car sharing and long-term car leasing, which is useful if you need regular access to an electric car without the commitment or cost of ownership.
You pay a flat fee; there's no deposit and no long-term contract. Mileage is capped at 1,000 a month, and insurance, charging and other costs are included. You can swap your car at any time by up or downgrading to another model, and the scheme is available nationwide.
In July 2020, Onto took delivery of 1,100 Renault ZOEs – the largest-ever single order of the model in the UK. The ZOE is the cheapest car available from Onto, starting at £389 per month. The Hyundai Ioniq is available for £419 per month, the Nissan Leaf for £449 per month and the BMW i3 for £469 per month. The Peugeot e-208 was recently added for £469 a month.
EVHire
EVHire is an 'exotic vehicle hire' company and has plenty of upmarket EVs for hire: Audi e-Tron, Jaguar I-Pace, Porsche Taycan and the current Tesla range of cars. Prices for daily rental start at £168 per day. You don't need to sign up or subscribe to use the service.
EV Go
EV Go specialises in Tesla rental, with prices starting at £99 a day and delivery and collection included. A chauffeur service is also available. There's no subscription fee to use the service.
EVision
EVision is an electric-only car-hire company, with long-term, short-term or super-short term hourly hire available on loads of electric vehicles, from the cheapest models up to the most expensive EVs.
As an example, it costs £36 per day to hire a Renault Zoe for 1-90 days, or £452 a month to rent one for more than a year. 
Green Motion
Green Motion specialises in low-emissions car rental. It offers a range of plug-in hybrid models, but only one fully electric car, the Nissan Leaf. It operates around the world. Unlike some of the other electric-car hire companies listed here, it doesn't require you to sign up to a membership or subscription plan, instead offering four levels of hire: basic, plus, premium and premium+. The different packages change the daily price by reducing the insurance excess and increasing the mileage limit. Booking a Leaf isn't straightforward, though, as you can't book a specific make and model.
Volt-Age
Volt-Age is an electric-car hire company based in Portsmouth but available nationwide. Cars available to hire include the Hyundai Kona Electric, Nissan Leaf, BMW i3 and the full range of Teslas. Prices on the website assume collection from the company's head office in Portsmouth, although delivery and collection is available across the UK for a charge. Prices for a Leaf and Kona start at £78 a day for a minimum hire period of three days, and include insurance and VAT. 
Drive Electric
Drive Electric is a personal contract hire (PCH) company that allows you to lease an electric car for a minimum period of 24 months. There are hundreds of other leasing companies out there, but few specialise in electric cars. The downside is you're locked into a long-term rental agreement and can't swap cars.
Ufodrive
Ufodrive is a new electric-car rental company that offers collection or even delivery of its cars via an app. It has several premium electric models, including Teslas, Audis and Jaguars, and it's supported by the RAC.
Best plug-in hybrid SUVs 2021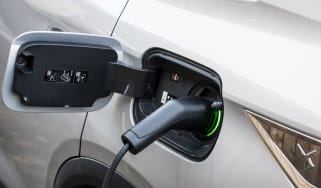 Best plug-in hybrid SUVs 2021
A good plug-in hybrid SUV should combine low running costs with excellent practicality. These are some of the best on sale right now
Best electric SUVs 2021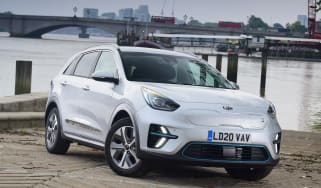 Best electric SUVs 2021
Our selection of the best electric SUVs you can buy features cars that promise to mix style, practicality and rock-bottom running costs
Longest range electric cars 2021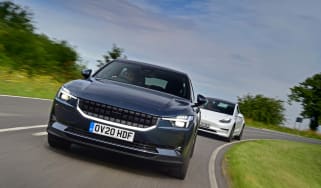 Longest range electric cars 2021
The range of electric cars is continually improving. Here are the top 10 models with the longest range on a single charge