Complete guide to the Ecotricity Electric Highway charging network
Need to charge your electric vehicle on the Ecotricity Electric Highway network? Here's how it works, how much it costs and how to pay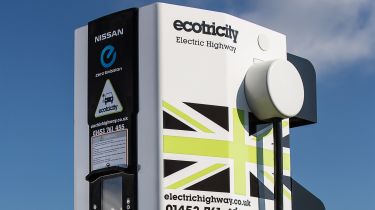 The Ecotricity Electric Highway charging network is one of the most recognisable in the UK, with over 300 points located at motorway service stations throughout the country. The company says its network is powered by 100% green electricity, giving eco-conscious drivers peace of mind with zero-emissions charging from wind and solar energy sources.
In June 2021, Ecotricity sold the Electric Highway network to Gridserve, operator of the Electric Forecourt charging hub in Braintree, Essex. This came after Gridserve took an initial 25% stake in the network and began upgrading its charging hardware. The first revamped batch of 12 350kW rapid chargers went live at the Moto Rugby services area (pictured above) at the end of April 2021.
Half of Moto services will have a minimum of six ultra-rapid chargers by the end of 2021 and Moto is aiming to have ultra-rapid chargers at all its sites by the end of 2022. Following the Gridserve acquisition, it's anticipated that all of the existing Ecotricity chargers will be replaced by new 350kW units in due course.
Charging on the Ecotricity Electric Highway network
Charging with Ecotricity is relatively simple: drivers must download the Electric Highway smartphone app, entering the car's details and a credit card to a user profile. You should only need to remember your three-digit security code each time you charge. The app will show you all of the charging points in your area, with a live status showing whether or not each charger is available to use. Once you're up and running, you can use the app to monitor the progress of your charging session.
Electricity is priced at 30p per kilowatt-hour, meaning an 80% top-up of the standard, 40kWh Nissan Leaf would cost £9.60. This translates into 134 miles of range on paper, although it will vary from car to car. Customers who switch to Ecotricity's household gas and electricity supply will receive a discount, paying just 15p/kWh.
Most of Ecotricity's public chargers are 'fast' chargers, capable of speeds of up to 50kW. Charging sessions on these are limited to 45 minutes, however, so a full top-up of some longer-range models will not be possible. Only a handful of Ecotricity's chargers are 'slow', with power rates of up to 3kW. These are free to use, but you'll need to sign up for an Ecotricity charge card and have the right sort of AC Medium cable to hand.
It's worth remembering that public charging is usually more expensive than home charging, with the latter costing in the region of 12 to 14p/kWh – less than half of the company's ad-hoc price – depending on your tariff. Some companies will charge you less at night when demand is lower.
Skoda Enyaq iV police, fire and ambulance conversion to be offered from July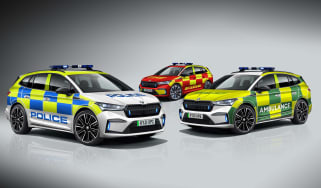 Skoda Enyaq iV police, fire and ambulance conversion to be offered from July
Electric SUV will join other models in Skoda range offered through emergency-services programme
New 2021 Kia EV6 electric SUV: details, pictures, price and on-sale date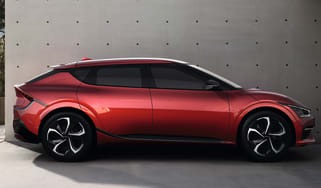 New 2021 Kia EV6 electric SUV: details, pictures, price and on-sale date
Kia's flagship electric car is capable of up to 316 miles on a single charge and recharging from 10-80% in just 18 minutes; available to order in the …
Complete guide to the IONITY charging network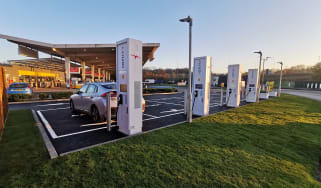 Complete guide to the IONITY charging network
The manufacturer-backed IONITY rapid-charging network is expanding across the UK and Europe – here's all you need to know